Teenager Samantha Heyison Just Beginning Her Rise In Throwing Sports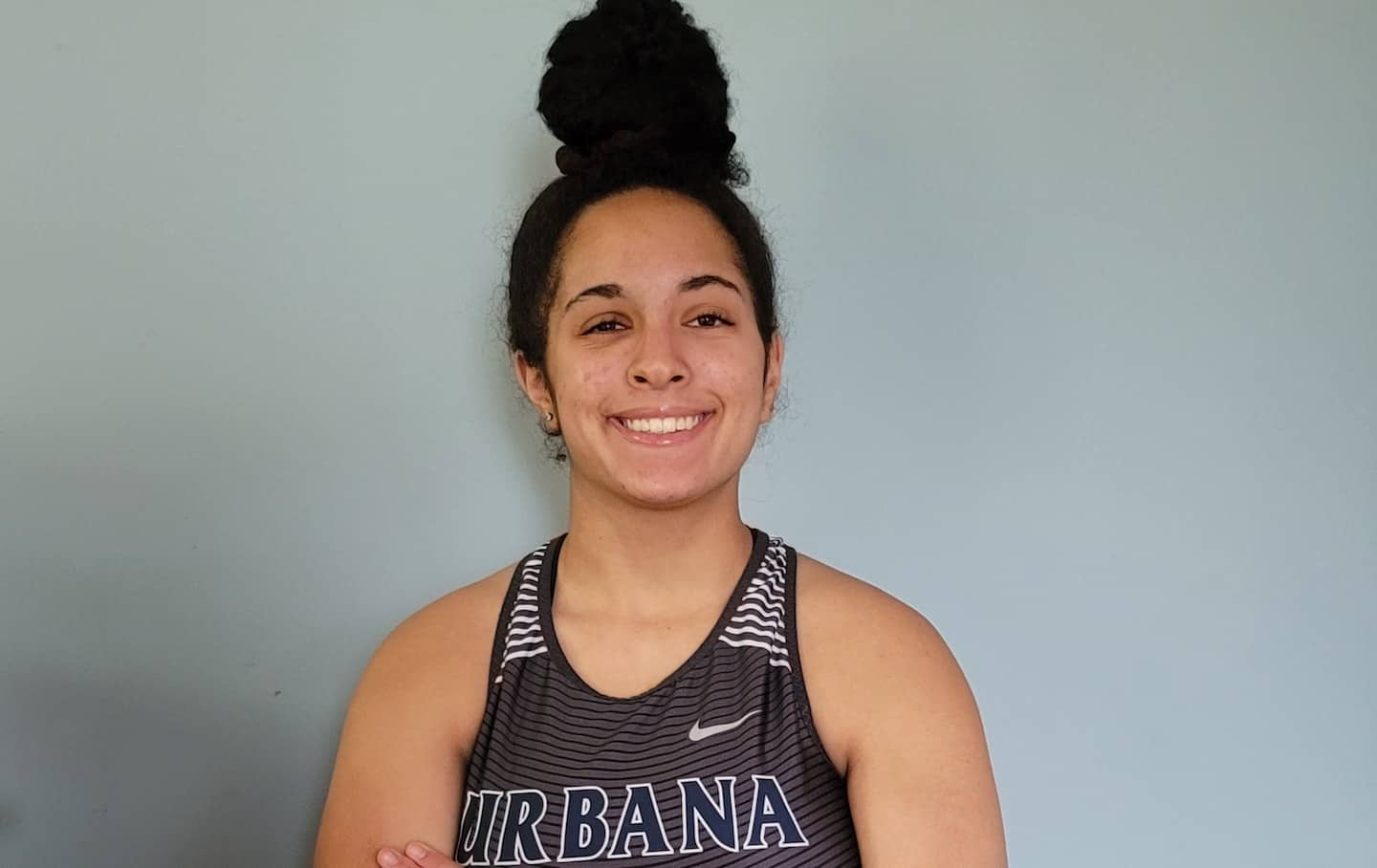 Samantha Heyison poses for a photo in her high school track and field uniform. (Photo courtesy of the Heyison family)
When she was 7 years old, Samantha Heyison began throwing her weight around.
No, she wasn't picking on other kids; she was launching the discus, shot put and javelin at track and field meets.
"I started track when I was 6, and I ran my first year," Heyison said. "I wasn't very fast, but I've always been strong. Ever since I was 7, I've been throwing."
Now 16 and a junior at Urbana High School, Heyison has seen the switch from the track to field events and her commitment to the sport pay off handsomely. Last week, the Adamstown, Maryland, resident was named one of four 2021 U.S. Paralympics Track & Field High School Athletes of the Year and one of 47 athletes named to the High School All-American list.
The honors caught the modest Heyison by surprise.
"I was in the movie theater, and I just saw the post because I follow U.S. Paralympics," Heyison said. "I saw that, and I was very shocked. It was very exciting."
Heyison already stands fifth in the Para world rankings in the women's F44 discus with a best throw of 32.88 meters.
"I'm 16 now, and I could do this for many years if I still enjoy throwing," said Heyison, quite mature for her age. "I'd love to make the (U.S.) team this year for the worlds and then come 2024, I'd love to go to Paris (for the Paralympic Games). That's my long-term goal for where I'm at right now."
Heyison comes from an athletic family. Her father, Marc, played minor league baseball in the Baltimore Orioles system. Mother Tanya was a college volleyball player.
Their daughter played multiple sports in the past but found her niche in track and field. Her progress hasn't always moved in a straight line, however.
"In shot put, you start with the basic power throw, and now I'm at the point where I do a full spin, and this is for discus, as well," Heyison explained. "When you learn something new … you always kind of drop in distance until you get the technique down. I caught onto it quickly, but that's always the frustrating part."
But Heyison has persisted and overcome any obstacles in her way. Competing against able-bodied athletes at last year's Maryland 4A state meet, she placed second in the discus and fifth in the shot put. She has also excelled in AAU Junior Olympics events.
Though she didn't compete for a spot on the U.S. Paralympic team that went to Tokyo, Heyison did win the women's discus F64 competition at the 2021 Desert Challenge Games in May near Phoenix with a throw of 31.55 meters.
"She's always put the work in and a very hard worker, but now she's starting to see the bonus of getting mentally prepared," her father, Marc, said. "She puts in the work and does what (needs to be done) and really is becoming focused now that she sees what's in front of her."
Heyison, who was born with constriction band syndrome, which affected her lower left leg, never let that keep her from sports.
"We've never raised her as anything other than an athlete," Marc said. "When you're out there, you're out there, and you're out there with everybody else, and you're out there to win."
She works equally hard away from the track at Urbana. Heyison is part of the International Baccalaureate Program and a member of The Honor Society there.
"She's a very good student," Marc said. "As great as she is in the (throwing) circle, Samantha is even a greater person, which is the most important thing. We are, indeed, two proud parents."
Like all athletes over the past nearly two years, Heyison has had to find a way to work out and improve during the pandemic. Fortunately, her coach, Deb Waxman, lives on a farm five minutes from her home and built throwing rings there where Heyison can train.
"I think I have been able to progress pretty well over the pandemic," she said.
Given her age, ability and commitment to Para track and field, Heyison's upside potential seems limitless.
"She's got three years to Paris, and she's, in her classification, fifth in the world in discus — at 16. And she's still learning," Marc said. "The exciting part is that Samantha wants to do this and sees what's necessary."
Bob Reinert spent 17 years writing sports for The Boston Globe. He also served as a sports information director at Saint Anselm College and Phillips Exeter Academy. He is a contributor to USParaTrackAndField.org on behalf of Red Line Editorial, Inc.