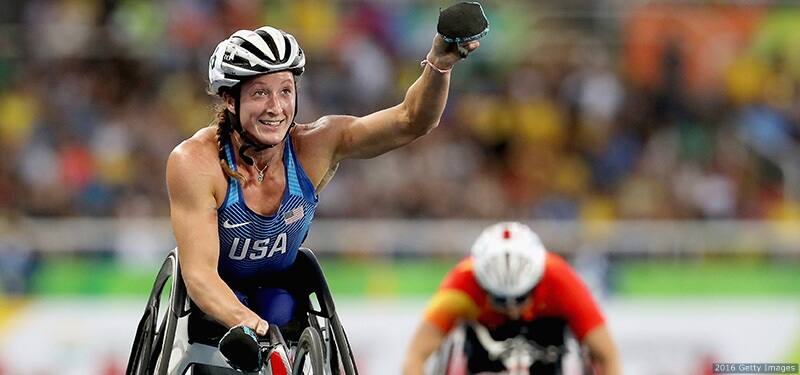 Tatyana McFadden celebrates victory at the Rio 2016 Paralympic Games.
Athletics events have been a part of the Paralympic program since the first Paralympic Games in Rome, Italy, in 1960 and is the biggest sport within the Paralympic Movement in terms of the number of participating athletes and countries. Events include track, throwing, jumping, and the marathon.
The rules of Paralympic track and field are almost identical to those of its non-disabled counterpart. Certain allowances are made to accommodate certain disabilities. For example, the blind and more severely visually impaired runners compete with guide runners, who are often attached by the wrist with a tether to the runner. More information on IPC rules can be found by visiting the IPC Athletics website.
Paralympic track and field competition is open to male and female athletes with physical disabilities such as dwarfism, amputation/limb loss, blindness/visual impairment, spinal cord injury/wheelchair-users and cerebral palsy/brain injury/stroke.
Today World Para Athletics, under the governance of the International Paralympic Committee, acts as the international federation for the sport and is based in Bonn, Germany.

Additional Information
Paralympic Games Host Cities
1960 - Rome, Italy
1964 - Tokyo, Japan
1968 - Tel Aviv, Israel
1972 - Heidelberg, Germany
1976 - Toronto, Canada
1980 - Arnhem, Netherlands
1984 - Stoke Mandeville, Great Britain/New York, United States
1988 - Seoul, South Korea
1992 - Barcelona, Spain
1996 - Atlanta, United States
2000 - Sydney, Australia
2004 - Athens, Greece
2008 - Beijing, China
2012 - London, Great Britain
2016 - Rio de Janeiro, Brazil
2021 - Tokyo, Japan
2024 - Paris, France
2028 - Los Angeles, United States
Paralympic Games Sports
Archery
Athletics
Badminton
Boccia
Canoe
Cycling
Equestrian
Football 5-a-side
Goalball
Judo
Powerlifting
Rowing
Shooting Para sport
Sitting volleyball
Swimming
Table tennis
Taekwondo
Triathlon
Wheelchair basketball
Wheelchair fencing
Wheelchair rugby
Wheelchair tennis
Team USA Total Medals by Paralympic GamesYear - Host City - Total Medals - Gold, Silver, Bronze2016 - Rio de Janeiro, Brazil - 115 - 40 gold, 44 silver, 31 bronze
2012 - London, Great Britain - 98 - 31 gold, 29 silver, 38 bronze
2008 - Beijing, China - 99 - 36 gold, 35 silver, 28 bronze
2004 - Athens, Greece - 88 - 27 gold, 22 silver, 39 bronze
2000 - Sydney, Australia - 109 - 36 gold, 39 silver, 34 bronze
1996 - Atlanta, United States - 157 - 46 gold, 46 silver, 65 bronze
1992 - Barcelona, Spain - 175 - 75 gold, 52 silver, 48 bronze
1988 - Seoul, South Korea - 269 - 91 gold, 90 silver, 88 bronze
1984 - Stoke Mandeville, Great Britain/New York, United States - 397 - 137 gold, 131 silver, 129 bronze
1980 - Arnhem, Netherlands - 195 - 75 gold, 66 silver, 54 bronze
1976 - Toronto, Canada - 155 - 66 gold, 44 silver, 45 bronze
1972 - Heidelberg, Germany - 75 - 17 gold, 27 silver, 31 bronze
1968 - Tel Aviv, Israel - 99 - 33 gold, 27 silver, 39 bronze
1964 - Tokyo, Japan - 123 - 50 gold, 41 silver, 32 bronze
1960 - Rome, Italy - 25 - 11 gold, 7 silver, 7 bronze
Team USA Total Track & Field Medals by GamesYear - Host City - Total Medals - Gold, Silver, Bronze2016 - Rio de Janeiro, Brazil - 43 - 17 gold, 15 silver, 11 bronze
2012 - London, Great Britain - 28 - 9 gold, 6 silver, 13 bronze
2008 - Beijing, China - 28 - 9 gold, 14 silver, 5 bronze
2004 - Athens, Greece - 26 - 7 gold, 8 silver, 11 bronze
2000 - Sydney, Australia - 49 - 14 gold, 15 silver, 20 bronze
1996 - Atlanta, United States - 78 - 22 gold, 24 silver, 32 bronze
1992 - Barcelona, Spain - 96 - 40 gold, 25 silver, 31 bronze
1988 - Seoul, South Korea - 162 - 50 gold, 56 silver, 56 bronze
1984 - Stoke Mandeville, Great Britain/New York, United States - 233 - 76 gold, 83 silver, 74 bronze
1980 - Arnhem, Netherlands - 115 - 42 gold, 45 silver, 28 bronze
1976 - Toronto, Canada - 99 - 39 gold, 34 silver, 26 bronze
1972 - Heidelberg, Germany - 50 - 14 gold, 18 silver, 18 bronze
1968 - Tel Aviv, Israel - 43 - 16 gold, 11 silver, 16 bronze
1964 - Tokyo, Japan - 48 - 18 gold, 18 silver, 12 bronze
1960 - Rome, Italy - 4 - 3 gold, 0 silver, 1 bronze