On & Off Campus Athlete and Rotation
Program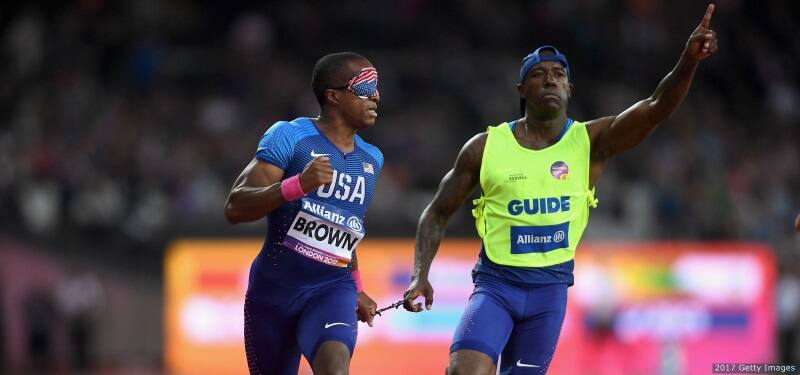 David Brown (left) and guide Jerome Avery (right) celebrate victory at the 2017 World Championships.
The primary objective of the on & off campus athlete program at the Chula Vista Elite Athlete Training Center is to provide an environment of high performance for athletes to grow athletically and personally as Paralympic hopefuls. The initial qualification standards, as well as the program requirements and expectations are provided within the program memo and application and will be supplemented through information provided to you from U.S. Paralympics Track & Field and the USOPC staff. Athletes will be evaluated for eligibility based on the information submitted as well as their performance, their ability to sustain a productive training and competition schedule and their ability to thrive within the environment at the training center. Access to the training center is a privilege that has proven to support athlete podium pursuits and sustainable independence, initiative and collaboration with staff and coaches are very important aspects of success at the center.
U.S. Paralympics Track & Field On & Off Campus Program Information
U.S. Paralympics Track and Field Chula Vista On & Off Campus Program Application- Deadline November 6, 2024
If you have any questions please contact Sherrice Fox at USParaTFInfo@usopc.org.