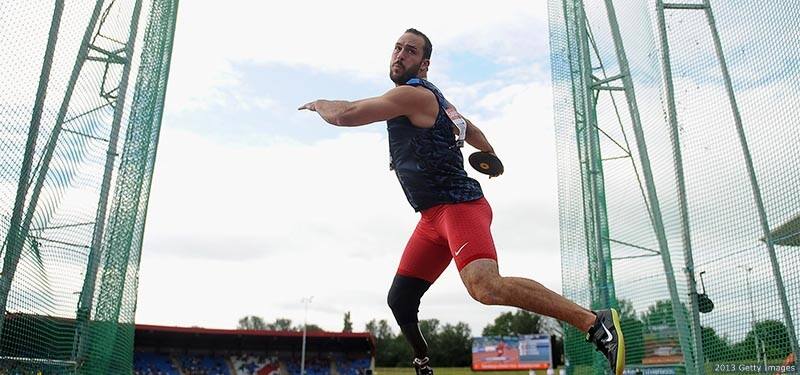 Jeremy Campbell shown here competing in the discus throw.
Classification
Classification Overview
Classification provides a structure for Paralympic competition. The International Paralympic Committee has adopted a universal classification code in order to facilitate the implementation of accurate, reliable, and credible sport-specific classification systems. The classification process determines who is eligible to compete in a Paralympic sport and it groups the eligible athletes in sport classes according to their activity limitation in a certain sport. For more information about Paralympic classification and the IPC Athlete Classification Code, please visit the IPC Classification Webpage.
World Para Athletics is the international federation for track and field. WPA is responsible for creating and implementing the rules and regulations that govern the Paralympic track and field classification system. For more information about track and field's classification system, rules and regulations, please visit the World Para Athletics Classification Webpage.
All national classifications conducted in the United States fall under the governance of U.S. Paralympics as the National Paralympic Committee for the United States. For more information about the national classification policies and procedures, please visit the U.S. Paralympics Classification Policies and Procedures Webpage.
Classification Database
The U.S. Paralympics Track and Field National Database includes all athletes whose classification information is on file with either the IPC, WPA and/or U.S. Paralympics. Athletes who have been nationally or internationally classified as per the Code and/or the U.S. Paralympics Classification Policies and Procedures are included. Only athlete who have a current IPC License appear on the International Master list.
National Classification and Opportunities
All athletes who wish to compete in the Paralympic divisions at events must undergo a national classification evaluation to determine their sport class. The steps to obtaining a national classification are outlined below.
2023 Classification Opportunities
2023 Events Hosting Classification
Athletes with a Physical Impairment (PI)
1. Submit the national medical diagnostics form to the USOPC Classification Manager. The form should clearly define which of the eligible impairment(s) the athlete has and supporting documentation should be provided to verify the underlying health condition or origin of the impairment(s). The national medical diagnosis form must be submitted prior to attending a classification evaluation.
2. Register for an event that has a national classification panel
3. Attend a classification evaluation. Classification takes place one or two days prior to competition and participation in the competition is required to complete classification. The evaluation process consists of:
a. Physical Assessment - a series of functional ability tests performed by a Medical Classifier

b. Technical Assessment - a series of practical ability tests observed by a Technical Classifier

c. Provisional Sport Class Allocated - Based on the results of both of the above tests, athletes are allocated a provisional sport class

d. Observation in Competition - This will confirm or alter the provisional sport class allocation
Athletes with a Visual Impairment (VI)
1. Athletes with visual impairments may obtain a national classification at any time during the year, and do not need to attend an event as part of the classification process. To obtain a National VI Classification, athletes must have the visual impairment medical diagnosis form completed by their ophthalmologist and return to the USOPC Classification Manager along with supporting documentation related to the diagnosed eye condition as outlined on the medical diagnosis form at least four weeks prior to a competition they intend to compete at.
2. Once the forms are received by the USOPC, they are reviewed by a VI classifier, and the outcome will be communicated by the USOPC to the athlete. VI classification may require visual field testing, additional tests or information to complete classification which may delay the outcome. VI athletes must complete this process and be listed in the Classification Database to compete in events.
Athletes with an Intellectual Impairment (II)
U.S. Paralympics has partnered with Athletes Without Limits for all intellectual Impairment Classifications. Athletes Without Limits is responsible for determining whether U.S. athletes with intellectual and developmental disabilities are eligible for Paralympic competitions. The three main criteria to be eligible for the II sport class of Paralympic Competition are:
1. IQ of 75 or below (Must be *WISC, WAIS, Stanford-Binet or Raven)

2. Significant limitations in Adaptive Behavior (Vineland, ABAS or Other

3. Onset before age 18
For more information about the II sport classes and to begin the eligibility/classification process, please visit the Athletes Without Limit webpage.
International Classification and Opportunities
Athletes must hold a current IPC License and have the appropriate medical documentation to request international classification. The appropriate Visual Impairment or Physical Impairment Medical Diagnostics Form must be submitted six weeks prior to the date of the International Classification - failure to follow this procedure could result in cancellation of the classification appointment. Each form outlines the specific tests, x-rays, MRIs, etc. required for various impairments that should be provided as supporting documentation. The Medical Diagnostics form and the supplemental documents must be completed by the athlete's physician or ophthalmologist. For more information about how to apply for an IPC License, please visit the IPC Licensing webpage.
International Classification Forms
International Classification Opportunities
For a full list of International Classification Opportunities, please visit the World Para Athletics Calendar. Please note that international classification slots are limited and allocated by World Para Athletics. There may be more athletes who request international classification than slots available; in these cases slots will be awarded based on athlete performance marks compared to the national team standards. Athletes who meet the criteria and wish to request an international classification slot should contact the USOPC Classification Manager at NPCUSAclassification@usopc.org and the track & field staff at USParaTFTeam@usopc.org. International Classification Appointments must be requested at least six weeks prior to the date of the classification.
Other Documents