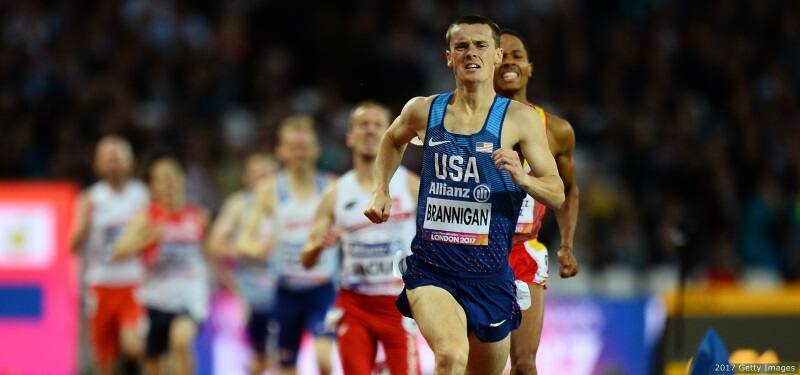 Mikey Brannigan competes at the 2017 World Championships.
National Team Competitions
Unless noted as HOSTED, the events listed below are not U.S. Paralympics Track & Field hosted competitions so are not under the jurisdiction of the USOPC or subject to its policies. If you are a Participant of the USOPC/U.S. Paralympics Track & Field at the time of a competition listed below, you are still required to be familiar with and comply with the USOPC Athlete Safety Policy and USOPC Minor Athlete Abuse Prevention Policies while participating at the event. The polices and information regarding reporting allegations of misconduct can be found at https://www.usopc.org/safe-sport.
All World Para Athletics (WPA) Approved events can be found by visiting the WPA Competition Calendar.
Athletes who hold a current IPC Athletics License must compete at a WPA approved competition for results to count for the WPA ranking list(s), WPA world and regional record applications, U.S. Paralympics Track & Field National Team status and WPA international competition qualification (i.e., Parapan American Games, world championships, Paralympic Games, etc.).
Competitions can be approved in one of two ways:
World Para Athletics Approved Events Form
WPA Approved International and National Competitions are competitions for athletes with a disability (or where these events form part of a wider program). Local Organizing Committees/Event Directors must complete this application and submit the required supporting documentation to U.S. Paralympics at least four months in advance of the scheduled competition start date. Upon approval of the competition, a WPA Technical Delegate will be appointed by WPA.
Contact Sherrice Fox 719-866-3353 or USParaTFInfo@usopc.org for more information regarding WPA-approved events.
Please click here to view all World Para Athletics (WPA) approved events.