Roundup A Look Back At A Memorable Weekend At Nationals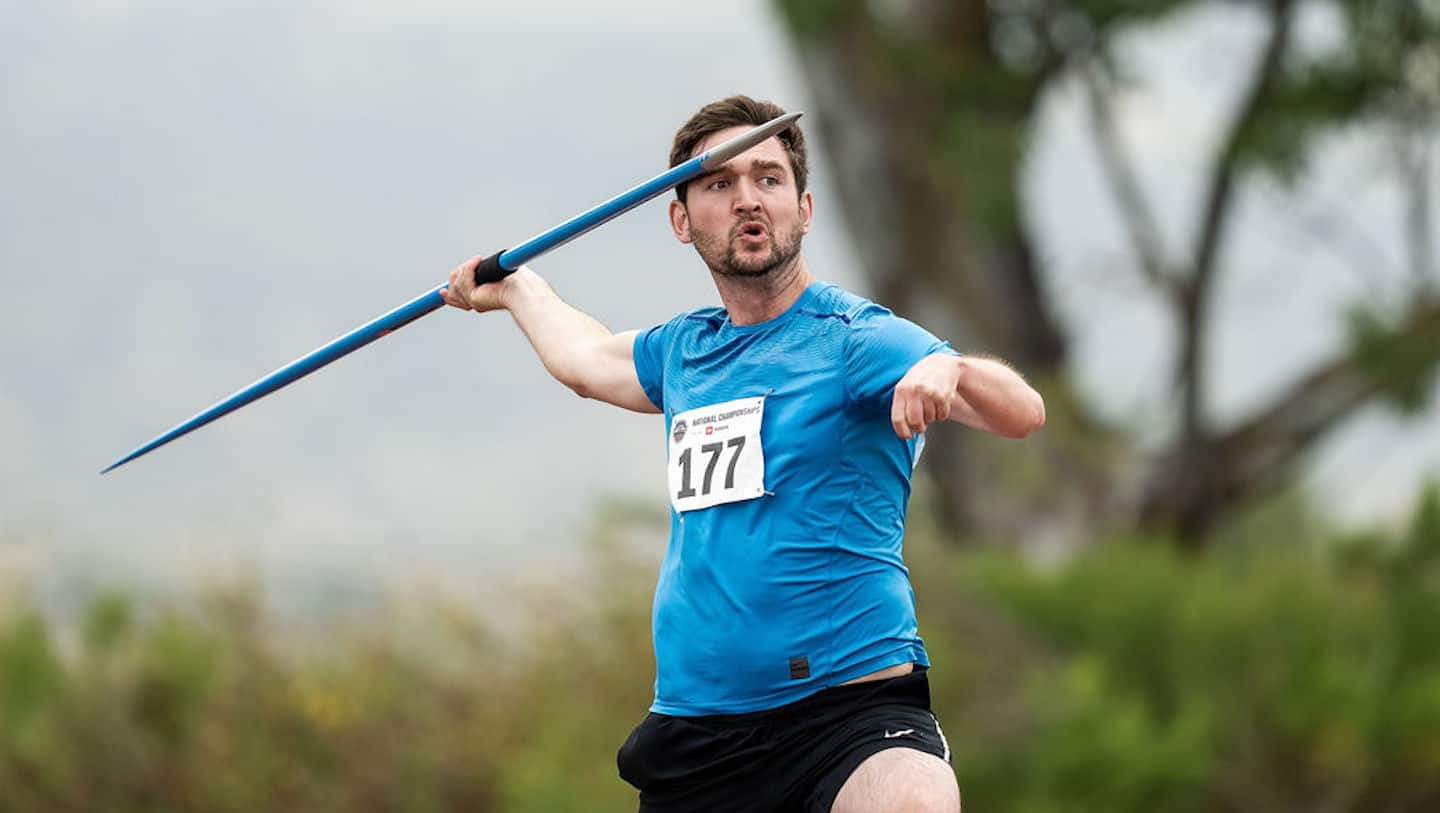 Cody Jones throws javelin at national championships. (Photo: John Matthew Harrison)
Every other week we scour the web for the latest going on in the world of U.S. Para track and field. Here's what you missed!
Nationals Highlights
Some of the top American Para track and field athletes flocked to Chula Vista, California, last weekend to compete in the U.S. Paralympics Track & Field National Championships.
The field included more than 50 Paralympians, plus dozens of hopefuls, all looking to make a name for themselves and earn a national title. By the end of the meet, 45 athletes earned a spot on the world championships roster and will compete this July in Paris.
Here's a look at some of the highlights from Chula Vista this weekend:
While multiple Americas records were set at nationals, the headliner was a new world record set by DePaul University thrower Noelle Malkamaki. After setting an Americas record in the women's shot put F46 at last year's national championships, the Decatur, Illinois, native set a new world record with a throw of 12.63 meters.
While Malkamaki was satisfied with her second career national title, she admitted that she was expecting to throw farther than she did this weekend.
"I think everyone always wants a little bit more," she said in an Instagram video posted by the U.S. Paralympics Track & Field account. "I was hoping for a bigger distance today, but I'm hoping that'll come later this summer."
A quintet of Paralympic greats competed in the 4x100 universal relay together at nationals. A team of Lex Gillette and his guide Jerome Avery, Brittni Mason, Nick Mayhugh and Tatyana McFadden — who have won a combined 35 Paralympic medals between them — won the relay in 50.05 seconds.
All five of those athletes will be competing in Paris this summer. If you were wondering how they're going to spend their time in the French capital when they aren't racing, here's your answer.
Susannah Scarnoi is also among the 45 athletes who will compete in Paris after she won three of the four races she competed in at nationals. The two-time Paralympic medalist went to Instagram to share a beautiful view of the track in Chula Vista.
McFadden Talks Global Accessibility Awareness Day
May 18 marked the 12th celebration of Global Accessibility Awareness Day. The holiday aims to increase awareness about digital access and inclusion for people with disabilities.
Top help spread the word, 20-time Paralympic medalist Tatyana McFadden spoke with NBC Sports about what GAAD means to her.
"I live it every single day," she told NBC Sports. "It shouldn't be just a one-day thing. We should celebrate accessibility and global awareness every single day. As soon as I leave my house, I have to learn how to adapt right away."
McFadden went on to talk about her track and field career, Tatyana's Law, her mom's role in writing the Americans with Disabilities Act and much more.
Drop The Mic
Why do sprinters get all the love at track meets?
That's what Paralympic jumpers Roderick Townsend, Ezra Frech and Dallas Wise were wondering this past weekend in Chula Vista.
"Jumps don't get enough love, and we really know how to put on a show," Townsend said in an Instagram video posted by the Team USA account. "Keep the cameras on us and we're going to put on a show every single time."
Townsend has proved that to be true on multiple occasions, as he's the back-to-back Paralympic champ in the men's high jump T47, as well as the three-time defending world champ in the same event.
Townsend, Frech and Wise all made the worlds roster, so they will be looking to put on a show in Paris.
Expecting
Speaking of Townsend, his biggest news last week came off the track: he announced on Mother's Day that he and his wife Tynita — who competed in the Tokyo Olympics as a high jumper — are expecting their first child.
Survivors
After Paralympic sprinter Noelle Lambert met Ryan Medrano while they both competed on season 43 of "Survivor," Lambert thought Medrano would be a good addition to the U.S. Para track and field team.
Turns out she was right, as Medrano performed well enough at nationals to make the roster for the world championships.
Lambert caught up with Medrano in Chula Vista and they revealed if it was harder to compete in track and field or "Survivor."
More Than An Athlete
While Aimee Mullins grew up playing sports and eventually competed as a sprinter and a jumper in the Paralympic Games Atlanta 1996, her first love was acting.
"From my earliest memory I always knew I was going to be an actor," Mullins told Paralympic.org. "I wanted to be an artist. I love painting and sculpting and pretending to be other people."
After her Paralympic career, Mullins eventually got into modeling and acting. She has more than 20 acting credits, including appearing in Netflix's hit show "Stranger Things."
You can read more about Mullins' post-athletic career here.