Wallace's first career medal, Mayhugh's world record highlight final full day of track and field competition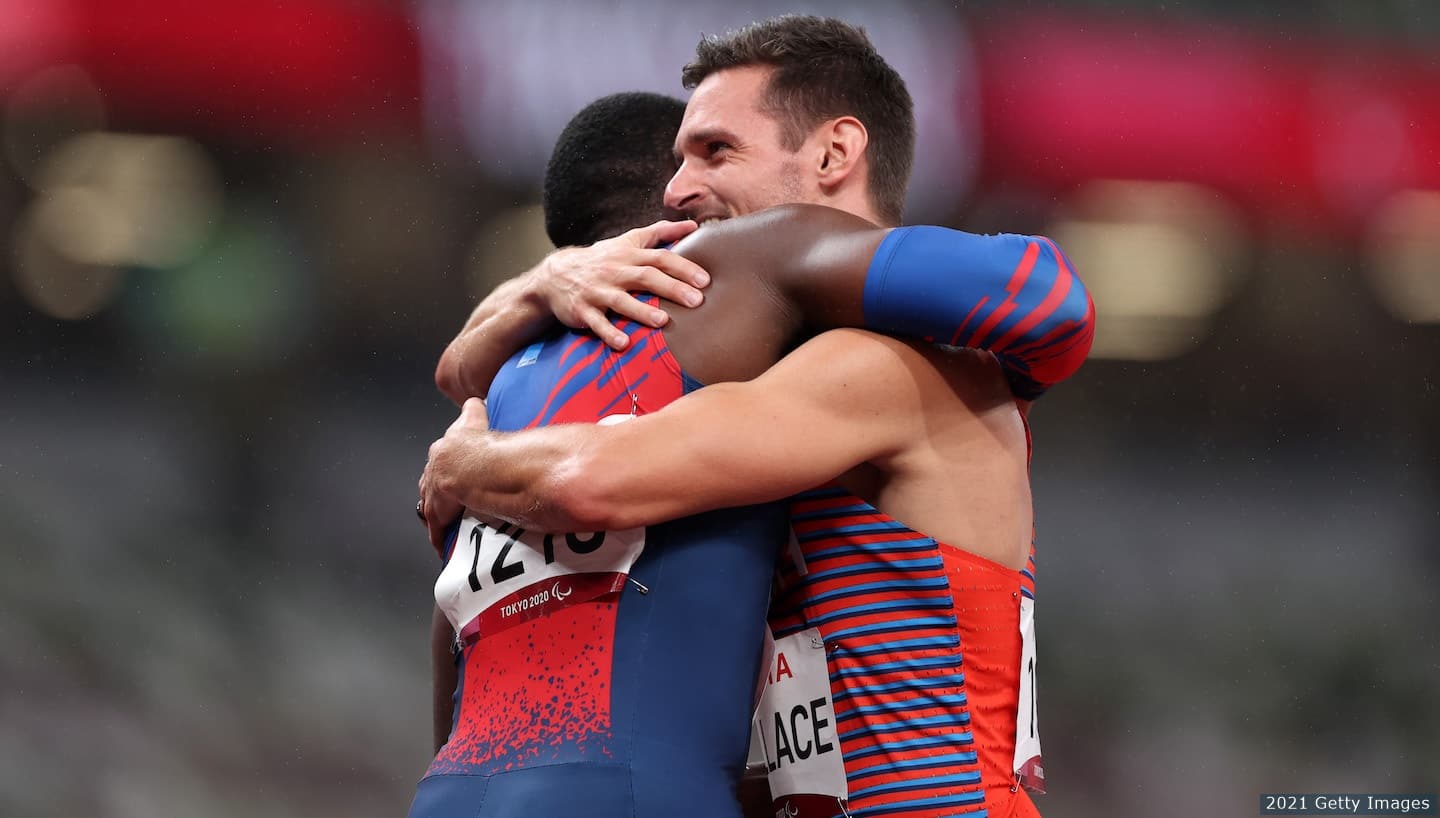 TOKYO – In his third Paralympic appearance at the Paralympic Games Tokyo 2020, Jarryd Wallace (Athens, Georgia) found the podium for his first Paralympic medal taking bronze in the men's 200-meter T64. The medal was an emotional one for Wallace, who said the combination of running with – and beating – the fastest class of athletes in Paralympic history and the thought of all his family had sacrificed for him to be there, was overwhelming.
Wallace competed in London 2012 and Rio 2016 but never finished higher than fifth before tonight's final. He has previously won the 200m at world championships in 2017 and 2013, and secured his first Paralympic podium with a season-best time of 22.09 with his nearly two-year-old son watching at home.
Nick Mayhugh (Manassas, Virginia) finished the Tokyo Games as one of Team USA's breakout stars, earning his fourth medal – three of which are gold – in the men's 200 T37. It was Mayhugh's fourth race in two days after competing in 200 preliminary heat and both the preliminary and final events for the 4x100 relay. Mayhugh broke his third world record in two days, besting the 22.26-second record he had set in preliminary heat with a blistering 21.91-second effort to claim gold.
Brittni Mason (Cleveland, Ohio), another up-and-coming star in her first Paralympic Games, took home her third medal of the Tokyo Games speeding to silver in the women's 200 T47. Mason also took silver in her 100 race and was part of the 4x100 relay team that set a world record en route to gold yesterday. Despite her busy schedule, Mason ran a personal-best 25.00 seconds to secure her final medal of the Tokyo Games. Teammate Deja Young (Mesquite, Texas), took fifth with a season-best time of 25.53 after earning bronze in the 100 earlier this week.
Alexa Halko (Williamsburg, Virginia) earned her fourth career Paralympic medal to get things started for Team USA in the morning session. Halko took bronze in the women's 800 T34, her first medal in Tokyo. With her Paralympic program wrapped, Halko said she is now turning her focus to next year's world championships in Kobe, Japan, and then on to qualifying for Paris in 2024. The only other American in the race, 20-year-old Eva Houston (Omaha, Nebraska), rounded out her Paralympic debut with a sixth-place result.
Kym Crosby (Yuba City, California) followed Halko's performance by nabbing a bronze in the women's 400 T13 competition. Crosby was out of medal position heading into the final 50 meters, but turned on the gas and sped ahead of three opponents in the final straightaway to claim her second bronze medal of the Games. She concludes Tokyo as a three-time Paralympic medalist. Fellow Team USA runner Erin Kerkhoff (Coralville, Iowa) finished sixth in her first Paralympic final.
After missing the podium by hundredths of a second in the men's 100 T13 final, Isaac Jean-Paul (Evanston, Illinois) found redemption in the men's long jump T13 to round out Team USA's trio of bronze medals in the morning session. Jean-Paul, who is a two-time world championship silver medalist in the long jump, was sitting in fourth place heading into the sixth and final jump. He had just enough left in the tank, flying 6.93 meters to inch ahead of Britain's Zak Skinner who had been in the bronze medal position at 6.91 meters.
Also competing on track and field's final two-session day was Tanner Wright (Fort Worth, Texas), who finished in the world's fourth best time and his top result in Tokyo in the men's 200m T47. Jonathan Gore (Fayetteville, West Virginia) also had a strong showing taking fourth in the men's 100 T64 final just behind Wallace.
Marshall Zackery (Ocala, Florida) took sixth in the men's 200m T35 while Rayven Sample (Jamestown, New York) and Trenten Merril (San Juan Capistrano, California), who earned his first career medal in the long jump earlier this week, were disqualified in their heats due to lane infringement in the men's 200 T47 and the men's 100 T64 respectively.
Track and field competition concludes with the marathon on Sept. 5 at 6:30 a.m. JST (September 4 at 5:30 p.m. EST). Team USA will have seven wheelchair athletes set to compete in the T54 categories, which are the first classes off the starting line. The marathon will be live streamed through NBCOlympics.com and the Olympic Channel. A full schedule of events is available here.
For media inquiries, please contact Kristen Gowdy at Kristen.Gowdy@usopc.org.
TEAM USA MEDALS (Day 8)


Gold:
- Nick Mayhugh (men's 200 T37)
Silver:
- Brittni Mason (women's 200 T47)
Bronze:
- Kym Crosby (women's 400 T13)
- Alexa Halko (women's 200 T34)
- Isaac Jean-Paul (men's long jump T13)
- Jarryd Wallace (men's 200 T64)
QUOTES
Nick Mayhugh
It's an incredible feeling. It's a testament to all the hard work myself and my brother and my coach have put into this. My whole family and my support system, the work we put into this. That's the one my brother really wanted, this race, and I went out and ran it for him. My legs are tired, running as many races as I have the past few days, so I went out and ran it for him. I wanted to break the record in the prelim, and I challenged myself to do it in the finals.
I didn't feel good in the blocks, I didn't think I could break it again in the final, but I came around the bend and saw where everyone was behind me, I just pushed. You could see how emotional I was at the finish line. All I could think about was my brother. It's the event we've been working on, it's my favorite race to run. Having the endurance of playing soccer, I knew I had that endurance and speed and grit.
Brittni Mason
Six races this week and I'm finally done. I pushed through the line as much as I could, tried to follow the competition and came out with the silver medal.
I've ran four races in the last 36 hours so the fact that I can still come out here and still run my season's best in this event is so surreal. It's all I can ask for.
Jarryd Wallace
I mean I ended it with a bang, for sure. I'm 31 I'm getting up there and near the end of my career. To be able to have competed, placed bronze against the strongest amputee field in this Paralympic sport is amazing.
I felt so good today, this morning. I really felt relaxed and executed really good prelim and, you know what we needed to do tonight to get on the podium so I'm just really, really honored to be here.
The tears came and the shock came and I still can't believe I'm here holding the flag and shortly I'll be putting on this beautiful white podium kit getting on the podium and grabbing a bronze medal.
Kym Crosby
I just ran it how I knew I needed to run it, I just needed to run my own race, and to me I executed it pretty well. I have no words, I'm just so excited. I had no idea I came in third crossing that finish line, so hearing it was a shock to me and I was just so excited.
I've had quite the year, I have trained my hardest and am in the best shape of my life. I've had to jump through so many hoops, battle so many injuries, to get here. Right now, being on the podium and getting this personal best, it's all worth it.
Alexa Halko
It's really awesome coming back to a second Games and medaling again. I was really nervous with COVID and everything, how I would match up. It's just been a lot of training and trying to motivate myself. Winning this bronze just keeps me going more. I still want to get that gold, I still want to get to the top.
Isaac Jean-Paul
It feels amazing. It was frustrating at first, I'm fouling, I'm jumping off the wrong leg, but I finally got my nerves together and was able to push one out. It just makes me more hungry. I have so much respect for all of my competitors, but next year I'm going to jump farther and run faster.
FULL RESULTS
For full results from Tokyo 2020, please visit Paralympic.org.

SOCIAL MEDIA
Follow U.S. Paralympics Track & Field on Facebook, Twitter and Instagram for Team USA's latest news and updates.