Para Track Power Couple Kym Crosby And Erik Hightower Seek To Bring More Medals Into The Family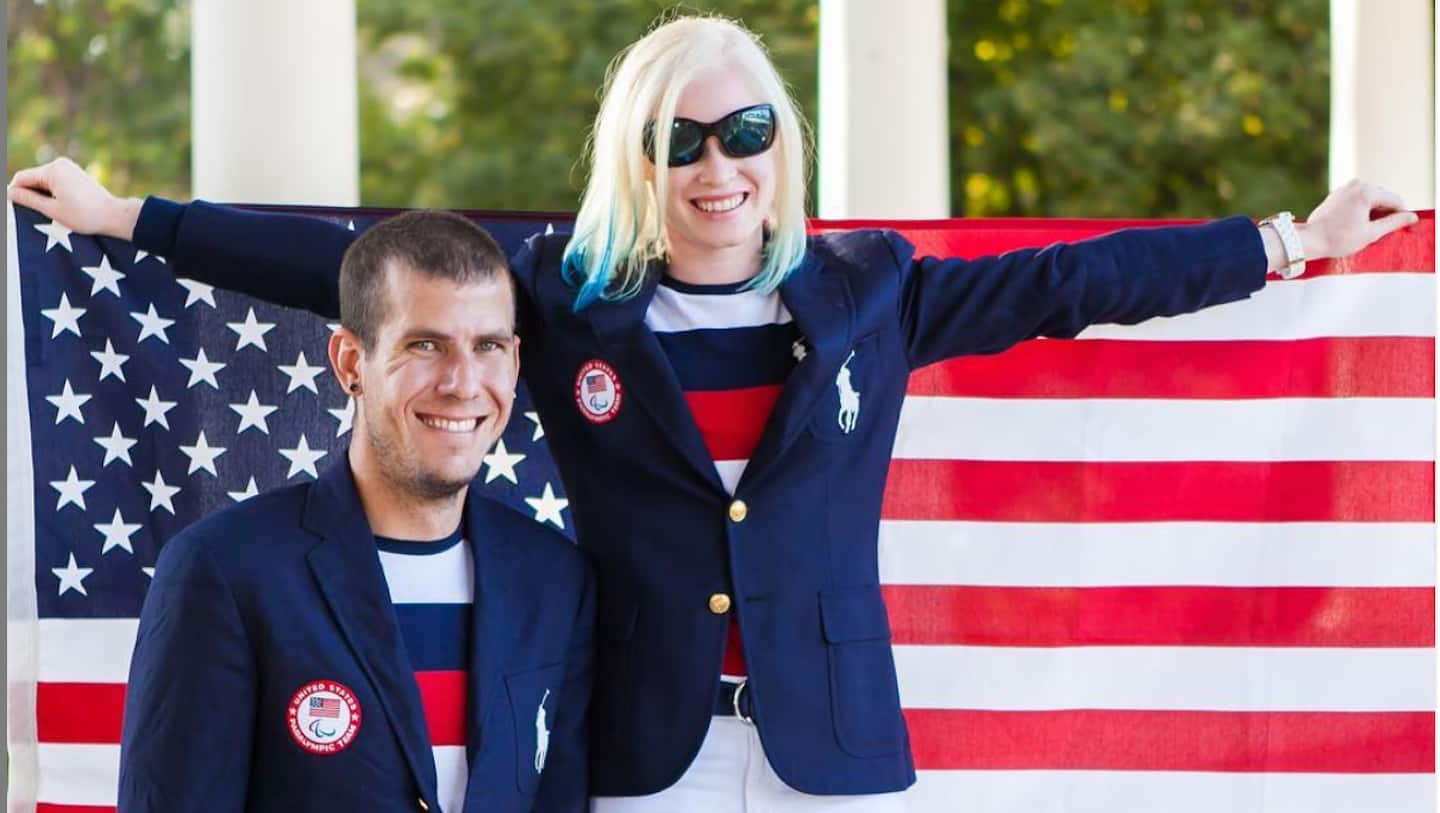 Kym Crosby and Erik Hightower pose with an American flag. (Photo courtesy of Kym Crosby and Erik Hightower)
Listen to Kym Crosby talk about the time she first encountered Erik Hightower at the Chula Vista Elite Athlete Training Center in California, and you get the impression that it was less than a magical moment.
"I had never met Erik before," Crosby said. "I honestly didn't really give him the time of day."
That was in 2014 before the U.S. Paralympics Track and Field team traveled to Canada to compete. Crosby and Hightower were both going on that trip.
"I was pretty new to the whole Paralympic (community)," Crosby recalled. "It was my first time traveling by myself and even out of the country. Erik was the only person that I knew that was going on that trip."
Hightower was a veteran presence on that trip and helped Crosby navigate through the experience.
"We became friends," said Crosby, who moved to the training center the following year. "We started hanging out more then. One thing led to another, and now we're married."
Since their marriage in September 2018, the couple has spent a lot of time together training, traveling and competing for Team USA.
"We have the same coach, so we train at the same time, but we don't necessarily do the same workouts," Crosby said. "We don't actually get to train with each other, like alongside each other, but we are out on the track at the same time, which is really nice because we get to really cheer each other on … during our workouts."
The 28-year-old Crosby said she can tell when Hightower's practice sessions aren't going the way he wanted.
"So, then I can walk over to him and I can … try to talk him up and remind him of his goals and what we're both here to do," Crosby said. "He definitely does the same thing for me, which is really nice.
"We both really get it, and I think that's why it really works for us. In terms of competing, it's really the same thing. It's really nice that we get to travel together and see all of the same sights and experience all of it together.It's honestly a real blessing that we get to do this together."
For Hightower, 35, competing with his wife at the Paralympic Games Rio 2016 was a highlight.
"We train four years really hard to make it to the Games," Hightower said. "And then for both of us to be able to make it to Rio, both be able to compete at the biggest meet, basically, of our lives (was great)."
Crosby, who is legally blind, won a bronze medal in the 100-meter and was fourth in the 400 in Rio.
"Being able to be there and share the same joy … when she won her medal and being able to experience that with her, I think it was really cool," Hightower said.
The bronze medal gave Crosby family bragging rights. Hightower, a two-time Paralympian yet to medal, is working hard to make sure that's a temporary situation.
"That just motivated me even more to train harder and get my own in Tokyo," said Hightower, a wheelchair competitor. "I need to get my redemption. It'd be cool as a married couple to be on that medal stand."
Crosby said her favorite shared experience was the 2017 world championships, where they were able to explore London and took a side trip to Paris after competing.
"Which we said was kind of like our honeymoon before the wedding," Crosby said, jokingly.
While they were in London, Crosby picked up a pair of bronze medals. She has a total of six world championship medals, while Hightower owns a gold and silver from world championship relay races.
Both athletes are now looking ahead to the U.S. Paralympic Team Trials for Track and Field in Minneapolis June 17-20.
"I feel great," said Hightower, adding that the pandemic allowed him to train even harder. "I'm pretty confident. I feel really good going into Trials and hopefully being on that team and representing our country at another Paralympic Games."
Crosby has finally recovered from a strained hamstring she suffered in her first meet of the season. She said she is in her best shape ever.
"I still have great strength and speed, which I'm really happy about," Crosby said. "Going into (Trials), even though I'm coming off of an injury, I'm still feeling pretty great and pretty confident about my abilities and what I can do.
"I'm really confident and happy, and I'm chasing that gold medal, for sure. I don't want to be looking up at anybody this time."
Bob
Reinert
spent 17 years writing sports for The Boston Globe. He also served as a sports information director at Saint Anselm College and Phillips Exeter Academy. He is a contributor to USParaTrackAndField.org on behalf of
Red Line Editorial, Inc.