With Tokyo Coming Up, A Look Back At The Top U.S. Track And Field Moments From Rio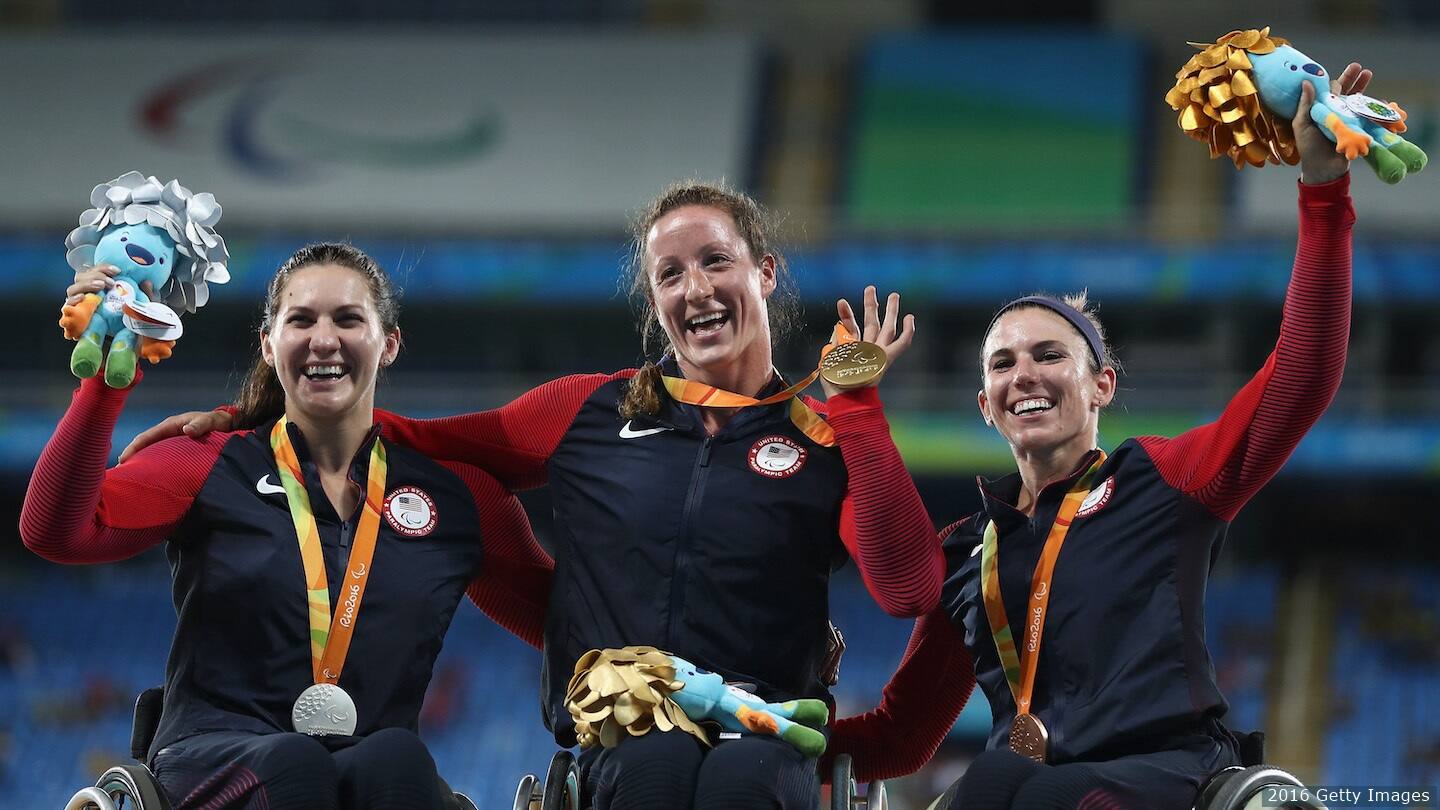 Chelsea McClammer, Tatyana McFadden and Amanda McGrory celebrate a podium sweep in Rio. (Photo: Getty Images)
Team USA finished second in the track and field medal standings at the Paralympic Games Rio 2016, taking home 42 pieces of hardware, including 16 gold medals.
The men and women of Team USA are,of course,currently gearing up for another Paralympic go-around this summer in Tokyo, taking their first official step on that journey next month in Minneapolis with the U.S. Paralympic Team Trials for Track and Field. Before those memories of 2016 are replaced by the new highlights to come from 2021, here is look back at the top U.S. track and field moments from Rio to jog your memory.
In a dramatic finish at the Estadio Olimpico Joāo Havelange in Rio, four-time Paralympian Lex Gillette captured the first medal for Team USA at the Games. He soared to his fourth consecutive silver medal in the men's long jump T11, adding to his collection from Athens, Beijing and London.
Tatyana McFadden, Amanda McGrory and Chelsea McClammer — all University of Illinois teammates — completed two "McSweeps" by claiming all three spots on the podium in both the women's 1,500- and 5,000-meter T54 events. The sweeps McFadden led from the start in the 1,500-meter final, storming to gold in a Paralympic-record time of 3:22.50 ahead of McGrory and McClammer, respectively. Two days later, the trio orchestrated a beautiful 5,000-meter final, with McFadden making her move on the last lap to take first place in 11:54.07, followed by McClammer and then McGrory. McFadden left Rio with six medals total, medaling in every distance from 100 meters to 5,000 meters, plus in marathon. She won gold medals — improving from the three she won in 2012 — in the 400, 800, 1,500 and 5,000.
In his Paralympic debut, 24-year-old Roderick Townsend struck gold in both long jump and high jump in the T47 class. He set Paralympic records in both events, and in the high jump showed that his 2015 world championship was no fluke, falling just short of recording a world-record jump of 2.13 meters. Townsend, who has gone on to win both high jump world championships since, was the only athlete to even clear 2.0 meters in Rio.
Entering Rio 2016, either Team USA's Jeremy Campbell or Great Britain's Dan Greaves, or both, had medaled at each of the past four Paralympic Games and were the heavy favorites in the men's discus throw F44 once again. Then came David Blair. Making his Paralympic debut, Blair won a surprise gold in record-breaking fashion, throwing a world-record 64.11 meters on his third attempt.
In his highly anticipated Paralympic track and field debut, 19-year-old Mikey Brannigan led the 1,500-meter T20 final from start to finish to take gold in 3:51.73. His wire-to-wire victory made him the first T20 athlete to break the 4-minute barrier, and his time was within one second of Matthew Centrowitz's gold-medal run over the same distance at the Rio Olympic Games. In the T20 classification on the women's side, Breanna Clark, also making her Paralympic debut, won gold over 400 meters. She crossed the finish line in 57.79, just one-hundredth of a second off the world record. Clark's mother Rosalyn had also represented Team USA, winning a silver medal in the 4x400-meter at the 1976 Olympic Games in Munich, Germany.
The world's fastest blind athlete, David Brown, stayed in sync with guide Jerome Avery perfectly for the entirety of the 100-meter T11 final to win gold in Rio. The pair set a Paralympic record in the process, clocking in at 10.99 to bring the U.S. a dose of hope on the anniversary of Sept. 11. It was an extra sweet victory, as they beat out the host nation's hero Felipe Gomes and his guide on their home track.
Stuart Lieberman covered Paralympic sports for three years at the International Paralympic Committee, including at the London 2012 and Sochi 2014 Games. He is a freelance contributor to USParaTrackAndField.org on behalf of
Red Line Editorial, Inc.