Scaroni, McFadden take gold, bronze for first U.S. track double podium in Tokyo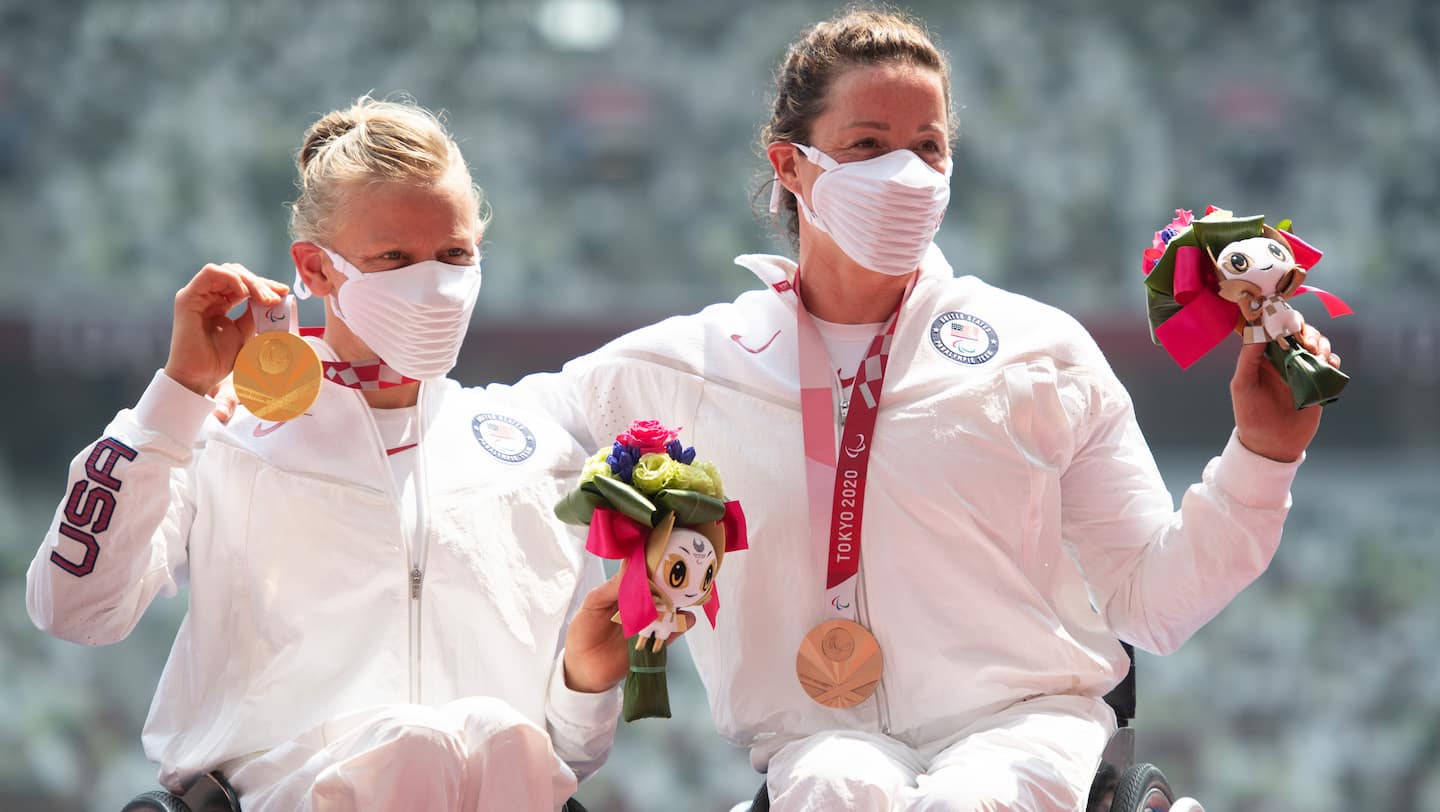 TOKYO, Japan – Susannah Scaroni (Tekoa, Washington) pulled away from the pack with seven laps to go and found the top of the podium in the women's 5000-meters T54 final to lead Team USA's three-medal haul on day two of track and field competition at the Paralympic Games Tokyo 2020. Scaroni's training partner and wheelchair racing legend, Tatyana McFadden (Baltimore, Maryland), earned bronze in the race for her 18th Paralympic medal and Team USA's first double podium in track and field in Tokyo.
Primarily known as a marathoner, Scaroni said she took a risk by pushing out in front of the pack so early in the race, but the bold move paid off. Her time of 10:52.57 is a Paralympic record, and the gold is the three-time Paralympian's first-ever Paralympic medal.
McFadden, widely considered one of the greatest wheelchair racers of all time, elected not to chase down Scaroni and Switzerland's Manuela Schaer, and the move was part of what allowed Scaroni to maintain such a big lead over the rest of the field. In the final 100m of the race, McFadden squeezed ahead of Nikita den Boer of the Netherlands for the bronze.
McFadden, who was diagnosed with a blood clotting disorder in 2017 at the height of her career and was not sure whether Tokyo was even a possibility, was thrilled with the medal. She and Scaroni train together in Champaign, Illinois, alongside Jenna Fesemyer (Ravenna, Ohio), who finished seventh in the competition in her Paralympic debut. Fesemyer's time of 11:17.24 was a personal best in the 5000m.
While Paralympic veterans Scaroni and McFadden are established stars in the sport, 18-year-old Liza Corso (Newmarket, N.H.) made her debut on the biggest stage and took home the silver medal in the women's 1500m T13 final. Corso, who is entering her freshman year of Division I track and cross country at Lipscomb University, only discovered adaptive sports two years ago, and this was her first major international competition. Her time of 4:30.67 in the final was a personal best and was 13 seconds faster than her preliminary heat time.
In the men's 5000m T54, Daniel Romanchuk(Mount Airy, Maryland) just missed his first career Paralympic podium. His final time of 10:30.50 was just .13 seconds behind bronze medalist Putharet Khongrak of Thailand. Romanchuk will be back on the track shortly, racing in the preliminary heats of the men's 400m T54 tomorrow morning.
All four wheelchair racers have a packed schedule on the docket in Tokyo. Scaroni has three more events, McFadden has four, Romanchuk five and Fesemyer two. Add on the possibility of competing in the team relay, and the quartet will have plenty more opportunities at the podium.
In other Team USA action, Beatriz Hatz (Lakewood, Colorado) finished fifth in the women's long jump T64 in her Paralympic debut, while 16-year-old Ezra Frech (Los Angeles, California) took eighth in the men's long jump T63 and teammate Regas Woods (Dunellon, Florida) took 10th in the same event.
Track and field competition resumes on August 29 at 9:30 a.m. JST (August 27 at 8:30 p.m. EST). All races will be live streamed through NBCOlympics.com, on Peacock and through the NBC Sports app. A full schedule of events is available here.
For media inquiries, please contact Kristen Gowdy at Kristen.Gowdy@usopc.org.
Gold:
- Susannah Scaroni (women's 5000m T54)
- Liza Corso (women's 1500m T13)
- Tatyana McFadden (women's 5000m T54)
I feel so blessed. My strength is going as hard as I can for a long time, and that never happens at the Paralympics, and I have no experience doing anything else. But I looked back and no one was there, and seven laps to go was a huge risk, but I knew my strengths and took it. Meanwhile, Tatyana didn't make a chase, which meant they didn't catch up over those seven laps. I feel like we both won, honestly.
I've been telling myself all summer that I'm not allowed to do that. Seven laps to go was a bold move. It was actually an accident. I'm really grateful and surprised.
It means the world to me [to podium with her training partner]. I still get anxiety watching their races, with how proud I am of them. Just to continue to carry on that Team USA legacy of respect toward one another and to celebrate together, it means the world to me to be a part of that.
I feel amazing. I actually didn't find out about the Paralympics until two years ago. I've been running my whole life, but that dream kind of started them. When I was a little girl I always wanted to compete on a big stage, internationally.
There are so many people who have sent amazing messages and sent their support. My high school did a watch party, and my college team watched. There are so many people who have shown me so much love, and it has helped me so much.
This is textbook work today. It worked out really beautifully. Seeing Susannah go out in front, I just wanted her to do her thing. I took a risk in not bringing the whole world up to her because I wanted to test other people. I knew she could hold that speed forever because we train together. I believed in her, I believed in myself, and it worked out so well.
This has been a really tough five years for me. I have good days and I have bad days. I'm just so excited to make Team USA. It's really hard to make Team USA, it's very competitive. And I'm just excited to bring home an 18th medal. This is our third track meet back, and it happens to be the Paralympic Games. I felt like I won a gold today, I'm very happy. I wanted Team USA to win a gold, and I saw my teammate out front. I knew if I hung in the back and protected her, we would be just fine.
FULL RESULTS
For full results from Tokyo 2020, please visit Paralympic.org.

SOCIAL MEDIA
Follow U.S. Paralympics Track & Field on Facebook, Twitter and Instagram for Team USA's latest news and updates.