Noah Malone Tops U.S. Teammates In Sprints At Drake Relays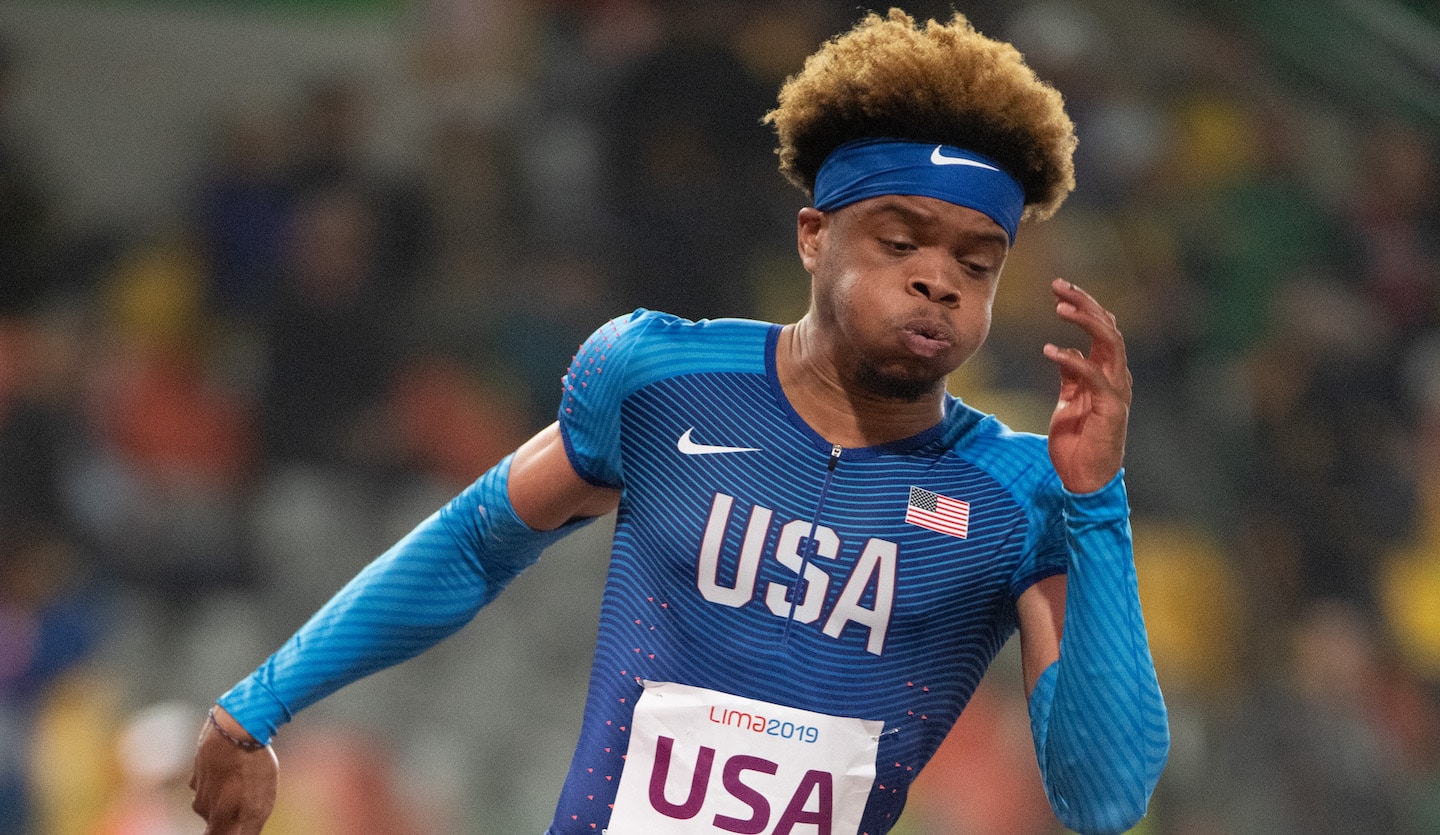 Noah Malone continued his dominant spring season at the 111th Drake Relays this past weekend in Des Moines, Iowa, winning both the 100-meter and 200-meter men's Paralympic dash events in convincing fashion.
Malone, a 19-year-old Indiana State University freshman, cruised to victory in the 100 in 10.97 seconds and followed up the next day with a time of 21.58 seconds in the 200. He repeated his 2019 sweep of the two sprints on the Blue Oval at Drake Stadium.
"It's always a great crowd here at Drake," Malone said. "The environment here makes me run fast. I like it here."
In the 100, Malone was followed across the finish line by U.S. Paralympic teammates Tanner Wright (11.55), Kevan Hueftle (12.15) and Regas Woods (13.88).
"I felt good. I felt like I executed every phase in the race," said Malone of his 100 performance. "I felt powerful. I felt quick. I felt warmed up."
Though the weather was more favorable for the 200 meters the following day, Malone found his performance in that event somewhat lacking.
"The 200 wasn't my best race — a little sloppy," Malone assessed. "I don't think I prepared as well as I have in the past. Not every race is going to be a (personal record). I thought I was going to go lower. Out of my four 200 races this year, that was my slowest one.
"I thought my start was good, but then (in) the transition off the curve, (I) felt winded. My finish wasn't that strong. It's just little things like that."
Wright also was the runner-up in the 200, in 23.11 seconds, followed by Hueftle (24.74) and Woods (27.80).
"I've got to give it to Noah. He's passed me now," Wright said. "I hope he enjoys his college experience. I know I did, and that's one of the reasons why I'm just a better athlete in general. So, I'm happy for him."
Like Malone, Wright enjoyed being back at Drake after a year's absence during COVID-19, even though restrictions kept the crowd size down.
"To be honest, the atmosphere still feels great," Wright said. "It still felt like Drake Relays to me, you know? It's still the same track. It's still the same supportive crowd, either way."
Running against able-bodied athletes in the Missouri Valley Conference (MVC) earlier this spring, Malone already twice ran times faster than the Para world record in the 200. His 100and 200best times this spring are 10.55 and 21.07 seconds, respectively.
One of the only legally blind sprinters in NCAA Division I track and field, Malone's performances this spring earned him two straight MVC Male Track Athlete of the Week honors.
"The new environment, the first year in college, the transition has been smooth," Malone said. "So far, the season has been going pretty well. When you get to college, everybody's fast.
"It's great being pushed every day at practice, every single meet we go to. It brings the best out of me every weekend."
While competing at Hamilton Southeastern High School in Fishers, Indiana, Malone was the 2019 Para world junior champion at 100 and 200 meters and placed second in the 400. He also won a Para world championship in the 4x100-meter universal relay.
Malone now has his sights set on preparing for the U.S. Paralympic Team Trials June 17-20 and the Paralympic Games Tokyo 2020.
"I'm trusting my training plan," Malone said. "My coach has us peaking at the right time. I feel like I'm in shape to go faster.
"I'll be ready mentally. I'll be ready physically. I'll be at my peak then. And I'll be at a totally different level when it comes to being focused."
2016 Paralympian Jessica Heims competed in discus at the event for University of Northern Iowa, throwing 33.81 meters.
Josh Cinnamo, the world record-holder in the F46 classification with a throw of 16.80 meters in 2019, had a rare opportunity to compete against able-bodied athletes in the shot put at Drake. He was disappointed with his effort of 14.88 meters in an event won by world indoor record-holder Ryan Crouser with a world-leading throw of 21.93 meters.
"I love this ring and I love the Relays, and the people are real knowledgeable about track and field, but I just can't ever put it together when I get down here," Cinnamo said. "It's always fun to compete in front of them. It's still early."

Bob Reinert spent 17 years writing sports for The Boston Globe. He also served as a sports information director at Saint Anselm College and Phillips Exeter Academy. He is a contributor to USParaTrackAndField.org on behalf of
Red Line Editorial, Inc.