World And Americas Records Fall At Nationals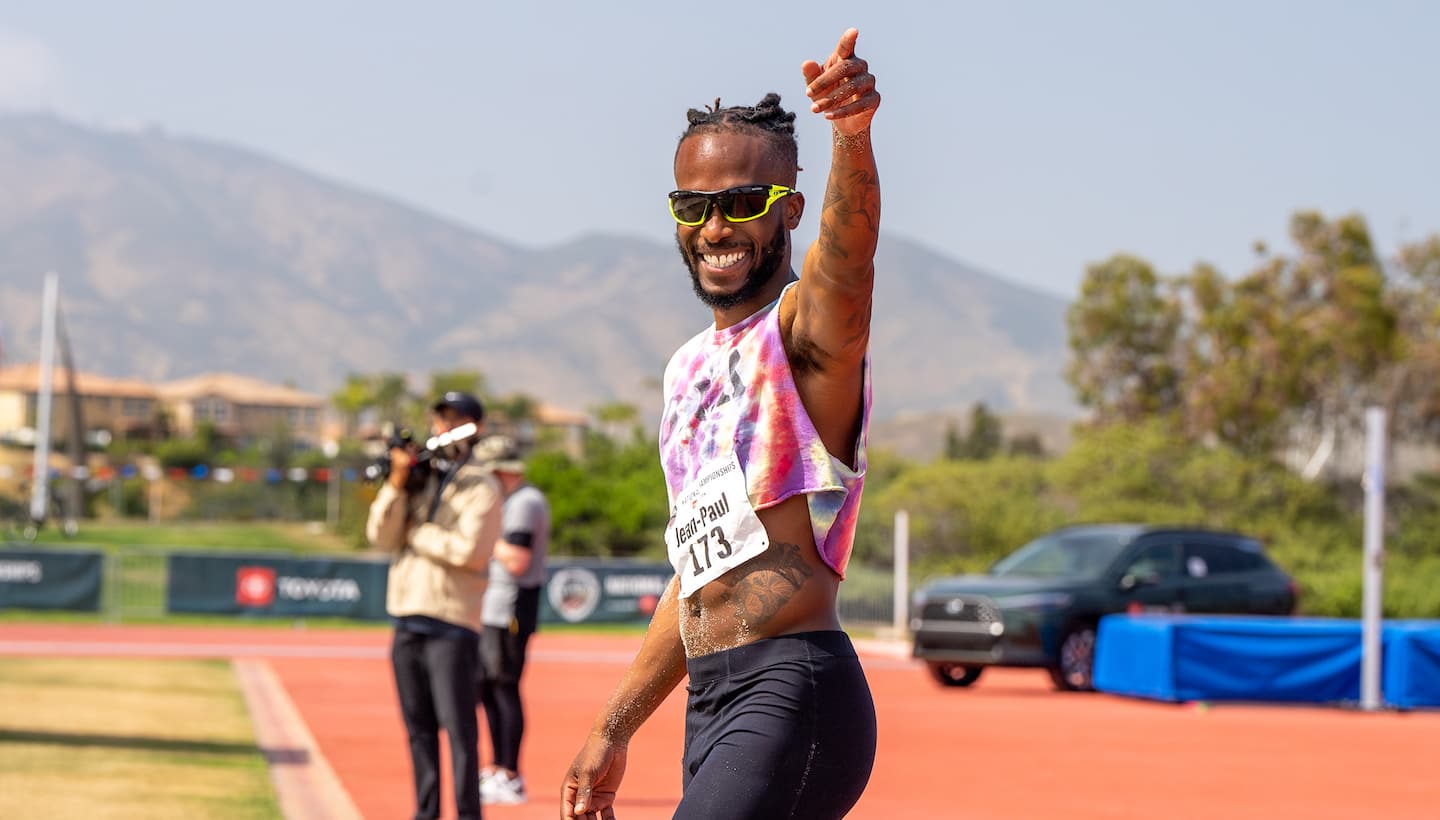 Isaac Jean-Paul reacts to one of his long jumps at national championships. (Photo: Javier Luna)
CHULA VISTA, Calif. -- Though Isaac Jean-Paul holds the world record in the men's high jump T13, he didn't leap vertically at the U.S. Paralympics Track & Field National Championships over the weekend.
No problem. He jumps horizontally just fine.
The legally blind Tokyo Paralympian would have crushed his own American record in the long jump but for a slightly over-the-limit aiding wind. He spanned 7.33 meters at the Chula Vista Elite Athlete Training Center in California during the Team USA selection event for the world championships that take place this July in Paris.
Jean-Paul, a San Diego State University adaptive athletics coach, also won the 100-meter dash T13, clocking a legal-wind 11.02 — a tenth-of-a-second ahead of American record-holder Stirley Jones.
With the Paris meet not contesting the high jump in his classification, Jean-Paul, 30, had little choice in event selection in Chula Vista. He says he used the three-day meet for training.
"If I tell you what I did prior to that competition, you probably wouldn't believe me," he said. "But I didn't practice for like a month and a half before Chula Vista."
Instead, the self-coached native of Evanston, Illinois, played hoops (his first love) and rugby (as a winger on a local club team).
Jean-Paul has juvenile retinoschisis. He can make out body shapes and movement but not details.
"If I'm around you, it takes me like three or four interactions to know who (you) are," he said. "It's a lock into my memory."
On Friday afternoon he took off behind the board on his first jump, but on the second and third tries was "smack right in the middle of the board." He trusted himself after gaining confidence — from basketball, where he can dunk — that he has the skills he needs.
Four hours earlier, he used the 100 as a "warm-up" to make sure his "speed was there for the long jump."
"I took this year to ... step back and understand the different phases" of the short sprint, said Jean-Paul, who coaches Para sprinters at San Diego State.
He'd like to sprint and jump at the Paralympic Games Paris 2024, but at the world championships — taking place July 8–17 — he'll only long jump.
He'll have 44 teammates in Paris — 28 other men and 16 women. The 45-athlete limit is set by the sport's international governing body. Team USA would take many more if it had its way.
How tough was this team to make?
Consider that Justin Phongsavanh, who set a men's javelin F54 world record in 2021 and later took bronze in the Tokyo Paralympics, was not selected. Fellow Paralympian Noelle Lambert, who holds an American record in the women's 100 T63, fell short as well. And two-time Paralympian Markeith Price, a visually impaired sprinter and long jumper who has competed in four world championships, will also miss Paris.
Team USA will bring at least one new world record-holder to Paris in DePaul University star Noelle Malkamaki of Decatur, Illinois, who registered a throw of 12.63 meters in the women's shot put F46.
Improving his own American record was 19-year-old Joel Gomez of Encinitas, California, a legally blind Tokyo Paralympian who ran the men's 1,500 T13 in 3:50.85 — more than five seconds faster than his previous best. Legally blind thrower Devin Huhta, 38, of Battle Mountain, Nevada, boosted his F12 American record of 14.27 meters in the men's shot put by recorded a throw of 14.41 meters.
Others tapped for the Paris team — based on their performances in Chula Vista compared to the National Team "A" standard in their event — include:
· Wheelchair racing legend Tatyana McFadden of Clarksville, Maryland. The 20-time Paralympic medalist is heading to her fifth world meet.
· Susannah Scaroni, a wheelchair racer from Tekoa, Washington, who won three of her four events and also will compete in her fifth worlds.
· Paralympic champion Daniel Romanchuk of Mount Airy, Maryland, who swept the men's 100, 400, 800, 1,500 and 5,000 in the T54 class, will be competing in his fourth worlds.
· Three-time Paralympian Brian Siemann of Champaign, Illinois, won all five races in the men's T53 class to qualify for his sixth world championships.
· Samantha Heyison, 17, of Adamstown, Maryland, extended her own Americas record in the women's discus F44 with a throw of 37.89 meters and added a national title in the shot put.
· Paralympic discus champions Jeremy Campbell of Perrytown, Texas, and David Blair of Eagle Mountain, Utah, who will compete in their seventh and fourth world meets, respectively.
· Sayers Grooms of Gainesville, Florida, and Michael Anwar of Spokane, Washington — both with cerebral palsy— who will be the first American frame runners to race their three-wheelers at a world meet after the sport's debut at nationals.
· Paralympian Ezra Frech of Los Angeles, who qualified for his second world team with an Americas record of 6.62 meters in the men's ­long jump T63 , as well as a national title in the high jump.
· Paralympic champion Roderick Townsend of Stockton, California, who in April matched his own men's high jump T47 world record of 2.15 meters. Townsend missed three tries Thursday at a new world record of 2.16 in Chula Vista. He will be making his fourth world championships appearance.
Said Sherrice Fox, director of U.S. Paralympics Track & Field: "Everyone on this roster has proven that they can be competitive on the world's biggest stage."
Ken Stone has covered track since the early 1970s, including for Track & Field News, and won TAFWA's inaugural award for excellence in blogging in 2009. He is a freelance contributor to TeamUSA.org on behalf of Red Line Editorial.