Forty-five athletes selected to represent Team USA at 2023 World Para Athletics Championships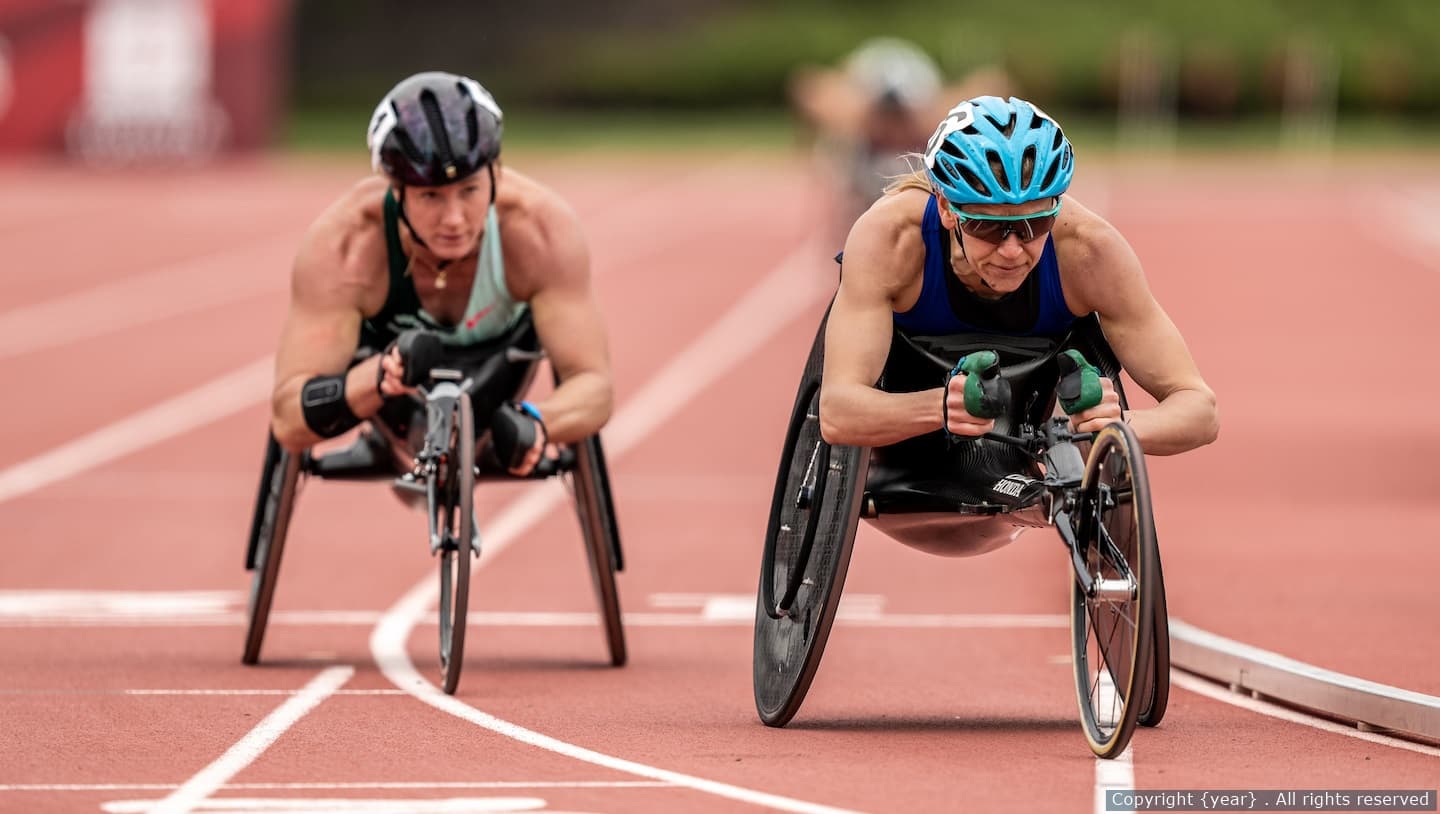 Susannah Scaroni and Tatyana McFadden cross the finish line at the 2023 U.S. Paralympics Track & Field National Championships. (Photo: John Matthew Harrison)
CHULA VISTA, CALIFORNIA ­– After three days of competition at the 2023 U.S. Paralympics Track & Field National Championships, presented by Toyota, 45 athletes – 29 men and 16 women – were nominated to the 2023 world championships roster that will represent Team USA this summer at the 2023 World Para Athletics Championships. The meet will take place this July in Paris, one year before the world returns for the Paralympic Games Paris 2024.
More than 150 athletes competed at national championships – which took place at the Chula Vista Elite Athlete Training Center – vying for a chance to contend on the international stage this summer. The athletes selected to the world championships team were chosen based on their performances in Chula Vista compared to the National Team 'A' standard in their event.
"We had a phenomenal turnout at the meet this week, and the competitive environment fostered standout performances from veteran athletes and newcomers alike," Sherrice Fox, director of U.S. Paralympics Track & Field, said. "As a program, we are excited about the team we've selected to represent Team USA in Paris this summer. Everyone on this roster has proven that they can be competitive on the world's biggest stage."
Returning for her fifth track and field world championships, 20-time Paralympic medalist Tatyana McFadden (Clarksville, Maryland) headlines an accomplished group of women's wheelchair racers that also includes Paralympians Hannah Dederick (Mead, Washington), Eva Houston (Omaha, Nebraska) and Susannah Scaroni (Tekoa, Washington).
McFadden continued the dominance she has experienced throughout her career this weekend, winning both the women's 100-meter and 400-meter. One of the most decorated Paralympic track and field athletes of all time, McFadden also has 20 world championships medals on her lengthy resume.
Since her breakout performance at the Tokyo Paralympics, where she won her first career Paralympic medals, Scaroni, the winner of this year's Boston Marathon, has continued to dominate and will also compete at her fifth world championships. She won three of her four events at nationals this weekend, while taking second to only McFadden in the women's 400-meter T54.
Dederick and Houston are set for their worlds debuts.
On the men's wheelchair racing side, Paralympic champion Daniel Romanchuk (Mount Airy, Maryland) went unbeaten in the men's T54 events, topping the field in the 100-meter, 400-meter, 800-meter, 1500-meter and 5,000-meter to secure his spot on the worlds team. Three-time Paralympian Brian Siemann (Champaign, Illinois) similarly won all five races in the T53 class to qualify for his sixth world championships.
A world record in the women's shot put F46 propelled DePaul University standout Noelle Malkamaki (Decatur, Illinois) to her first world championships team. In just her second U.S. Paralympics Track & Field meet, Malkamaki tossed 12.63 meters to earn her first world championships berth.
Joining Malkamaki in the throwing events is teenager Samantha Heyison (Adamstown, Maryland), who impressed in her nationals debut, and three-time Paralympic medalist Cassie Mitchell (Warner, Oklahoma). Heyison threw an Americas Record in the women's discus F44 and a national title in her shot put event. She has broken onto the scene as one of the nation's top high school athletes, having been named U.S. Paralympics Track & Field's High School Athlete of the Year in each of the past two seasons. Mitchell, meanwhile, is an eight-time worlds medalist.
On the men's side, Paralympic champions Jeremy Campbell (Perrytown, Texas) and David Blair (Eagle Mountain, Utah) earned their seventh and fourth world championships berth, respectively. The dynamic duo of men's discus, Campbell and Blair have been two of the top ambulatory throwers in the world in the past decade. Campbell is the defending world champion four times over and has three Paralympic gold medals in the event, while Blair won gold in Rio in 2016 and is a four-time worlds medalist.
Paralympic silver medalist Hagan Landry (Delcambre, Louisiana), Paralympic bronze medalist Josh Cinnamo (San Diego, California), 2016 Paralympian Cody Jones (Simi Valley, California) and new national team member Devin Huhta (Battle Mountain, Nevada) round out Team USA's throwing contingent that will compete in Paris. Landry earned his spot with a 13.70-meter shot put in the men's F41 competition, while Cinnamo's F46 shot put win gives him the opportunity to defend his 2019 worlds gold medal in the event.
Jones recorded his best javelin throw since returning to the sport after a hiatus. His mark of 43.25 meters in the F38 event was his best throw in more than two years. Huhta, who was considering retiring from the sport after a back injury, has found his stride in 2023, qualifying for his first national team and throwing an F12 shot put Americas Record at nationals en route to his first world championships.
On the track, Sayers Grooms (Gainesville, Florida) and Michael Anwar (Spokane, Washington) are set to make history as the first American Frame Runners to compete at a World Para Athletics championships. Groom won the RR3 women's race, while Anwar was the men's RR2 champion in the sport's debut at national championships.
Eighteen-year-old Paralympian Ezra Frech (Los Angeles, California) qualified for his second world championships team with an Americas Record performance in the long jump T63 and a national title in the high jump. Reigning men's high jump T47 Paralympic champion Roderick Townsend (Stockton, California), who last month broke his own world record, collected national titles in both the high jump and long jump and will make his fourth world championships appearance and will look to add to his seven career world championships medals.
Paralympic silver medalist and University of Southern California jumper Dallas Wise (Columbia, South Carolina), along with former University of Central Oklahoma football player Derek Loccident (Oklahoma City, Oklahoma) will make their world championships debuts after impressing in their long jump events. Wise won the men's long jump T46 competition and added a high jump national title.
Loccident, meanwhile, took second behind Paralympic bronze medal Trenten Merrill (San Juan Capistrano, California), who won the event with an Americas Record jump of 7.63 meters in the T64 competition. All three athletes in the men's T64 long jump – Merrill, Loccident and Jarryd Wallace (Athens, Georgia) – qualified for worlds in the event. Wallace, a Paralympic bronze medalist, also won his 100-meter race in Chula Vista.
In jumps, Team USA will also feature T13, T12 and T11 athletes Isaac Jean-Paul (Evanston, Illinois), Tyson Gunter (McCammon, Idaho) and Lex Gillette (Raleigh, North Carolina). Each qualified for Team USA after winning their long jump events. One of the greatest visually impaired long jumpers of all time, the five-time Paralympic medalist Gillette has won the past four long jump T11 world titles. Jean-Paul is the 2020 Paralympic bronze medalist in long jump and also won the 100-meter T13 national title this weekend. Gunter, meanwhile, is a 2016 Paralympian and two-time worlds silver medalist in high jump, and returns to the world stage as a long jumper after his high jump discipline was discontinued.
On the women's side, Beatriz Hatz (Lakewood, Colorado), Jaleen Roberts (Kent, Washington) and Taleah Williams (Norfolk, Nebraska) won their long jump events and will compete in Paris this summer. Roberts, who also was crowned national champion in the 200-meter and 100-meter T37, will look to add to her five worlds medals. Williams is the 2017 worlds gold medalist in long jump, while Hatz made her world championships debut in 2019.
Paralympic medalists Noah Malone (Fishers, Indiana), Brittni Mason (Cleveland, Ohio) and Nick Mayhugh (Manassas, Virginia), Hunter Woodhall (Syracuse, Utah), Patrick Leeper (Kingsport, Tennessee) as well as Paralympians Erin Kerkhoff (Coralville, Iowa), ), Tanner Wright (Abilene, Texas), and Marshall Zackery (Ocala, Florida), will represent Team USA in ambulatory sprints. They will be joined by newcomers Jaydin Blackwell (Oak Park, Michigan), Matthew Paintin (Littleton, Colorado) and Ryan Medrano (Savannah, Georgia).
Mayhugh, Paintin, Blackwell, Medrano, Wright and Kerkhoff are all making their worlds debuts, though Mayhugh, Wright and Kerkhoff competed in Tokyo. Mason and Malone are each defending world champions in the 100-meter and 4x100-meter universal relay, which they will look to defend in Paris. Leeper is a five-time worlds medalist who last competed at the world championships level in 2013, while Woodhall, a three-time Paralympic medalist, has four worlds medals in his career. Zackery is set to make his second world championships appearance.
Rounding out Team USA are five middle distance runners – two-time Paralympic champion Breanna Clark (Los Angeles, California), Paralympic champion Michael Brannigan (Northport, New York), Paralympic silver medalist Liza Corso (Newmarket, New Hampshire), Paralympian Joel Gomez (Encinitas, California) and newcomer Kaitlin Bounds (Russellville, Arkansas). Clark is the defending world champion in the 400-meter T20 two times over, while Brannigan has five worlds medals to his name in the men's T20 class. Corso, who ran her way to an unprecedented silver medal in Tokyo, makes her worlds debut. Bounds and Gomez have each competed at one world championships.
World championships competition is set to run from July 8-17 in Paris, France. Follow U.S. Paralympics Track & Field on Facebook, Twitter and Instagram for updates and results throughout the summer.
For media requests and photo inquiries, please contact Kristen Gowdy at Kristen.Gowdy@usopc.org.
2023 U.S. Paralympics Track & Field World Championships Roster
Men
Michael Anwar
Jaydin Blackwell
Michael Brannigan
David Blair
Jeremy Campbell
Josh Cinnamo
Ezra Frech
Lex Gillette
Joel Gomez
Tyson Gunter
Devin Huhta
Isaac Jean-Paul
Cody Jones
Hagan Landry
Patrick Leeper
Derek Loccident
Noah Malone
Nick Mayhugh
Ryan Medrano
Trenten Merrill
Matthew Paintin
Daniel Romanchuk
Brian Siemann
Roderick Townsend
Jarryd Wallace
Dallas Wise
Hunter Woodhall
Tanner Wright
Marshall Zackery
Women
Kaitlin Bounds
Breanna Clark
Liza Corso
Hannah Dederick
Sayers Grooms
Beatriz Hatz
Samantha Heyison
Eva Houston
Erin Kerkhoff
Noelle Malkamaki
Brittni Mason
Tatyana McFadden
Cassie Mitchell
Jaleen Roberts
Susannah Scaroni
Taleah Williams