Malkamaki's shot put world record puts exclamation point on final day of national championships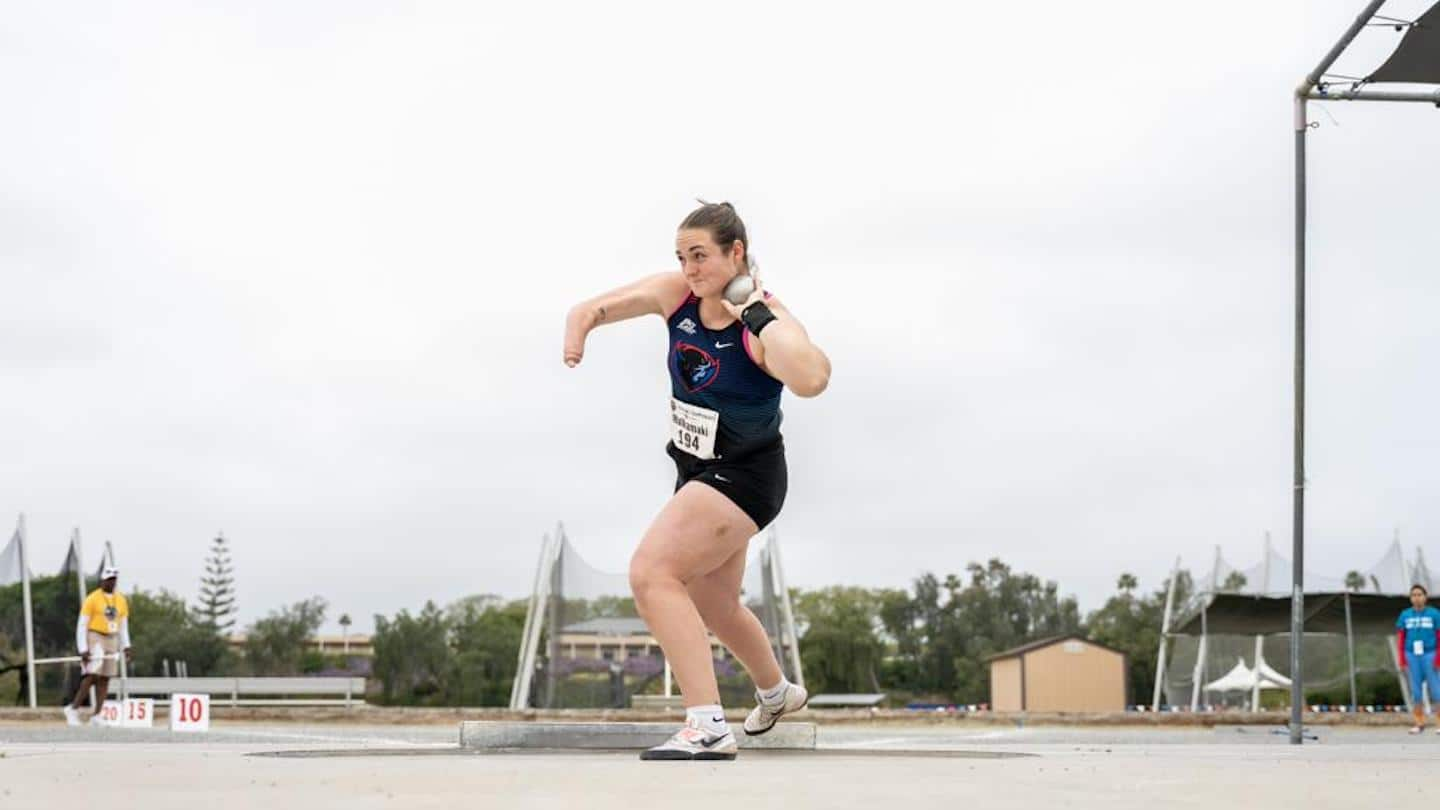 Noelle Malkamaki competes at the 2023 U.S. Paralympics Track & Field National Championships. (Photo: John Matthew Harrison)
CHULA VISTA, CALIFORNIA – DePaul University standout Noelle Malkamaki (Decatur, Illinois) threw 12.63 meters to set the women's discus F46 world record and close out the U.S. Paralympics Track & Field National Championships, presented by Toyota, at the Chula Vista Elite Athlete Training Center.
Malkamaki's toss set the tone for a third and final day of national championships competition, which will determine the United States team for the 2023 World Para Athletics Championships in Paris this July. The team is set to be announced Sunday morning.
It was Malkamaki's second career nationals – the DePaul senior only recently began competing in Para athletics – and she has quickly established herself as a force to be reckoned with in the F46 shot put.
"It feels amazing to be able to say I'm a two-time national champion," Malkamaki said. "I was hoping for a bigger distance today, but I think that will come later this summer. This summer, I want to hit 14 meters. That was my collegiate goal this year, and I got pretty close."
In a morning session that primarily consisted of throwing events, Hagan Landry (Delcambre, Louisiana) and Justin Phongsavanh (Des Moines, Iowa), both of whom are medalists from the Paralympic Games Tokyo 2020, won the men's shot put F41 and javelin F54. Landry threw an event-best 13.70 meters, while Phongsavanh posted a best mark of 29.16 meters.
While Landry is looking to compete in his first world championships, Phongsavanh placed fourth in javelin at his world championships debut in 2019. He improved on that at the Paralympic Games Tokyo 2020, winning bronze, and is also the current world record holder for the event, a mark he set at team trials leading into Tokyo.
Paralympic champions David Blair (Eagle Mountain, Utah) and Jeremy Campbell (Peyton, Texas) put on a show in the men's ambulatory discus competitions, with Blair taking the national title in the F44 class and Campbell winning the F64 competition.
Campbell has won three Paralympic gold medals in his event – and four overall – and is seeking a roster spot on his seventh world championships team. He is also the defending world champion four times over in discus, having gone unbeaten in the event at every world championships since 2011, where he took silver. Blair, meanwhile, is a four-time worlds medalist and would be competing in his fourth career world championships if he is nominated to the team.
National team members Cody Jones (Simi Valley, California), Samantha Heyison (Adamstown, Maryland), Beth Grauer (Hoisington, Kansas) and Alicia Guerrero (Wapato, Washington) also won their respective throwing events. Jones, a 2016 Paralympian returning to the sport after a hiatus, threw his best javelin distance in over two years, capturing the men's F38 title. Heyison, who set an Americas Record in discus yesterday, came back for her signature shot put event this morning and won it with a throw of 10.77 meters in the F44 competition. Guerrero was the women's shot put F64 champion with a best throw of 9.34 meters, and Grauer won the shot put F34 competition with a 7.04-meter best effort.
The afternoon session wrapped the meet with the 800-meter wheelchair racing competitions and the 4x100-meter universal relay. Paralympic champions Daniel Romanchuk (Mount Airy, Maryland) and Susannah Scaroni (Tekoa, Washington) brought home the titles in the men's and women's T54 events, while Paralympians Yen Hoang (Vancouver, Washington) and Eva Houston (Omaha, Nebraska) earned their 800-meter titles in the women's T53 and T34 competitions, respectively. All four wheelchair racers have won multiple national titles this weekend.
With a nearly identical lineup to the world record-setting group that won gold in Tokyo in 2021, Team USA's 4x100-meter universal relay team rounded out the meet with a 50.05-second effort. Paralympic medalists Lex Gillette (Raleigh, North Carolina) alongside his guide Jerome Avery (Lemoore, California) teamed with Paralympic champions Brittni Mason (Cleveland, Ohio), Nick Mayhugh (Manassas, Virginia) and Tatyana McFadden (Clarksville, Maryland) to win the event. Gillette and Avery replaced Noah Malone in the otherwise identical Tokyo lineup. Malone is competing this weekend at the NCAA Track and Field Championships with his Indiana State University team.
For full results from the U.S. Paralympics Track & Field National Championships, presented by Toyota, please click here. With national championships concluded, the world championships roster is set to be publicly announced Sunday morning.
For media requests and photo inquiries, please contact Kristen Gowdy at Kristen.Gowdy@usopc.org.
Medalists
Women's Shot Put F37
1. Kasey Nickel
2. Janie Richardson
3. Margaret Beaudoin
Women's Shot Put F40
1. Michelle Kazuba
Men's Discus F44
1. David Blair
Men's Discus F64
1. Jeremy Campbell
2. Max Rohn
3. Derik Smith
Women's Shot Put F32
1. Peyton Maniago
Women's Shot Put F34
1. Beth Grauer
2. Elicia Meairs
Women's Shot Put F57
1. Christina Gardner
Men's Discus F37
1. Shahrad Nasajpour
2. Ben Brandt
3. Trent Clayton
Women's Shot Put F44
1. Samantha Heyison
Women's Shot Put F46
1. Noelle Malkamaki
2. Danielle Kanas
Women's Shot Put F64
1. Alicia Guerrero
2. Chloe Chavez
Women's Javelin F34
1. Elicia Meairs
2. Beth King
Men's Javelin F54
1. Justin Phongsavanh
Men's Javelin F57
1. Khalid Jlidat
Men's Javelin F38
1. Cody Jones
Men's Javelin F63
1. Carson Fox
Men's Javeline F64
1. Derik Smith
Women's Javelin F46
1. Danielle Kanas
Men's Shot Put F40
1. Benjamin Foos
Men's Shot Put F41
1. Hagan Landry
Men's Shot Put F63
1. Carson Fox
Men's 800m T54
1. Daniel Romanchuk
2. Miguel Jimenez Vergara
3. Evan Correll
Women's 800m T34
1. Eva Houston
2. Lauren Fields
3. Elicia Meairs
Women's 800m T53
1. Yen Hoang
Women's 800m T54
1. Susannah Scaroni
2. Tatyana McFadden
3. Hannah Dederick
Mixed 400m Universal Relay
1. USA (Lex Gillette with guide Jerome Avery, Brittni Mason, Nick Mayhugh and Tatyana McFadden)
2. USA B (Conner Pierce, Leo Merle, Maria Velat, Madeline Gustafson)