Americas Records from Frech Heyison set the tone on second day of national championships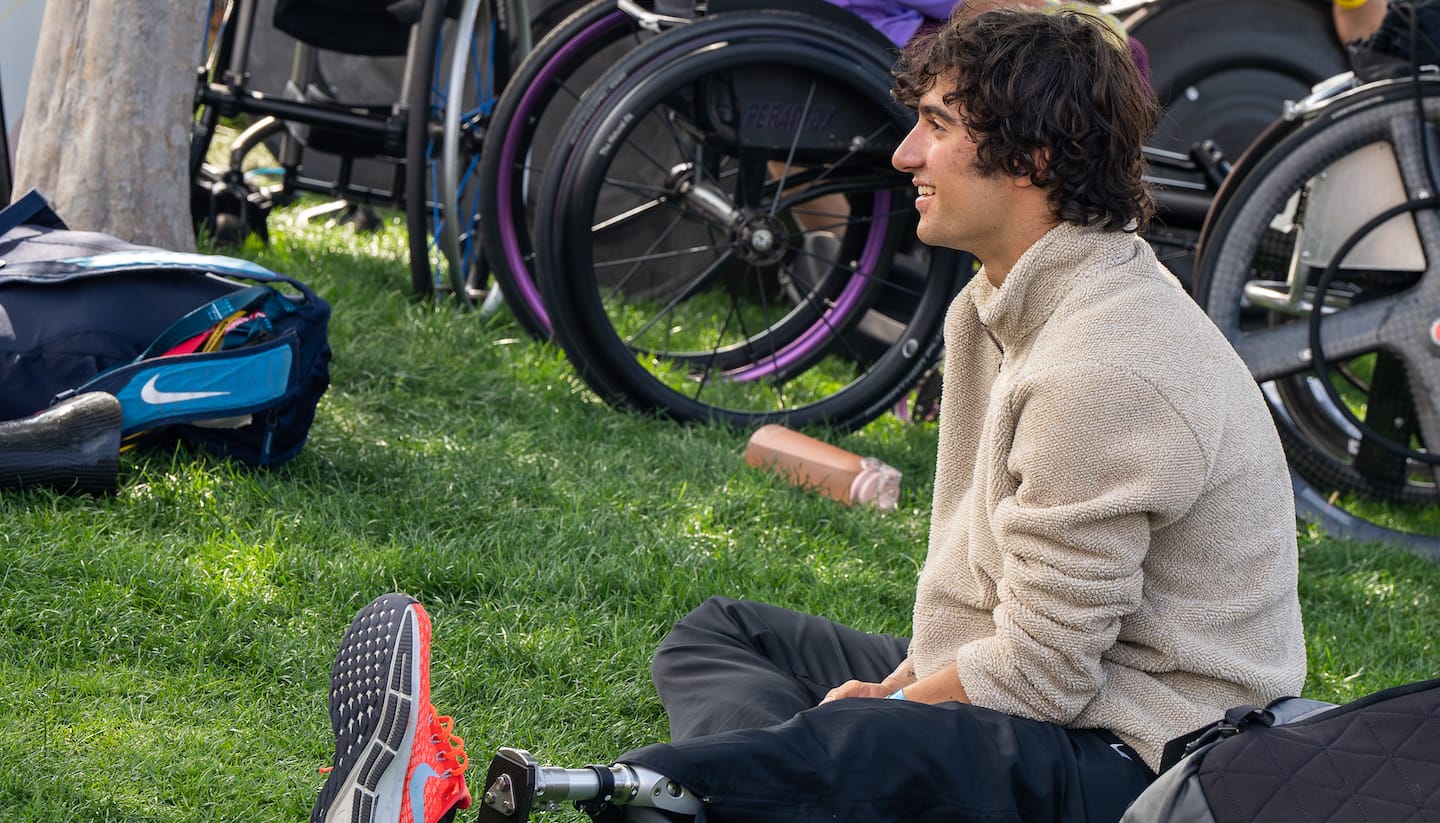 Ezra Frech stretches before competing in the long jump. (Photo: Javier Luna)
CHULA VISTA, CALIFORNIA – On a day where Paralympic veterans were victorious in many of the events at the 2023 U.S. Paralympics Track & Field National Championships, presented by Toyota, it was teenagers Ezra Frech (Los Angeles, California) and Samantha Heyison (Adamstown, Maryland) who came away with Americas Records in their respective competitions.
Frech, who turned 18 this month and made his Paralympic debut at the Paralympic Games Tokyo 2020, competed in the men's long jump T63 and jumped 6.62 meters for his Americas Record. Frech also placed second behind Paralympian Desmond Jackson (Durham, North Carolina) in the 100-meter.
The high school senior, who also won the high jump T63 yesterday, is looking to make his second world championships team this summer as Team USA heads to Paris for the 2023 World Para Athletics Championships.
Heyison, meanwhile, joined Frech this year as one of U.S. Paralympics Track & Field's High School Athletes of the Year and earned her first national team berth. In her women's discus F44 competition today, Heyison threw an Americas Record 37.89 meters.
This weekend is Heyison's first major meet as a member of Team USA's national team. She will compete in shot put on the final day of the event tomorrow.
"I feel great," Heyison said. "I'm really happy with where I am and just want to keep staying consistent. It's been awesome to be here this weekend. It's been a great environment, and it's been an honor."
Several Team USA athletes won multiple events on day two, including Paralympic medalists Isaac Jean-Paul (Grayslake, Illinois), Jaleen Roberts (Kent, Washington), Tatyana McFadden (Clarksville, Maryland), Hunter Woodhall (Syracuse, Utah), David Brown (St. Louis, Missouri), Gianfranco Iannotta (Garfield, New Jersey) and Daniel Romanchuk (Mount Airy, Maryland).
All seven athletes won their 100-meter races – Romanchuk and McFadden in the men's and women's T54, Jean-Paul in the men's T13, Woodhall in the men's T62, Iannotta in the men's T52, Brown in the men's T11, and Roberts in the women's T37. McFadden, in a bid for her fifth world championships team, added a win in the 400-meter and took silver behind Susannah Scaroni (Tekoa, Washington) in the 1500-meter. After winning the 5,000-meter race yesterday, Scaroni also brought home silver behind McFadden in the 400-meter.
Romanchuk has not lost a men's T54 race this weekend – adding 400-meter and 1500-meter national titles in addition to his 100-meter win today. The reigning Paralympic champion in the 400-meter, Romanchuk also has 2019 world championships golds in the 800 and 1500-meter events. A three-time Paralympian, Siemann also put together a hat trick of wins, taking home the gold in the men's 100-meter, 400-meter and 1500-meter T53 competitions. Iannotta, a two-time Paralympic medalist, also added a 400-meter win to his 100-meter victory today.
In addition to his 100-meter win, Jean-Paul, the 2020 Paralympic bronze medalist in the long jump, brought home the win in his signature event with a 7.33-meter jump. Jean-Paul is also coaching the San Diego State Adaptive Athletics team while competing in Chula Vista.
"This is a beautiful experience," Jean-Paul said. "Seeing all of these adaptive athletes out here with university names on their chests, it's special. It's one thing to compete, but to see the sport grow, it's beautiful."
Roberts, meanwhile, continued her domination in her women's T37 events, adding victories in the 100-meter and long jump to her 200-meter win yesterday. Woodhall also nabbed a win in the 400-meter, his best event, as he seeks a spot on his third world championships team.
"I'm happy with it," Woodhall said of his 100-meter effort. "It was my first 100 of the year. I had a good start, I stood up a little too fast but finished strong. It was fun, and it's been a great competition. Training has been good, I feel good and my body feels good, so I can't complain."
Working with guide Je'Von Hutchinson (Boynton Beach, FL), Brown surged to wins in the 100-meter and 400-meter T11 races. The 2016 Paralympic champion in the 100-meter, Brown is also a five-time worlds medalist.
Paralympians Erin Kerkhoff (Coralville, Iowa), Taylor Talbot (Ontario, Oregon), Brian Siemann (Champaign, Illinois), Joel Gomez (Encinitas, California), Tanner Wright (Abilene, Texas), Rayven Sample (Jamestown, New York) and Yen Hoang (Vancouver, Washington), as well as newcomer Jaydin Blackwell (Oak Park, Michigan) impressed on the track as well with multiple victories on the day.
Kerkhoff and Talbot, already national champions this weekend after meet-opening wins yesterday, won the women's 400-meter and 100-meter T13 and T12 races, respectively. Gomez put together a strong mid-distance program, winning the men's 1500-meter and 400-meter T13 competitions. Wright and Sample each earned titles in their 100-meter and 400-meter T46 and T45 races, while Hoang was the women's 1500-meter and 400-meter national champion in the T53 class.
Blackwell, a newcomer to Para sport, strung together victories in the 100-meter and 400-meter T38 races, edging four-time Paralympic medalist Nick Mayhugh (Arlington, Virginia), who placed second in both races. Newcomer Ryan Medrano (Savannah, Georgia), in his first major track and field meet since his classification, was close behind in third in both races. Medrano, who was a contestant on Survivor 43 alongside Paralympian Noelle Lambert and was recruited to the sport by Lambert, also won the men's long jump T38 with a 5.76-meter jump.
In a busy day for the Team USA long jumpers, notable gold medalists included five-time Paralympic medalist Lex Gillette (Raleigh, North Carolina), who was victorious in the men's T11 jump, working with longtime guide Wesley Williams (Visalia, California) for a top jump of 6.13 meters. Paralympic bronze medalist Trenten Merrill (San Juan Capistrano, California)'s jump of 7.63 meters in the men's T64 competition was enough to beat out an impressive performance by Derek Loccident (Oklahoma City, Oklahoma), who finished with a jump of 7.56 meters.
Tokyo Paralympian Taleah Williams (Norfolk, Nebraska) turned in a personal best jump of 5.61 meters to win the women's T47 event, while yesterday's high jump champions Roderick Townsend (Stockton, California) and Dallas Wise (Columbia, South Carolina) repeated in the men's T46 and T47 long jump, respectively. Paralympians Beatriz Hatz (Lakewood, Colorado) and Lacey Henderson (Denver, Colorado) won the women's T64 and T63 long jump, respectively.
In the women's discus F64, Paralympian Jessie Heims (Swisher, Iowa) won with a throw of 35.19 meters. Tokyo Paralympian Femita Ayanbeku (Boston, Massachusetts) won the women's 100-meter T64 race, while Paralympic champions Breanna Clark (Los Angeles, California) and Michael Brannigan (Northport, New York) won their signature 400-meter T20 races. Paralympic medalists Jarryd Wallace (Athens, Georgia) and Brittni Mason (Cleveland, Ohio) placed first in the men's 100-meter T64 and women's 100-meter T46.
Rounding out the Paralympic athletes who earned national titles on the day, Marshall Zackery (Ocala, Florida) won the men's 100-meter T35 competition and Eva Houston (Omaha, Nebraska) won the 100-meter T34 women's race.
Competition resumes Saturday at 8:45 a.m PST. All sessions will be streamed live on the U.S. Paralympics Track & Field Facebook page and at this link. Follow U.S. Paralympics Track & Field on Facebook, Instagram and Twitter for updates and results from the weekend.
For full results from the U.S. Paralympics Track & Field National Championships, presented by Toyota, please click here.
For media requests and photo inquiries, please contact Kristen Gowdy at Kristen.Gowdy@usopc.org.
Medalists
Women's Long Jump T37
1. Jaleen Roberts
2. Aubrey Jumper
Women's Long Jump T38
1. Catarina Guimaraes
2. Jordan McGuire
Women's Long Jump T46
1. Emily Lopez
Women's Long Jump T47
1. Taleah Williams
Women's Long Jump T37
1. Janie Richardson
2. Madison Hahs
3. Margaret Beaudoin
Women's 100m T12
1. Taylor Talbot
Women's 100m T13
1. Erin Kerkhoff
2. Alaina Gott
Women's 100m T35
1. Brianna Salinaro
2. Kira Stevens
3. Delaney Nolin
Women's 100m T34
1. Eva Houston
2. Lauren Fields
3. Elicia Meairs
Women's 100m T54
1. Tatyana McFadden
2. Hannah Dederich
3. Elizabeth Floch
Women's 1500m T20
1. Kaitlin Bounds
Women's 1500m T53
1. Yen Hoang
Women's 1500m T54
1. Susannah Scaroni
2. Tatyana McFadden
3. Jenna Fesemyer
Women's 100m Race Runner T32
1. Peyton Maniago
Men's 100m Race Runner RR2
1. Michael Anwar
2. Jody Putman
Women's 100m Race Runner RR3
1. Sayers Grooms
Men's 100m T11
1. David Brown
2. Antoine Craig
3. Lex Gillette
Men's 100m T13
1. Isaac Jean-Paul
2. Stirley Jones
3. Tien Frederick
Men's 100m T35
1. Marshall Zackery
2. Matthew Paintin
3. Austin Spalla
Men's 100m T36
1. Conner Pierce
Men's 100m T38
1. Jaydin Blackwell
2. Nick Mayhugh
3. Ryan Medrano
Men's 100m T45
1. Rayven Sample
Men's 100m T46
1. Tanner Wright
Men's 100m T37
1. Shea Hammond
2. Ben Brandt
3. Tucker McCrady
Men's 100m T63
1. Desmond Jackson
2. Ezra Frech
3. Michael Assefa
Men's 100m T52
1. Gianfranco Iannotta
2. Nicholas McCoy
3. Isaiah Rigo
Men's 100m T53
1. Brian Siemann
2. Phillip Croft
3. Robert Hunt
Men's 100m T54
1. Daniel Romanchuk
2. Evan Correll
3. Miguel Jimenez Vergara
Men's 100m T62
1. Hunter Woodhall
2. Blake Leeper
3. Nick Rogers
Men's 100m T64
1. Jarryd Wallace
2. Derek Loccident
3. Jonathan Gore
Women's Long Jump T44
1. Catherine Carey
Women's Long Jump T63
1. Lacey Henderson
2. Lindi Marcusen
Women's Long Jump T64
1. Beatriz Hatz
2. Chloe Chavez
Women's Long Jump T62
1. Lily Rosenthal
Men's 1500m T13
1. Joel Gomez
2. Caleb Howard
Men's 1500m T20
1. Michael Brannigan
Men's 1500m T38
1. Leo Merle
2. Shea Foster
Men's 1500m T46
1. Tamar Upshaw
Women's 100m T37
1. Jaleen Roberts
2. Michelle Cross
3. Aubrey Jumper
Women's 100m T38
1. Catarina Guimaraes
2. Jordan McGuire
Men's Long Jump T36
1. Justin Caine
Men's Long Jump T37
1. Tucker McCrady
Men's Long Jump T38
1. Ryan Medrano
2. Shea Foster
3. Sam Winter
Men's Long Jump T63
1. Ezra Frech
Men's Long Jump T64
1. Derik Smith
Women's Discus F57
1. Christina Gardner
Women's Club Throw F32
1. Peyton Maniago
Men's Long Jump T11
1. Lex Gillette
Men's Long Jump T13
1. Isaac Jean-Paul
2. Tyson Gunter
3. Markeith Price
Men's Long Jump T46
1. Roderick Townsend
Men's Long Jump T47
1. Dallas Wise
Men's Long Jump T64
1. Trenten Merrill
2. Derek Loccident
3. Jarryd Wallace
Women's 400m T12
1. Taylor Talbot
Women's 400m T13
1. Erin Kerkhoff
2. Alaina Gott
Women's 400m T20
1. Breanna Clark
Women's Discus F37
1. Kasey Nickel
2. Margaret Beaudoin
3. Madison Hahs
Women's Discus F40
1. Michelle Kazuba
Women's Discus F44
1. Samantha Heyison
Women's Discus F62
1. Lily Rosenthal
Women's Discus F64
1. Jessica Heims
2. Alicia Guerrero
3. Chloe Chaves
Women's 400m T54
1. Tatyana McFadden
2. Susannah Scaroni
3. Hannah Dederick
Men's 400m T53
1. Brian Siemann
2. Phillip Croft
3. Robert Hunt
Men's 400m T54
1. Daniel Romanchuk
2. Miguel Jimenez Vergara
3. Evan Correll
Men's 400m T11
1. David Brown
Men's 400m T13
1. Joel Gomez
2. Caleb Howard
3. Joshua Fields
Men's 400m T36
1. Conner Pierce
Men's 400m T37
1. Shea Hammond
2. Simon Detmer
3. Tucker McCrady
Men's 400m T38
1. Jaydin Blackwell
2. Nick Mayhugh
3. Ryan Medrano
Men's 400m T45
1. Rayven Sample
Men's 400m T46
1. Tanner Wright
2. Tahmar Upshaw
Men's 400m T62
1. Hunter Woodhall
2. Blake Leeper
3. Nick Rogers
Men's 400m T64
1. Greg Walker
Men's 400m T52
1. Gianfranco Iannotta
2. Nicholas McCoy
3. Isaiah Rigo
Women's 400m T53
1. Yen Hoang
Women's 400m T37
1. Madison Hahs
2. Aubrey Jumper
Women's 400m T38
1. Jordan McGuire
Women's 400m T46
1. Emily Lopez
Women's 100m T44
1. Catherine Carey
2. Taylor Swanson
Women's 100m T64
1. Femita Ayanbeku
2. Beatriz Hatz
3. Sydney Barta
Women's 100m T62
1. Lily Rosenthal
Women's 100m T46
1. Brittni Mason
Women's 100m T63
1. Lindi Marcussen
2. Noelle Lambert
3. Scout Bassett
Men's 1500m T53
1. Brian Siemann
2. Phillip Croft
Men's 1500m T54
1. Daniel Romanchuk
2. Miguel Jimenez Vergara
3. Aaron Pike