Historic National Championship Still Hasn't Set In For Jenna Fesemyer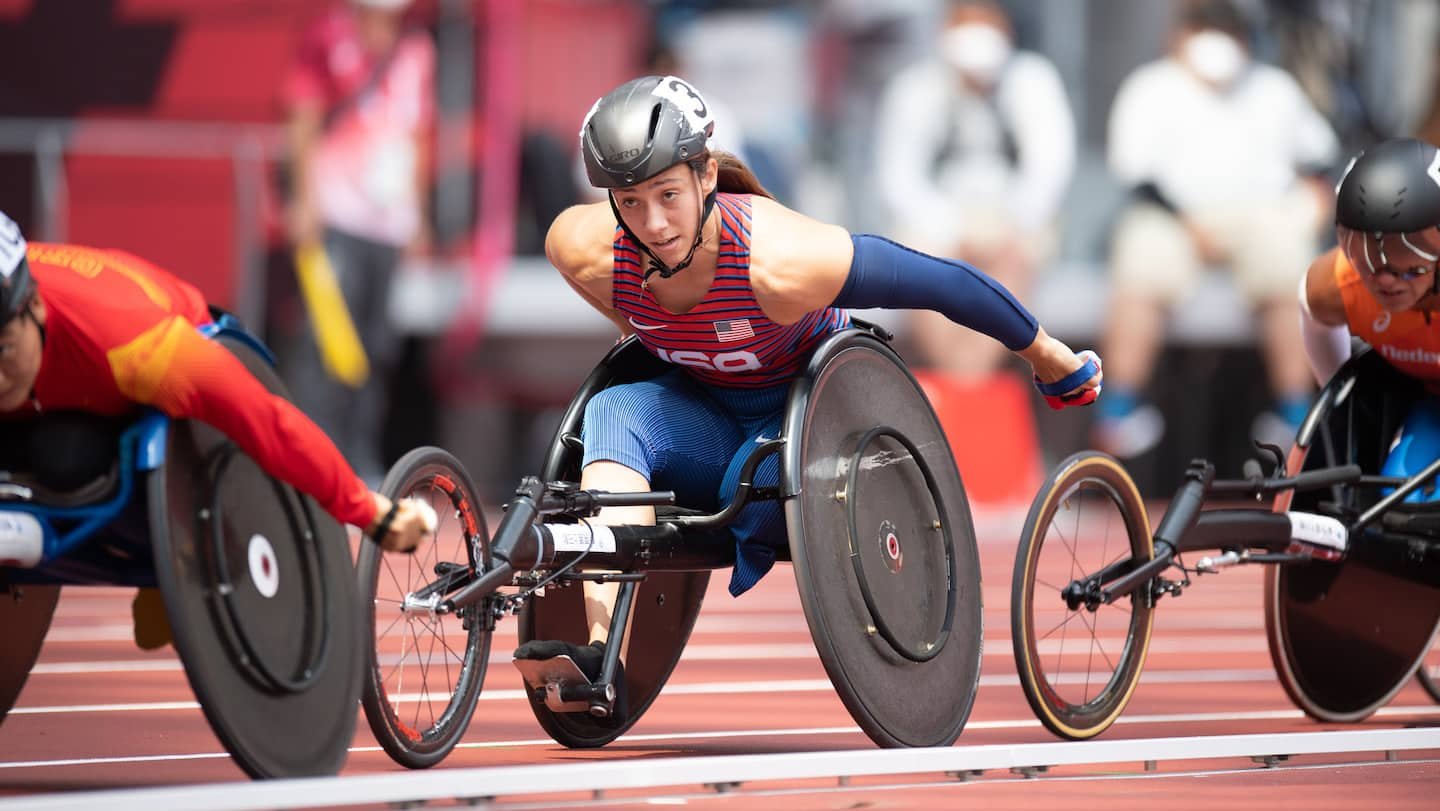 Jenna Fesemyer competes at the Paralympic Games Tokyo 2020. (Photo: Mark Reis)
Jenna Fesemyer still hasn't fully processed her place in history.
Of course, preparing for finals as she pursues a doctorate degree might have a little to do with that.
The 26-year-old grad student at Illinois went down in the record books as winning the inaugural collegiate women's wheelchair 100-meter national championship, a race that took place as part of the prestigious Drake Relays on April 29 in Des Moines, Iowa. Her Illinois teammate Evan Correll won the men's 100-meter national title.
Never before had the NCAA sanctioned a wheelchair national championship race, much less any other Para event in track and field. But thanks to the U.S. Olympic & Paralympic Committee/NCAA Para-College Inclusion Project that began in 2022, Para athletes now have their place in the college record books.
"Maybe once I get through finals I'll be able to look back and really relish it," Fesemyer said with a chuckle, almost not believing she will be known as the first national champion.
Fesemyer was a 2020 Paralympian in three events (1,500, 5,000 and marathon), with her best result being a seventh-place finish in the 5,000. But on a Saturday afternoon that featured unwelcome rain at the Drake Relays, Fesemyer was at her best. The Ravenna, Ohio, native turned in a time of 18.31 seconds to easily outdistance Arizona's Chelsea Stein (20.36) and Illinois teammate Hannah Dederick (20.50) to take the top spot. Correll won the men's event in 15.38 seconds, edging teammate Jason Robinson (16.58) just minutes after Fesemyer won her race.
It might take some time for Fesemyer to fully realize her place in history, but she understands how important it was for Para athletes to have that moment at a meet that draws Olympians, top collegians and high school athletes from all across the country.
"I feel really honored for the opportunity to compete at Drake Relays. Drake has such a huge legacy," Fesemyer said. "I'm really happy that the NCAA is moving forward and providing equitable access to sport for athletes with disabilities. Really happy to kind of be at the forefront of that movement and really excited to watch it grow over time."
There were seven athletes in each wheelchair national championship race, including three Paralympians on the women's side. A wheelchair men's and women's 800 also took place the day before but not for national titles. Fesemyer finished second in that race, 2.02 seconds back of fellow U.S. Paralympian Dederick.
Fesemyer hopes the Para athletes' showing at Drake could someday lead to a full NCAA national championship meet for Para track and field athletes.
"With full confidence, I can say that I can see a future with there being more events offered for wheelchair athletes. That's the goal, right?" she said. "To be able to grow and develop the sport and advance the sport. I think that this was a great, great step in the right direction and I'm very hopeful and confident that this is just the beginning. We can only get better from here."
While she couldn't say whether the race felt like a national championship because she had never competed in one previously, there was a special feeling about it that set the race apart from other competitions.
"It felt really special to warm up and to race at Drake Relays in that historical space," Fesemyer said of Drake Stadium with its signature blue track. "It felt unique and powerful and different, and so I guess I would chalk that up to being what it would feel like to compete at a national championship."
The rain presented a different challenge. In the 800 on Friday, she basked in the sun in a tank top. In Saturday's 100, Fesemyer had to test out how she would be able to maneuver on the wet surface. She called the conditions "not good."
"Rain creates some issues with friction, so there are a couple of strategies you can use to mitigate that," Fesemyer said. "We were doing some trial and error right before the race and so I was really surprised to come across the finish line first there."
Even more surprising is that Fesemyer is typically more of a long-distance specialist. Just days before Drake, on April 23, Fesemyer finished eighth in the London Marathon.
As she pursues a spot in the Paralympic Games Paris 2024, Fesemyer's next big event is the Para track and field national championships in Chula Vista, California, from May 18-20.
Fesemyer still has a couple more years of education left as she pursues a doctorate in recreation, sport and tourism, with a focus on psychosocial benefits of sports for youths with physical disabilities. Fesemyer credits her coaches and administrators at Illinois in helping her develop as a student and an athlete. Illinois and Arizona are two of the top universities when it comes to wheelchair racing.
Fesemyer credits the NCAA for being more inclusive and knows the wheelchair races at the Drake Relays was just the first step.
"It's a sort of a legacy, right?" Fesemyer said. "I really feel honored to be in the first NCAA race for wheelchair athletes. And I know I look back on this opportunity years from now and be thankful that we had the opportunity to compete at Drake and then at the national level."