Already A Four-Time Paralympic Champ, Jeremy Campbell Believes His Best Is Still In Him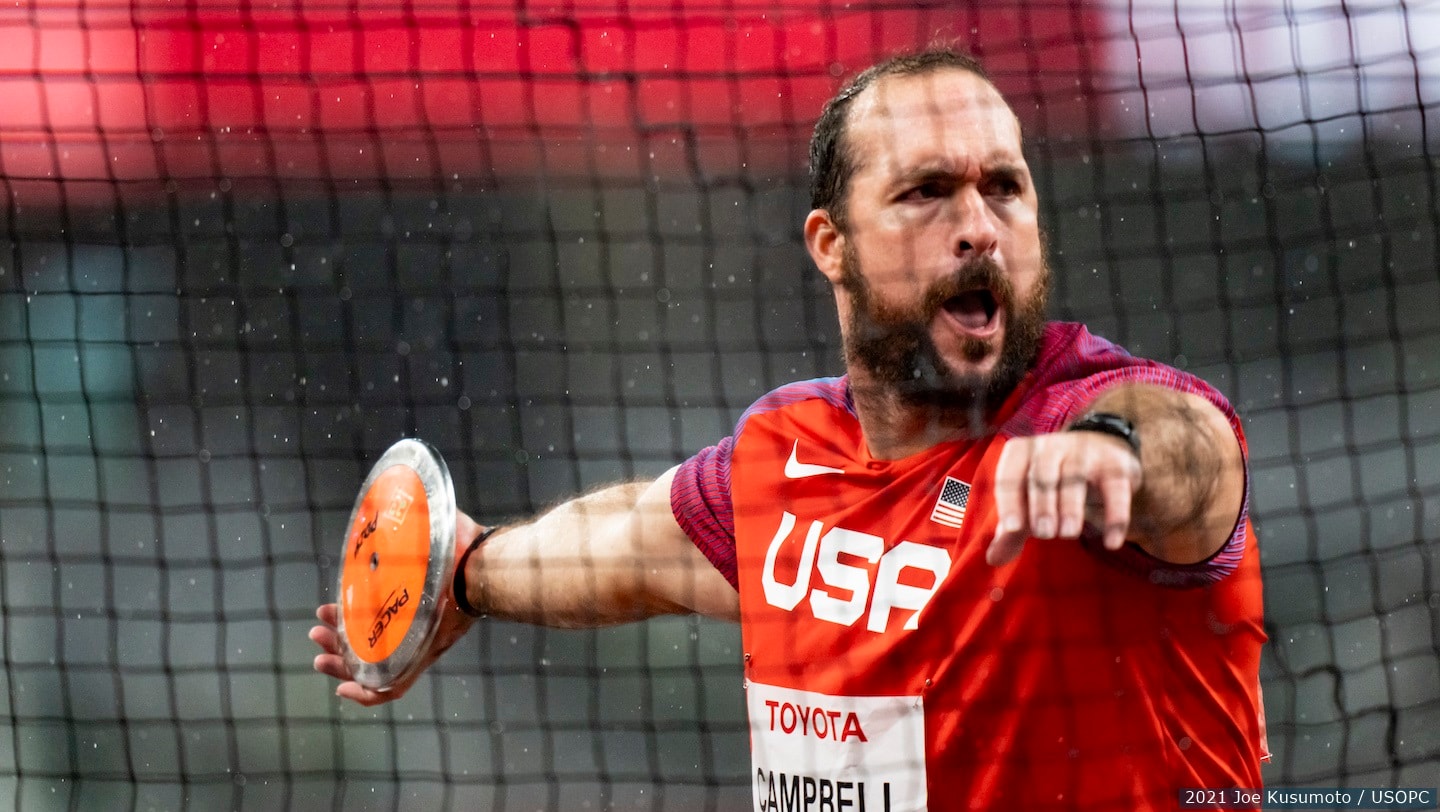 Jeremy Campbell competes at the Paralympic Games Tokyo 2020. (Photo: Joe Kusumoto)
Jeremy Campbell has broken his lower right leg dozens of times in the discus ring. But no worries.
"When I'm traveling to compete and stuff, I always have about at least two spares in my suitcase," Campbell says of his carbon fiber composite prosthetic.
His suitcase is well-traveled.
Since Beijing 2008 — when he first competed in the Paralympics as a pentathlete, discus thrower and long jumper — the former high school quarterback and basketball point guard has won four gold medals in the Paralympics and four world titles. All but one of those Paralympic gold medals has come in discus, with the exception being a pentathlon gold in 2008.
But as Campbell prepares for the U.S. Paralympics Track & Field National Championships, presented by Toyota — taking place May 18-20 in Chula Vista, California, and serving as the qualifying meet for July's world championships in Paris — he's not hungry for mere hardware.
"I've grown so much as a person and as an athlete," the 35-year-old said from his home in Edmond, Oklahoma. "Everything means different things to me now — I'm not motivated by what I was motivated by 10 years ago."
Certainly, "it'd be cool to secure my fifth world title," Campbell said. But a bigger buzz would be extending his own discus F64 world record from its current 65.86 meters (216 feet, 1 inch).
"My biggest throw is still in me," said Campbell, who posed for the 2011 ESPN The Magazine Body Issue. "My potential performance is still another world record."
The torque stresses he places on his custom prosthetic — making his right leg almost a quarter inch longer than his left — rival his life pressures. He runs a mold remediation business and coaches privately.
"I'm holding onto several different things at the same time with a full-time job and everything," he said. "It's hard to put all your eggs in one basket when you have several baskets."
That could also be said of the hundreds of others set to compete at the Chula Vista Elite Athlete Training Center. The San Diego suburb is hosting nationals for the first time, and U.S. Paralympics Track & Field expects to take 45 athletes to France for the first world meet since Dubai in 2019. With Kobe, Japan, delaying twice as host, the world meet will now be held three years in a row: 2023, 2024 and 2025.
With Toyota the presenting partner, nationals will be live-streamed on USParaTF.org and the U.S. Paralympics Track & Field Facebook page.
A U.S. Paralympics Track & Field spokesperson called Chula Vista "a natural fit," given the body's longstanding ties with the training center and due to many athletes living and training there year-round.
That includes Campbell, who lived and trained there from 2006 to 2008 as well as in 2012 and 2016.
Having visited as recently as last year, the 6-foot-3, 230-pound thrower had nothing but praise for the new ring configuration.
"It's facing the track perfectly. Right-sector wind comes in across good.," he said.
This year marks Campbell's 20th anniversary as a Para track star. In 2003, he entered the Endeavor Games, where he first connected with Chad Simpson, who is still his prosthetist. Born with a rare congenital condition called fibular hemimelia, where all or part of the fibula is missing, Campbell's lower leg was amputated at 11 months.
Not that he's missed it. With brothers Jacob (a former rodeo bull rider) and Caleb (who played in the NFL), Jeremy thought nothing of tackling able-bodied rivals.
Nationals will be his first meet of the year — which also fits the pattern of another legend out of the nation's Tornado Alley.
Former University of Kansas star Al Oerter won discus golds at the 1956, 1960, 1964 and 1968 Olympics, set several world records, and didn't throw his longest until age 43 in 1980. His reputation was to lay low between Olympiads and explode at the Games.
Former University of Central Oklahoma star Campbell can match Oerter's four discuss gold medals at the Paris Games. But unlike Oerter, he likely won't try for a fifth at LA2028.
"I've been telling myself that Paris (2024) will be the last," he said.
Guided by world-class coach Larry Judge at Ball State University in Indiana, Campbell trades videos while crafting his own workout schedule. His business is 20 minutes away in Oklahoma City, and his warehouse includes a discus net.
In the Paralympics, the men's discus 1.5 kg., but Campbell has plenty of experience throwing the heavier 2 kg. disc that's used in the Olympics. He sometimes even throws a 2.5 kg. disc in practice.
Thus his competition platter has "gotten pretty light" to the point that when he tosses 1.5 kg., it throws off his timing "because it's so freaking light compared to a 2K."
His best with the Olympic disc?
"You know, I will confidently say that I've dropped some 58-59s with a 2K in practice," he said. (That's around 190 to 193 feet.)
He'd need to reach 62 meters to qualify for the 2024 U.S. Olympic Team Trials; however, he concedes that's a stretch.
"I would be really proud of (making the Trials), but I don't think that I have it in me, what I know that kind of performance would take," he said.
But with the lighter Paralympic implement, the sky's the limit.
"Larry and I always talked about pushing it closer to that 70-meter mark, and I know I've thrown ... some bombs out there ... I know it's in there, but just getting it to happen on a day that it matters (is the challenge)," he said.
Ken Stone has covered track since the early 1970s and won TAFWA's inaugural award for excellence in blogging in 2009. He is a freelance contributor to USParaTrackandFiled.org on behalf of Red Line Editorial.