Now Back On The Track, Nick Mayhugh Has Big Goals In Mind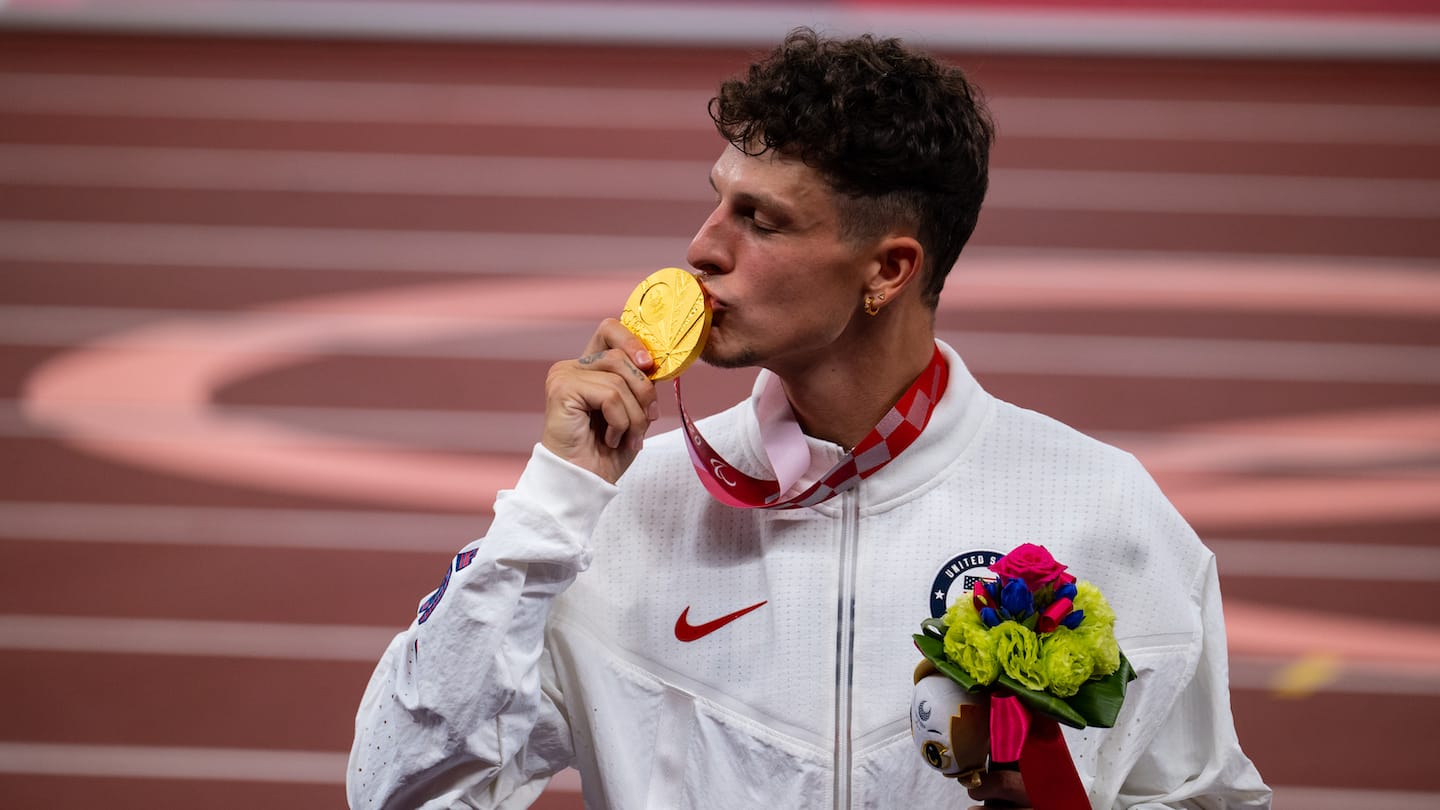 Nick Mayhugh on the podium in Tokyo. (Photo: Joe Kusumoto)
When he backs into the starting blocks, Nick Mayhugh can't feel his left foot.
Near the end of the 100- or 200-meter dashes, he has to remind himself, "Throw your arm!" His cerebral palsy causes him to fatigue easily.
At the Mt. SAC Relays on April 15 in Walnut, California, the 27-year-old Mayhugh ran a 11.11 100 and a 200 in a barely wind-aided 22.36.
"This is actually the first time I've been able to compete since Tokyo," Mayhugh said.
Only two years after taking up track, Mayhugh won three gold medals and one silver while setting three T37 world records — twice in the 100 and once in the 200 — in Tokyo. After his record in the 200, he struck the lightning pose made famous by one of his heroes, Usain Bolt.
Mayhugh lost his 2022 season to a hamstring injury, but in August he moved from Charlotte, North Carolina, to the Chula Vista Elite Athlete Training Center in California to hone his skills under former Stanford and Cincinnati coach Kris Mack.
His journey to Hilmer Lodge Stadium in Walnut wouldn't have begun had he not gotten a little push from his mother, Stephnee.
"When I got back from Tokyo, I remember sitting in a hotel with my ... closest friends and loved ones," Mayhugh said. "I was sort of at a loss of emotion."
Having reached the pinnacle of his sport — with barrier-breaking marks of 10.95 and 21.91 — he didn't know what to do next.
"I remember my mom coming over and asking me what was wrong," Mayhugh said.
Having trained for 10 hours a day, six days a week for more than two years to convert himself from a star soccer player to a sprinter, Mayhugh what was left to achieve after his performance in Tokyo.
"I made the ultimate sacrifice, and I did it," he recalls saying. "And I looked at her and I said ... What do I do (now)?"
His mother looked at him, stood up and said, "Do it again."
"And that's all it took," Mayhugh said. "It lit a fire under me to understand and recognize that Paris at that point was three years away and I hadn't won any medals there."
The road to Paris 2024 includes the U.S. Paralympics Track & Field National Championships May 18-21 in Chula Vista. If he makes the U.S. team, he'll compete this July in the world championships in Paris.
That's a long way since a tonic-clonic seizure at age 14 led to the discovery of Mayhugh's cerebral palsy. Until then, with encouragement from his older brother, Thomas, he found a way to play soccer despite half his body not being able to function properly.
"I will never forget that day when I was sitting in the doctor's office and ... my neurologist looked at me and said, 'Nick, I don't think you'll ever be able to play soccer again.'"
He'd trained at an elite level his entire childhood, he said.
When Mayhugh told his soccer coaches he couldn't use his left foot as well as his right, they weren't as concerned as his doctor.
"They were like, 'Oh, you're right-footed, you're right-handed — it's OK, you'll grow into it, don't worry about it,'" he recalled.
Today he faces daily challenges.
"You know, something as simple as me not being able to feel the left side of my face or raising my left eyebrow," Mayhugh said. "When I'm eating, I can't feel that there's food on my lip."
He called his cerebral palsy diagnosis bittersweet — since he knew what was wrong with him (an MRI revealed a golf-ball-size hole in his brain traced to a stroke in utero) but it also flipped his "world upside down."
Now his goals include tripling at the world championships this summer and the Paris Games in 2024. He'd also like to avenge his one Tokyo loss, which came to Andrey Vdovin, who set a world record in the 400 under the RPC banner.
"I want to continue to push the sport forward, whether it be the Paralympics or the whole sport of track and field," Mayhugh said. "And what I want to do in this sport is leave it better than I found it."
He's proud of his world record and medals — and confident he can do it again at age 28 at the Paris Games.
"That's something I've dedicated my life to — and to being the best athlete I can be," Mayhugh said. "I've done some amazing things, but my story is just getting started."
Ken Stone has covered track since the early 1970s and won TAFWA's inaugural award for excellence in blogging in 2009. He is a freelance contributor to USParaTrackandFiled.org on behalf of Red Line Editorial.