To Take The Next Step Up, Matthew Paintin Must Now Take A Step Down To The Sprints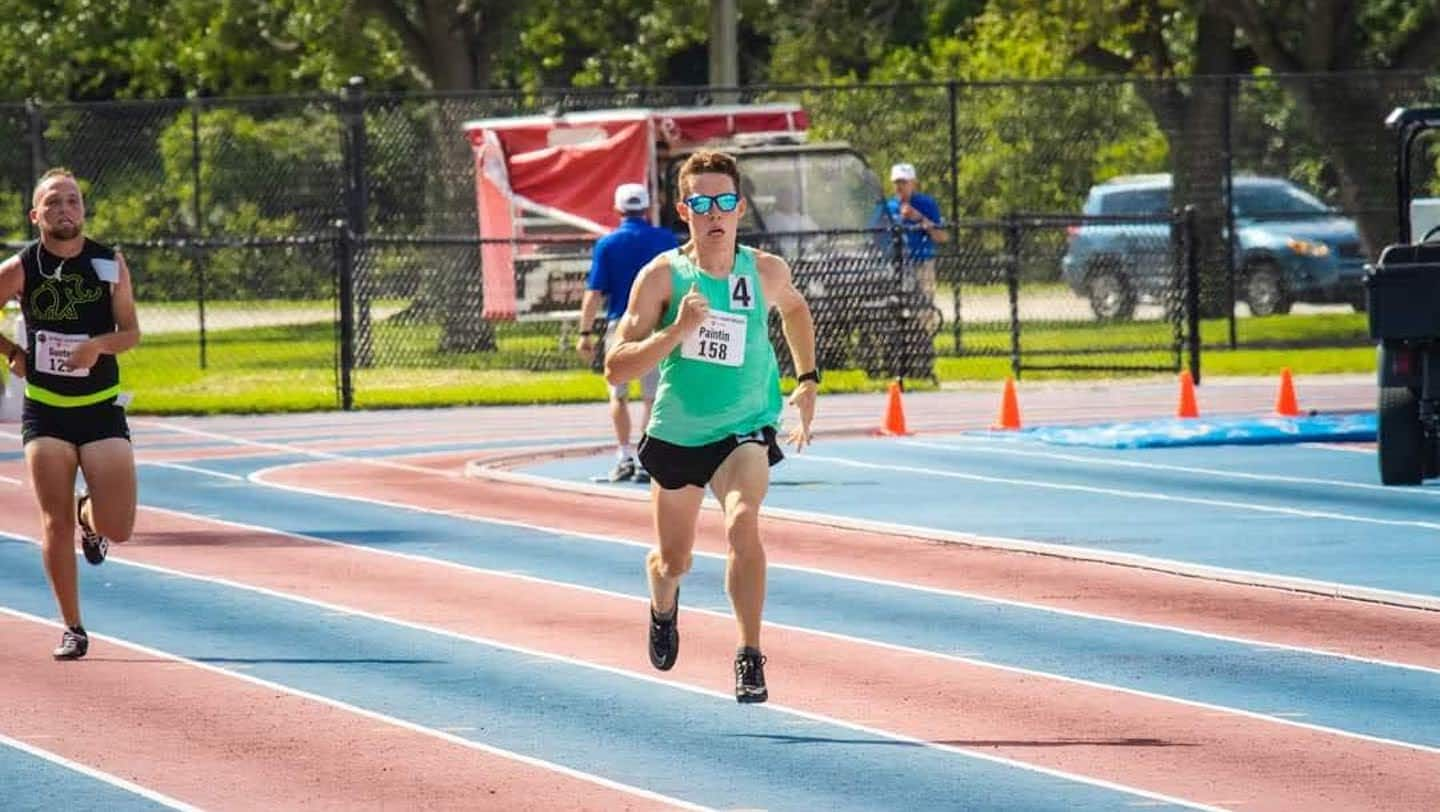 Matthew Paintin competes at the 2022 U.S. Paralympics Track & Field National Championships, presented by Toyota. (Photo: Becca Winter)
Matthew Paintin was pleasantly surprised to start the day.
For the 21-year-old Littleton, Colorado, resident, it began much the same as any other — wake up, stretch, wipe some sleep from his eyes and check his email.
However, on this morning, there was one significant message waiting in his inbox. It was a potentially life-changing email from U.S. Paralympics Track & Field notifying him that that he had been selected for the 2023 national team roster.
"It sort of came out of left field," Paintin said. "I was really excited to read it and be able to tell my parents a few days before the press release came out."
For Paintin, a middle-distance runner who has cerebral palsy, the ascension to the national team is another sign that he continues to progress toward his goal of competing for Team USA in the Paralympic Games Paris 2024. The first big test towards reaching that goal will be making the roster for the world championships this July in Paris.
"It's really cool and a great opportunity. I was very happy to be selected," he said. "It shows that I'm on the right track toward making and hopefully medaling at the upcoming world championships and Paralympics."
Paintin came agonizingly close to having one Paralympics under his belt already, as he narrowly missed out to being named to the Paralympic roster for the Tokyo Games.
"The guy that went was ranked one spot ahead of me in the national and world rankings," Paintin said. "He went and I didn't. Hopefully, I will have a bit better luck for Paris."
Far from dwelling on the Tokyo disappointment, Paintin kept hitting the track and continued to excel.
Last summer, his time of 4 minutes, 52.33 seconds set a new world record in the 1,500-meter T35. He also ran a world record time in his other specialty, the 800-meter, though his time in that event is not considered an official record.
"Last summer at the Desert Challenge Games, I broke the record, but some paperwork was not properly submitted in time," Paintin said. "The time is posted, but it's not being recognized as the world record."
Paintin does have the official Americas record in the 800 T35, as he ran it in 2:30.77 at the Desert Challenge Games in 2019. Officially securing that second world record time is a long-term goal, but he has a different mission right now — to make himself into a sprinter.
Paintin has traditionally run mid-distance races; however, the T35 classification only competes in the 100- and 200-meter events on the world stage. That means Paintin will have to adapt his training to prepare for radically different races.
For now, Paintin is preparing for the 2023 U.S. Paralympics Track & Field National Championships, which are later this month in Chula Vista, California, and will serve as the qualifying event for the world championships in Paris this summer. He is triplegic, which means cerebral palsy affects him in both legs as well as his right arm. Long intervals of stretching are required to keep them from spasming.
"I want to get healthy and stay healthy and then focus on sprints as I pursue the goal of making those 'big' teams coming up," he said. "Everything I've done should serve as a pretty good base, no matter what events I run in the future."
Paintin comes from a running family. He began running with his father at age 10 as a way to pursue something he enjoyed, as well as spending time with his dad. He kept running through middle school and high school, as well as collegiately at Colorado State University Pueblo and Calvin University in Grand Rapids, Michigan.
"I competed in other sports, but track was always the best one for me," he said.
Now he looks forward to taking the next step in his track career: representing his country against the best in the world. He acknowledges the challenge in switching from distance to sprinting but remains steadfast in his goal.
"I know what I'm shooting for," he said. "Now it's a matter of figuring out the best way of getting there."
Tom Carothers is a sportswriter based in Minnesota. He is a freelance contributor to USParaTrackandField.org courtesy of Red Line Editorial, Inc.