Jonathan Gore Is Looking To Progress As An Athlete And Coach In 2023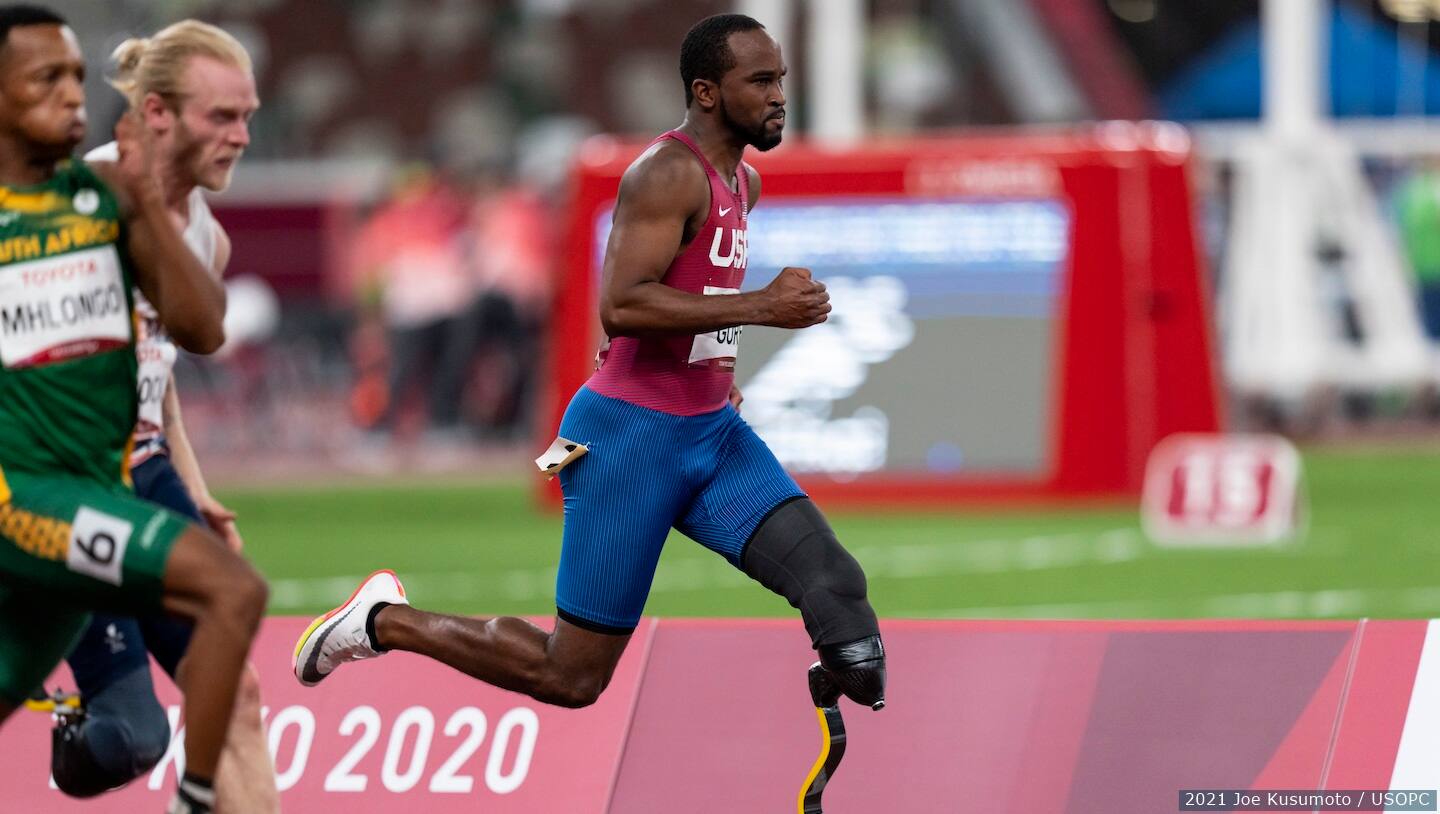 Jonathan Gore competes at the Paralympic Games Tokyo 2020. (Photo: Joe Kusumoto)
Jonathan Gore will not soon forget the biggest step in his journey through adaptive athletics thus far.
"When I went to (Tokyo)," he said, "I will be honest, I was a nervous wreck."
It was his first experience at an international track and field meet in only his third year of adaptive sports. Apart from the Desert Challenge Games that spring, the Team USA sprinter had known little else beyond his able-bodied achievements at Concord University in his native West Virginia.
The Games marked a whole new test of the blade that replaced the heel he lost one year after he graduated from Concord.
After winning 100-meter T64 gold at the Desert Challenge Games in May 2021, Gore translated his training to seventh place at the same event in Tokyo. He finished one place shy of a bronze medal in the 200.
Gore did all of that while attempting to catch up on his graduate studies at Concord, at one point condensing a 16-week syllabus into 12.
Now he's closing in on the Paralympic Games Paris 2024, and Gore is thirsting for a sophomore surge.
It helps his cause to sustain an active affiliation with Concord, where he will round out a full decade of involvement this academic year. Now a full-time assistant on a staff of three coaches at Concord, Gore, 28, takes charge of helping freshmen get used to competing at the college level.
"It's more relaying that every meet that you go to is just like a track meet in high school," he said. "You may have faster runners in the heat, you may have slower runners in the heat, but the ones that are faster than you are pulling you to your potential."
Gore has worked his way up from originally being a grad assistant, but his approach stays the same, and it's become even easier to relate to his student-athletes.
"I'm more like an older brother who mentors them through my experiences," Gore said.
That philosophy comes from Concord head coach Mike Cox, who is still the same father figure he was when he recruited Gore out of Fayetteville High School in West Virginia.
Through his specialties, Gore oversees 16 Mountain Lion sprinters — eight apiece on the men's and women's side. Gore said he must be resourceful in order to help his group of athletes get the most out of their potential.
"West Virginia is really not a sprint state," Gore said. "It's more of a distance state."
He is not kidding, as evidenced by 31 of Concord's 41 distance or mid-distance specialists hailing from the Mountain State.
"So when you get these sprinters," he continued, "you see a bunch of gems, but they just haven't been molded yet."
Likewise, Gore has not finished honing his own craft. As he keeps working to cement his status as a Paralympic medal contender, he's gotten assistance from the athletes he coaches.
"Because I have athletes that are running just as fast as me," he said, "I use some of them as my training partners and they use me as theirs."
His grind for international success also ensures no one will ever suspect him of straying from Cox's exemplary leadership. Gore will not demand his undergrads run any drill unless he attempts it himself.
His Team USA experience, he says, grants the gift of going back to the Mountain Lions and giving them a professional feel. There's no superiority attached to that, however.
"Because, at the end of the day, training's training," Gore said.
Likewise, pride in one's college and pride in one's country will tightly intertwine. As Gore embarks on a 2023 campaign that will include his first world championships and first Parapan American Games, the students want to know what cities Gore will see. The athletic trainers — some of whom he used to run and jump with — want to know what they can do to help keep him in shape.
"Sometimes it's like they're more excited than I am for international competition," Gore said.
Al Daniel is a freelance features writer and contributor to USParaTrackAndField.org on behalf of Red Line Editorial, Inc. You can follow him on Twitter @WriterAlDaniel.