David Brown Is Back With A Better Understanding Of What Makes Him Great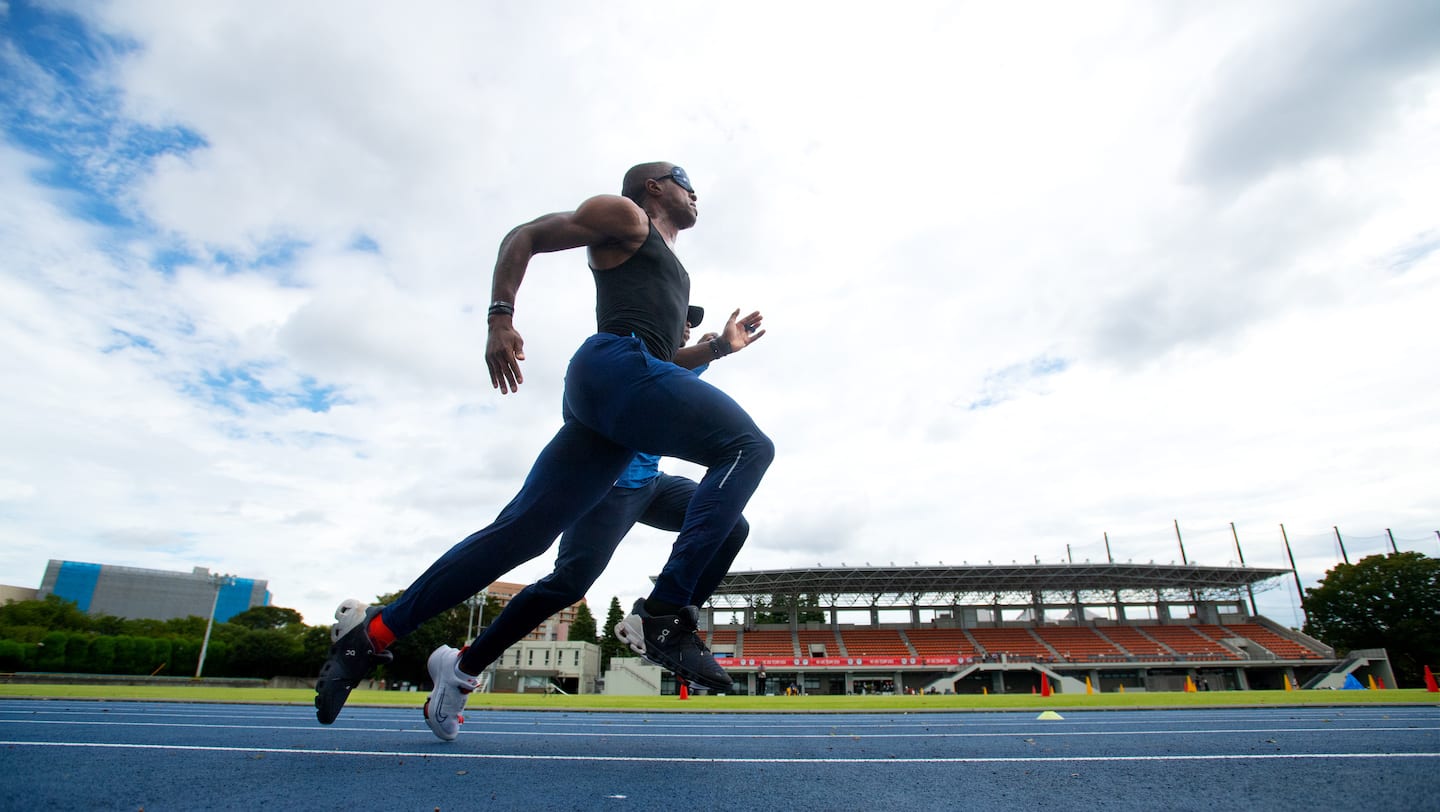 David Brown competes at the 2021 U.S. Paralympics Track & Field Team Trials en route to qualifying for the Paralympic Games Tokyo 2020. (Photo: Mark Reis)
Blind sprinter David Brown was riding high in 2016, when he won a Paralympic gold medal in the 100-meter T11 two years after setting a world record in the event.
The following years didn't end up going quite as he'd hoped, culminating with a difficult performance at his third Paralympic Games in 2021 in Tokyo. Brown finished fourth in his semifinal heat and failed to advance.
"Through that, I came out a lot stronger," said Brown, a 30-year-old Missouri native who lives in the San Diego area.
Brown will be looking to show that this upcoming track season, as he was named to the 2023 U.S. Paralympics Track & Field National Team in January.
"Being named back to the national team actually has been a long time coming," Brown said. "It's always an honor and a privilege. It's very humbling to be able to represent my country and to be named to this stage of a team. It gave me a little extra boost in confidence and told me that this season can be something nice."
Brown has made some big changes since Tokyo.
During some time away from track and field, he got married, started a fitness business with his wife and took up blind soccer. Brown — who along with guide Jerome Avery was the first blind runner to break 11 seconds in the 100 (10.92 in 2014) — also revamped his training to improve his shape and became more a student of the sport, fine-tuning what he does to make himself a better runner.
"I never really understood the concept of sprinting, I never really had a grasp on nutrition," Brown said.
The technique of sprinting had long been a challenge for Brown. Blind runners work with a guide, who often is an elite runner on their own. The two runners are attached by a string or band on their hand closest to the other. That means their technique must be in sync, particularly with that arm pumping through the race at the same time. While Brown had been successful, he said he had relied heavily on his guide for performance and never focused solely on his own form.
"I'd never really understood how to sprint because when you're attached to someone, things can go out of the water," Brown said. "If they pull you this way, now you're going that way, and stuff like that. My coach is telling me, 'You need to run like this,' but I was like, 'But I can't, I don't know how to because I got this person (attached to me).'"
Brown learned how to become a solo sprinter and started jumping rope, which got his body "super-shredded."
"I'm a stronger athlete than I was before," Brown said. "My confidence level has grown, and my awareness has grown. A lot of concepts and themes and understanding things that I wasn't able to elaborate or even talk about, I'm able to explain now."
While continuing to run, Brown has also gotten into blind soccer. Back in 2019, there was a soccer camp at the same facility where Brown was training. The coaches there mistook Brown for a soccer camp participant who was late. Once things were sorted, Brown said he was interested in learning more about the sport. After the Tokyo Paralympics and getting married, he went to a one-day camp in Ohio, not sure how he would take to his new sport.
"I got on the field, started playing a little bit, dribbling around and stuff," Brown said, "and I'm like, 'Oh, wow, this is cool. You know, this is fun.' But then we had a scrimmage later on that day, and that's when I was like, 'Bro, I love this. This is awesome.'"
Now he's an ambassador for the sport and was recently named to the inaugural USA Blind Soccer men's national team, which has a pair of friendlies vs. Canada this month. He has also started coaching the sport.
"I'm still developing, but I'm meant to do this," Brown said.
His talents also extend beyond athletics. Brown plays the drums and the piano, and he used to play the tenor saxophone in high school.
"It just gives me a sense of relief," Brown said. "Gives me joy, I will say that. It's fun. That's just a part of it, honestly."
After soccer this month, Brown is ready to focus on the 2023 track season and getting qualified for the Paralympic Games Paris 2024. He is hoping to qualify in the 100 and 400 with his new guide, Je'von Hutchison.
"He trains hard, he's worked hard," Brown said of Hutchinson. "We've been working together for going on a about a year now. So we'll just have to continue to, pun intended, make strides every single day."
Steve Drumwright is a journalist based in Murrieta, California. He is a freelance contributor to USParaTrackandField.org on behalf of Red Line Editorial, Inc.