Roundup: Tatyana McFadden Remembers Judy Heumann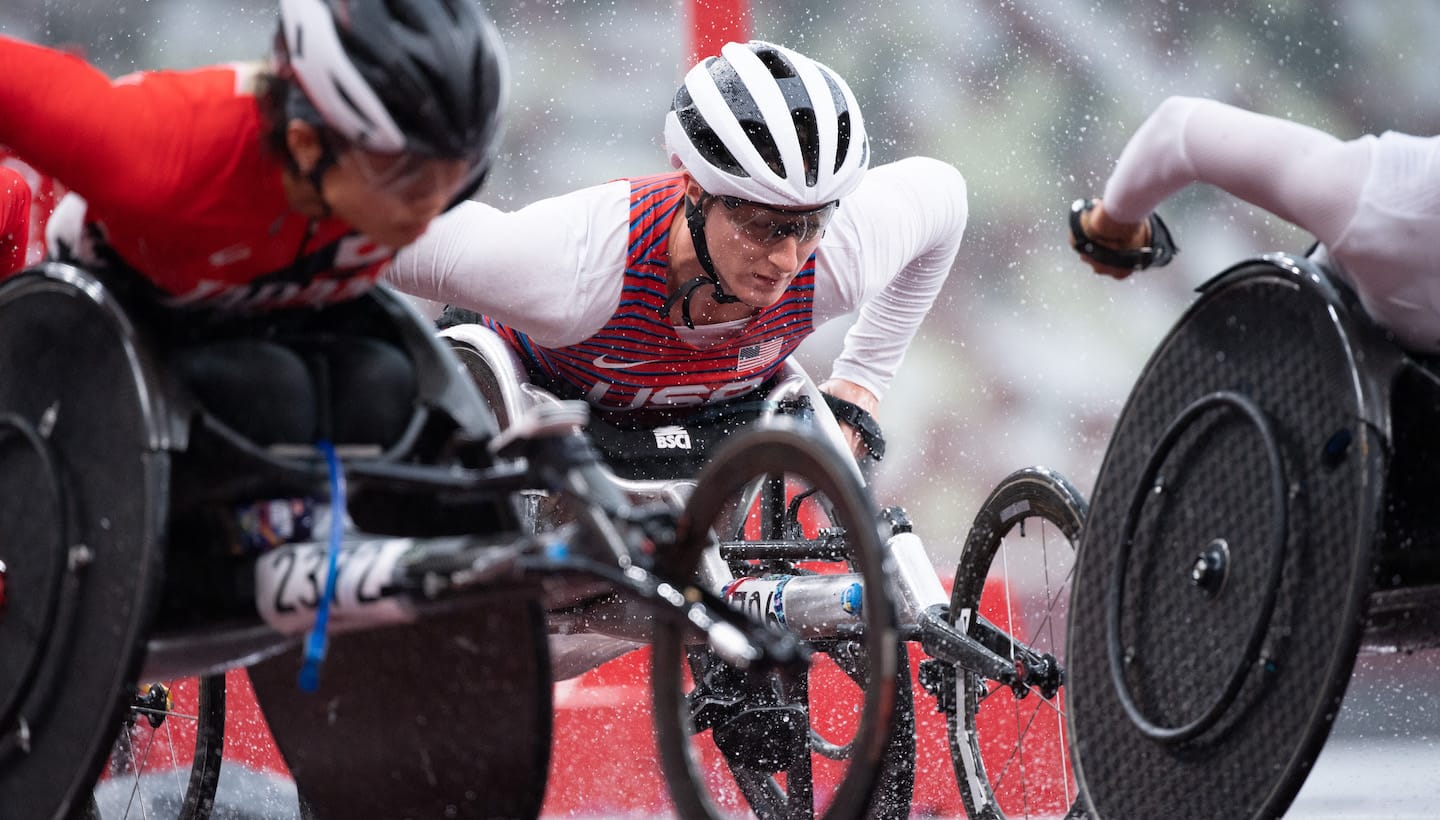 Tatyana McFadden competes in Tokyo. (Photo: Mark Reis)
Every other week we scour the web for the latest going on in the world of U.S. Para track and field. Here's what you missed!
Honoring An Icon
Judy Heumann, commonly known as the "mother" of the disability rights movement, died on March 4.
Tatyana McFadden — a 20-time Paralympic medalist and disability rights activist — honored the trailblazer with a post on her Instagram account that included a picture of herself and Heumann.
"Thank you for all of your advocacy and for standing up for people with disabilities," McFadden wrote. "Without your work people with disabilities would have fewer opportunities than we do today. Together, we will continue to fight for equality in your honor."
A post shared by TatyanaMcFadden (@tatyanamcfaddenusa)
You can learn more about the life and legacy of Heumann here.
Indoor Champs
Indiana State won its second consecutive Missouri Valley Conference men's indoor track and field championship on Feb. 27.
Noah Malone helped push the Sycamores over the top, as the three-time Paralympic medalist finished third in the 60-meter with a time of 6.76 seconds.
Malone, who's a junior at Indiana State, posted multiple pictures of the event to his Instagram, including a photo with the conference indoor championship trophy.
Postpartum Training
Sprinter Deja Young gave birth to her first child last July.
Now eight months after giving birth, the two-time Paralympian and three-time medalist shared a message to her followers on Instagram about the challenges of getting her body back to where she wants it to be to begin training again.
"This past week has left me feeling positive about training going forward," Young wrote on Instagram. "I'm nowhere close to where I want to be but I'm going to enjoy this journey. I know that my body is meant to change…As I continue to train, my goal of course is to get back to competitive shape but ultimately I want to make sure that I have a good relationship with the body that has given me so much."
Advancements In Technology
While virtual reality, artificial intelligence chatbots and self-driving cars may get a lot of headlines, major advancements are being made to many different types of technology.
Prosthetics are no different, as Paralympic jumper Ezra Frech recently showed his followers the functions you can get out of a $70,000 prosthetic knee.
Trenten Merrill, also a Paralympic long jumper, talked about the difference between his two prosthetic legs. The one he uses for competing features a larger blade that compresses more, which helped him win a bronze in the long jump T64 in the Paralympic Games Tokyo 2020. His other leg is meant for walking, as the blade is small enough to fit into a shoe.
"Two legs, two amazing functions – one for walking, one for jumping to new distances," Merrill wrote on Instagram. "The power of prosthetics never ceases to amaze!"
Magic Powers
Speaking of technology, three-time Paralympic medalist Kym Crosby recently messed around with a drone during some down time while training in Chula Vista, California.
"That feeling you get when you finally get the spell right," Crosby wrote on a post featuring music from the Harry Potter movies.
From The Stage To The Track
After a strong 2022 season that featured winning three events at the Desert Challenge Games, Aubrey Jumper made the 2023 U.S. Paralympics Track & Field National Team.
Before Jumper got into track and field though, she got used to performing in front of a crowd as a singer. The Pennsylvania native even sang at Carnegie Hall while she was in high school.
You can learn more about Jumper here.