Singing Has Made Aubrey Jumper Used To The Big Stage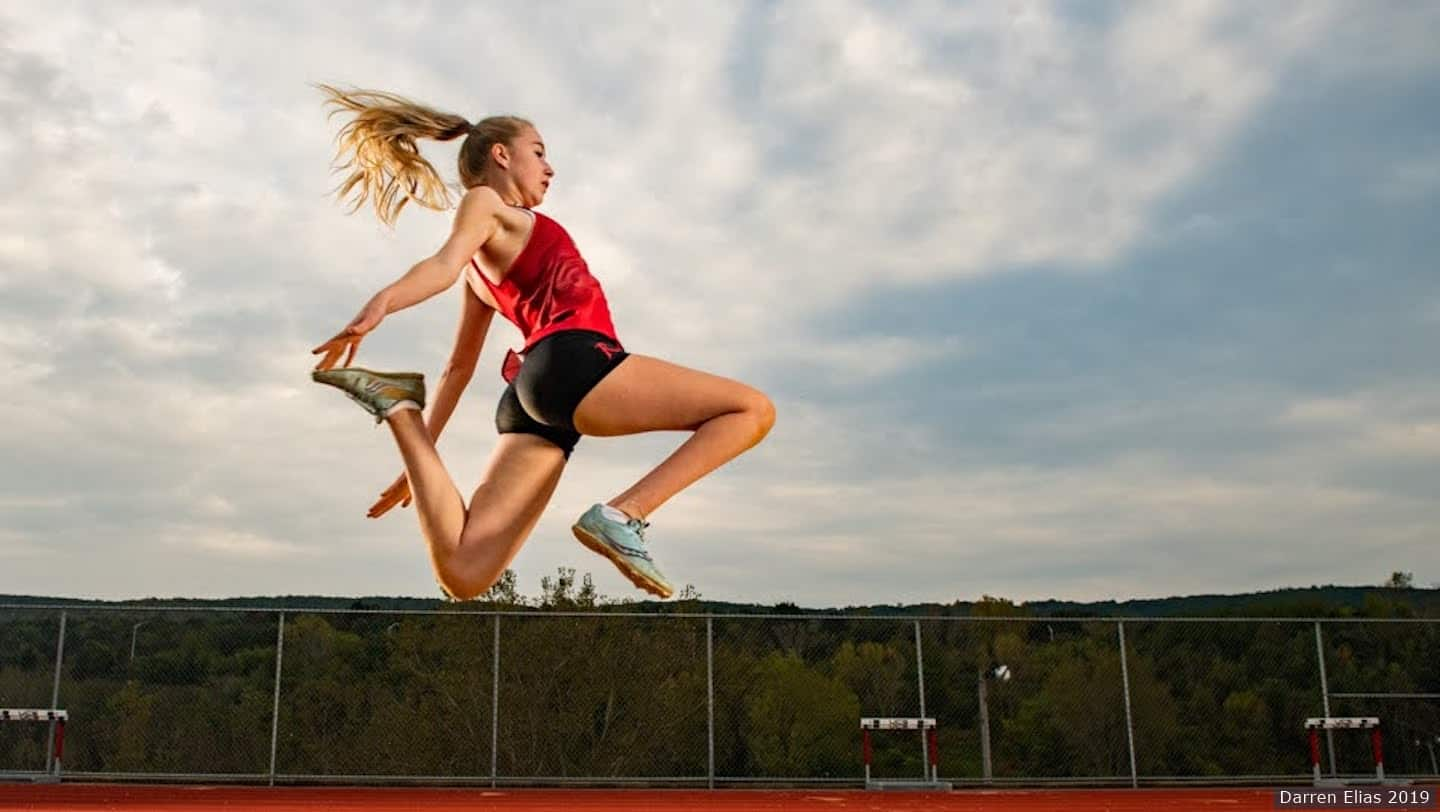 (Photo courtesy of Darren Elias Photography)
Aubrey Jumper prefers to pass her spare time at one of San Diego State University's performing arts buildings when the place is open for drop-in singing.
For the long jumper and sprinter — who competes on her college adaptive team and recently made the U.S. Paralympics Track & Field National Team — the stage gives her a place to reset. It evokes a past life where she honed her competitiveness.
"I don't think I could just not sing," she said. "So I always like to find time and be able to do things besides track that I enjoy."
If anything, track emerged as something besides singing that Jumper excelled at. She did not discover athletics until she was a sophomore in high school. Previously, classical music and musical theater ruled her extracurricular activities.
Those avenues frequently led from her Mountain Top, Pennsylvania, home to marquee arts venues in New York City, with her grand culmination being an opera number at Carnegie Hall.
On April 20, 2019, Carnegie hosted the Northeast Pennsylvania Music Teachers Association (NPMTA) Honors Recital. For a spot in that show, which features pianists more than singers, Jumper had to stand out among a number of her peers.
She was one of four vocalists selected out of 100-plus. Beyond that hurdle, she had to brace for an audience of roughly 80 people. And her song was in Latin, for which she needed to go from novice to scholar within a month.
"I was very nervous about messing up the pronunciation," Jumper recalled.
Making an impression on spectators — whether they are coaches or casting directors — has defined a large part of Jumper's life. From the ages of 10 through 14, she vied for several Broadway roles.
She never went live, but her share of callbacks taught her about the subjectivity attached to performance. Conversely, her track and field performances are much easier to label as good or bad.
"It's kind of a double-edged sword in the fact that, when it comes to singing and performing, it's subjective," Jumper said. "But as a track athlete, the way that you find out if you are good enough is based on the times that you put up and the distances that you jump."
One thing that's been helpful for Jumper is the ability to stay in the moment and not fret on the past in either of her outlets.
"When you are in a musical and when you are performing in the arts, it's all instantaneous, it's all in the moment, it's all now," Jumper said.
Likewise, she added, "when you're running a race, you can't go back to the starting line and relive that race."
Besides that, pleasant surprises may wait ahead. Jumper was especially down on herself when auditioning for 2015's "School of Rock" musical, only to learn she was still up for the part after the initial round.
"I try not to decide whether I'm doing bad based on the numbers that I want to get," she said. "Clearly it depends on the moment and how hard I'm trying."
Last year's Desert Challenge Games in Arizona let her repurpose that resilience. Jumper says she "wanted to win each of the different events," but met a formidable rival in Michelle Cross, three years her senior.
Jumper checked the first box by finishing the 100-meter within 15.45 seconds, edging Cross by 0.03. Her plan for perfection fell apart when Cross beat Jumper in the 200 by a 1.03-second margin.
As the distance doubled again for the rubber match, Jumper doubled down inside.
"I was like, 'All right, yeah, I lost the 200, but I have the 400,'" she recalled.
Cross completed the 400 in 1:16.54 seconds. Jumper bested that to the tune of 1:15.89, five seconds quicker than her previous career high.
"That was really amazing for me," she said.
For good measure, she went 3-for-4 in her Desert Challenge events by dominating the long jump. Her leap of 4.16 meters eclipsed the first runner-up by 0.95.
New banner, same specialty, same poise, same payoff. Three years prior — and three months after the NPMTA recital — Jumper had her Move United Junior Nationals breakout in Eden Prairie, Minnesota.
There she set a T37 junior long-jump record, transitioning quickly from Carnegie-caliber singing in Latin to elite jumping.
"The trials and errors of performing where I've learned not to dwell on past mistakes 100 percent influences me now because I would have had to learn that eventually," Jumper said. "Might as well have learned it when I was young."
Al Daniel is a freelance features writer and contributor to USParaTrackAndField.org on behalf of Red Line Editorial, Inc. You can follow him on Twitter @WriterAlDaniel.