Back On The National Team, Cody Jones Is As Determined As Ever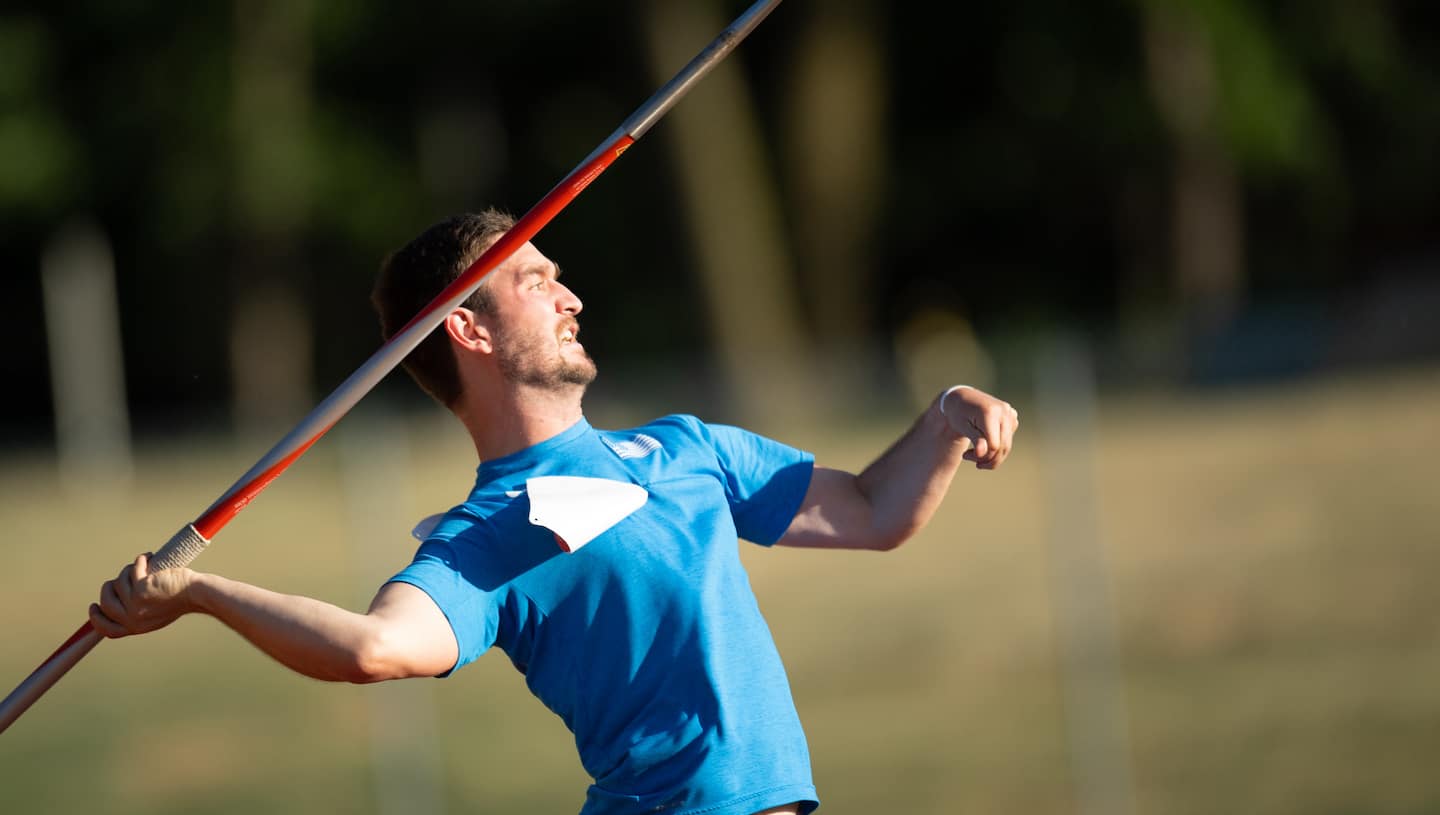 Cody Jones competes at the 2021 U.S. Paralympics Track & Field Team Trials. (Photo: Mark Reis)
Cody Jones spent the early part of his time during the lockdown in 2020 like most people did: eating a lot of food and watching a lot of Netflix.
With his preparations for the Paralympic Trials on pause, he realized he needed a creative outlet. He sat down one day thinking he might write for 10 or 15 minutes, and by the end of the day he had written a children's book.
"It's a cute book, it's fun, and people love the message it brings," Jones said. "I'm biased, as the author, but I think it does a good job of talking about accessibility in an easy-to-understand way. It also has a universal message about not giving up."
Jones, who has cerebral palsy, knows something about not giving up. After missing out on the Paralympics in Tokyo, he was recently named to the U.S. Paralympics Track & Field National Team and has his sights set not only on Paris in 2024, but also Los Angeles in 2028.
"When the Games are going to be in your own backyard, you want to be there," said the 27-year-old native of Simi Valley, California.
Jones' cerebral palsy affects the left side of his body, and as a child he'd learned to both catch and throw a baseball using only his right arm. As a high school senior and member of the baseball team, he was featured in a 2013 Los Angeles Times article.
That caught the attention of the U.S. Para track and field team, and for the first time in his life Jones turned his attention toward throwing the javelin. He made California Lutheran University's track and field team and set an American record in the F38 classification. However, Jones was disappointed after being left off the initial Paralympic roster in 2016.
A few months later, he was informed the Russian team had been barred from competing. If he was still interested in going to Rio, his flight would leave in 10 days. Jones made the trip and finished eighth in the javelin.
"I was all smiles, even though my body was banged up and I didn't perform my best," he said. "Just that feeling of being there and knowing that fortune came my way to be there was amazing. And that experience, just being on the bubble and then being there, it lit a fire under me a little bit."
However, by the time the Tokyo Trials came around, that fire wasn't burning quite so bright. COVID-19 and the following postponement impacted Jones' motivation, he admitted. He was also in a transition phase with his life and career after finishing college and not being on the national team, as he didn't make the squad that traveled to Tokyo.
"I was lying to myself a little back then, like I'm doing enough training where I knew I wasn't," he said. "But it makes this year so much more special. I have a new coach; I've been training like this is my top priority now and it's bringing me a lot of joy."
With the long-term goal of making the next two Paralympics, Jones has a few more immediate goals in mind for the months leading up to those trials. He hopes to earn a spot on this year's world championships roster and would love to compete in the Parapan American Games in Chile in November of this year. His lone international medal was a bronze at the 2019 Parapan Am Games.
"So those Games hold a special place in my heart," Jones said.
Jones said he's averaging about 45 meters currently and would love to bump that up to 50 meters by focusing on increased mobility and trying to get faster on the runway. He'll be 32 years old by the time the LA28 Games come around, but as long as he stays healthy and keeps working hard, he feels like he should be able to compete for a spot on the team.
When Jones isn't training, you're likely to find him watching baseball — he's working his way through visiting all 30 Major League Baseball ballparks — or volunteering his time with kids through programs, including Ready, Set Gold!, an organization that pairs Olympians and Paralympians with students to promote healthy and active lifestyles in Southern California.
His book, "Henry Makes it On Top," is about a boy who uses a wheelchair trying to find a way to join his friends on top of a mountain to visit the magical Mr. Goat. Alex Kolden, a friend from Jones' church who is deaf and autistic, did the illustrations. The book is available on Amazon, and part of the proceeds go to the Los Angeles-based nonprofit Angel City Sports.
Focused and back on the national team, Jones is now ready to be more than a Paralympian.
"Now I understand the importance of having a team and that accountability and a support system," Jones said. "On natural talent alone I know I can do well enough to be noticed, but I'm tired of being good enough. I want to be Cody Jones: gold medalist, Paralympic champion. A world record would be nice, too."
Karen Price is a reporter from Pittsburgh who has covered Olympic and Paralympic sports for various publications. She is a freelance contributor to USParaTrackandField.org on behalf of Red Line Editorial, Inc.