Frame Running Is The Most Exciting Sport You've Never Heard Of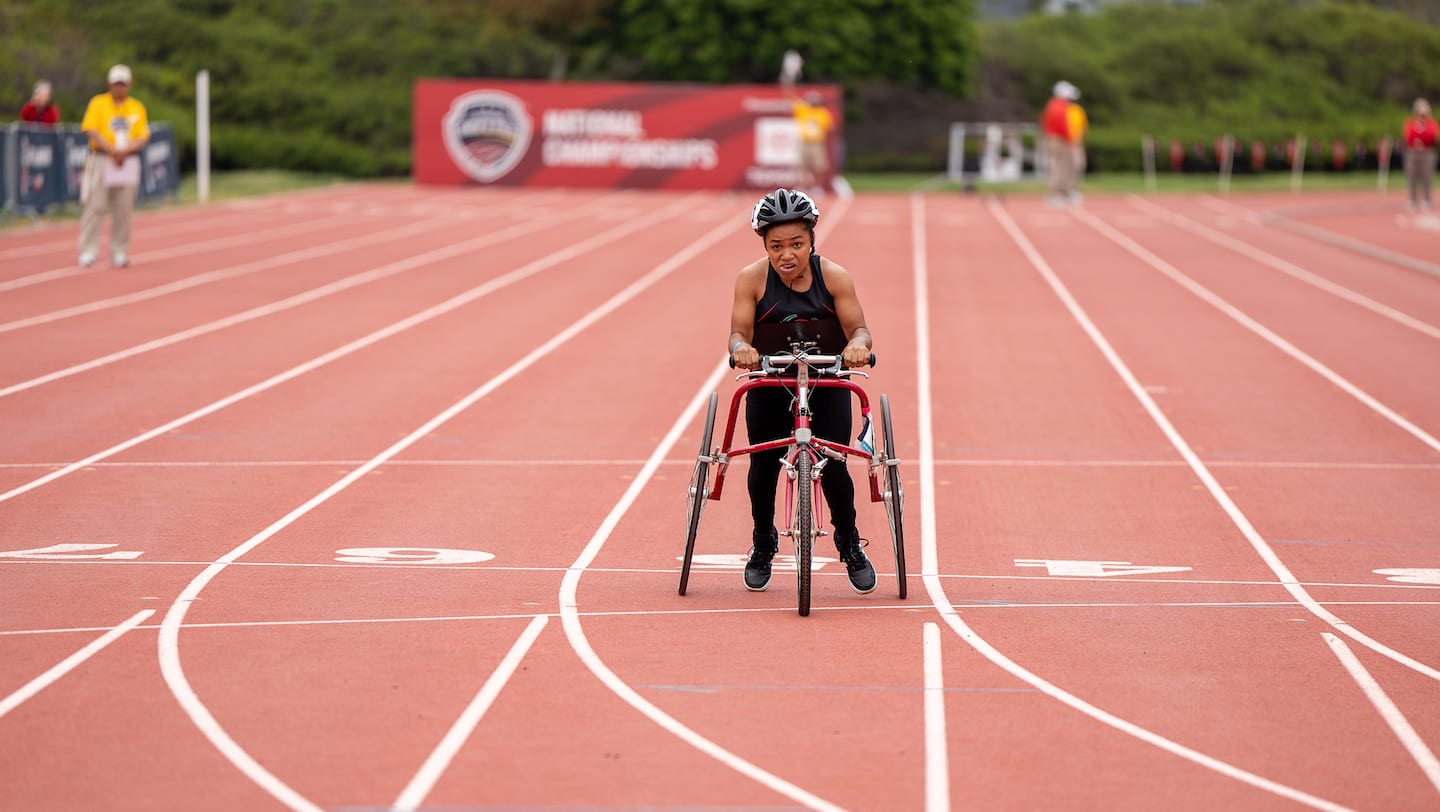 Peyton Maniago competes at the 2023 U.S. Paralympics Track & Field National Championships, presented by Toyota. (Photo: Javier Luna)
Fred Flintstone has nothing on frame runners.
Though the 1960s prime-time cartoon character famously propelled his car with churning legs, four athletes racing at the U.S. Paralympics Track & Field National Championships in May pushed their three-wheel frames with far more grace and athleticism.


In their sport's debut at nationals, Ann "Sayers" Grooms, 17, of Gainesville, Florida, won the women's RR3 100-meter in 18.46 seconds. Winning the men's RR2 race was Michael Anwar, 27, of Spokane, Washington, who finished with a time of 20.17. Peyton Maniago won the women's T32 competition in 38.27.


Grooms and Anwar both have something else to celebrate, as they were added to the U.S. roster heading to Paris this summer for the world championships.


Called RaceRunning until 2020, Frame Running will be contested officially for the second time at worlds but has yet to be included on the Paralympics program. It is the first time the U.S. will send Frame Running athletes to a world championships.


That's despite establishing a foothold in Europe after its 1991 invention by Danish Para athlete Mansoor Siddiqi, who wanted to find an alternative to backward wheelchair racing.


Using a broken bike, an office chair and a pipe taken from a vacuum cleaner, occupational therapist Connie Hansen and Siddiqi assembled the first prototype running frame.


The three-wheeled devices (with seats but no pedals) were an exhibition event at the world championships in 1998 and were officially included at the European championships in 2018.


According to frame running's governing body, World Abilitysport, the event is mainly for athletes with coordination impairments associated with cerebral palsy and related neurological conditions.


Anwar was introduced to the sport three years ago by ParaSport Spokane, where track and sled hockey coach David Greig first worked with frame runners in 2006.


"I was coaching athletes in Canada at the time and working for the Ontario Cerebral Palsy Sports Association in sport development," Greig says. "I was first exposed to it in 2005 while at the (Cerebral Palsy International Sports and Recreation Association) World Games in New London, Connecticut, where Mansoor Siddiqi, the visionary behind frame running, did a small education session on it at the event."


Anwar was smitten.


"Frame running is such an awesome sport," he said.


Anwar's coach seeks to expand the sport's popularity among people with cerebral palsy.


Greig, who has 22 years of experience coaching athletes with cerebral palsy, is part of a North American frame running working group that meets monthly.


"This is a group of coaches, manufacturers, sport administrators, educators and medical professionals," he said. "We have lots of great discussions about where we would like it to go and how we chart the path to get there."


Vermont-based RAD Innovations — which produces the frame that Anwar and others use — is working to get equipment to schools, community groups, recreational programs as well as therapy environments, according to Greig.
"There's a ton of potential for growth," Greig said. "It all comes down to awareness and education."


ParaSport Spokane boasts three frame runners.


"In fact, Michael was mentoring a young athlete this past Saturday to help her gain some confidence and competence in the frame," Greig says. "We've got a great network in the Pacific Northwest and we're communicating with a lot of the programs who are showing interest."


Teenager Grooms is considered the U.S. pioneer of the sport — having overcome ataxic cerebral palsy at age 8 to ride a frame. She's spreading the gospel via Watch Me Run Inc., the nonprofit she launched in 2016 to help pay for the expensive frames and promote the sport.


Spokane's Grieg has lectured on coaching cerebral palsy athletes after guiding them at four world championships and four Paralympic Games, including Jaleen Roberts, who won silver in the 100 and long jump T37 at Tokyo 2020.


Having already competed in Portugal at the end of last year, going overseas to Paris should be a bit more comfortable for Anwar.
"Paris this year won't be such a novelty for (Anwar)," Grieg said. "I know he's capable of running a good time and being in the mix with the top racers out there. It's exciting."


Anwar hopes to go sub-20 in 100 at the world championships.


However, his main goal is to elevate his sport to prime time.
"Not a lot of people know how it can benefit people and get them to run and compete in track," Anwar said.
Ken Stone has covered track since the early 1970s, including for Track & Field News, and won TAFWA's inaugural award for excellence in blogging in 2009. He is a freelance contributor to TeamUSA.org on behalf of Red Line Editorial.