Catarina Guimaraes' Fictional Characters Off The Track Have Helped Her Performances On It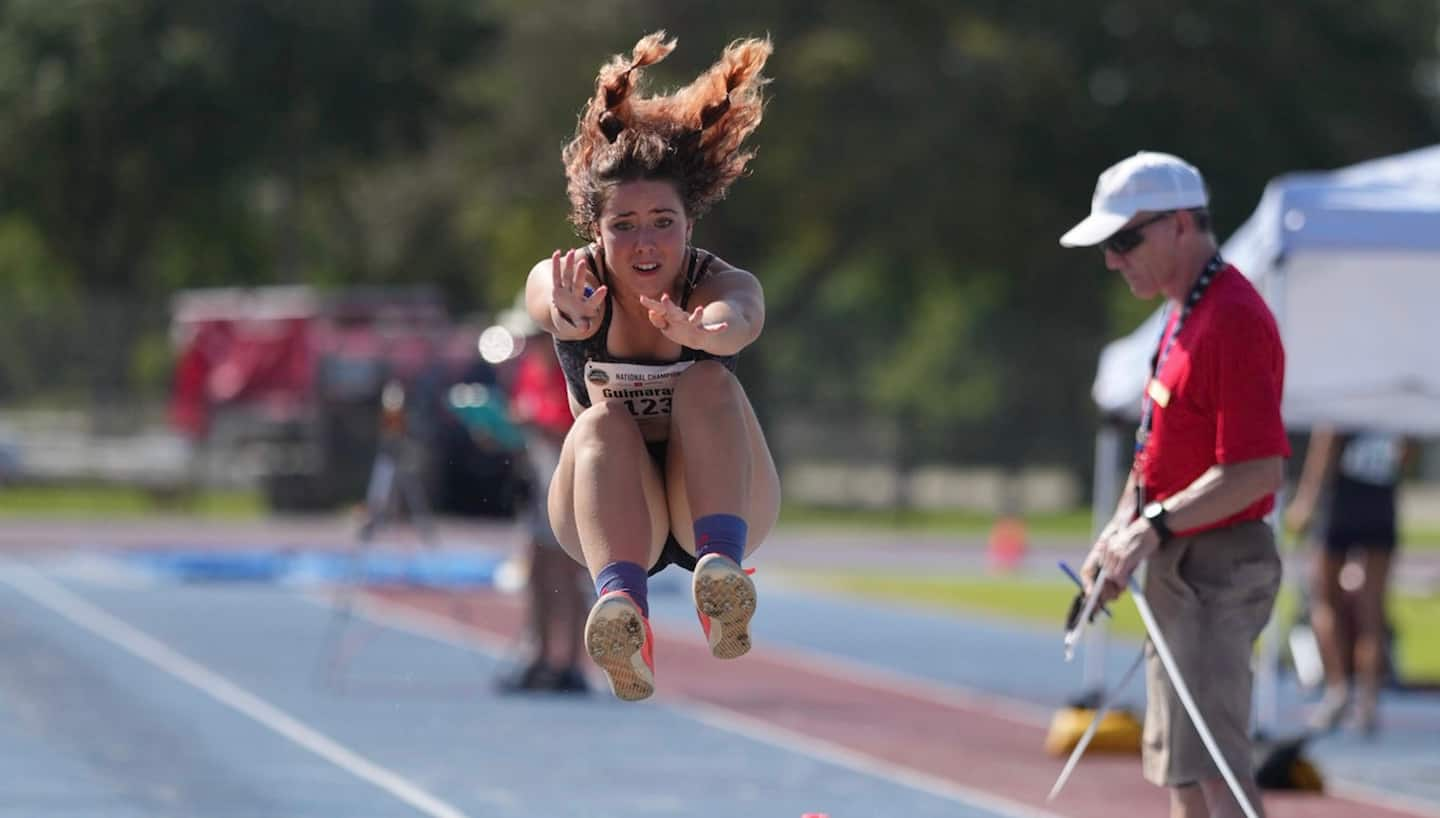 Catarina Guimaraes competes in long jump at the 2022 U.S. Paralympics Track & Field National Championships. (Photo: Rick Stephens)
Catarina Guimaraes is always trying to keep herself stimulated, both physically and mentally.
Born with cerebral palsy, Guimaraes, 19, explains that for someone of her demographic, "When you're not doing anything, your body's getting worse."
To ensure regular physical activity, she started playing soccer. Taekwondo, paratriathlon, swimming and indoor rock climbing also had stints in her regimen.
When she was in middle school and her climbing club ended due to a lack of participants, the Cranford, New Jersey, resident got serious about track and field and found an outlet for her competitive instincts with the North Jersey Navigators. It's been a successful endeavor, as Guimaraes was recently named to the U.S. Paralympics Track & Field National Team.
Along the way, she's found an outlet for her creativity as well.
Not long before taking up track, her energetic mind had its own revelation. A self-described "lucid dreamer," Guimaraes was whisked to a supernatural setting beneath this planet's crust one night in sixth grade.
Upon waking, she recapped the dream and told herself, "I would read this as a book."
Rebecca Allen Troy — better known as Becca — the protagonist of the Death Garden saga, was born.
Candidly marketed as "A journey through the underworld," Death Garden reflects Guimaraes' longtime affinity for Greek mythology through constant interactions with deities.
"I always give them some sort of handicap," said Guimaraes, who knows all about contending with literal and figurative hurdles. "That's just the world that I live in."
Initially, Guimaraes was not aiming for mentions in the New York Times Book Review any more than a trip to the Paralympic Games Rio 2016.
But then she saw her enjoyment through to multiple revisions of "Black Rose," the first edition of Becca's chronicles. She handed the manuscript to her mother, who she remembers saying, "I've read books that were actually worse than this."
Guimaraes rode that encouragement into the publishing world. By late March 2019, amid her freshman year in high school, she had "Black Rose" available for anyone to purchase online.
Five months later, she was back impressing on the track at the Parapan American Games in Lima, Peru. There, she earned a bronze medal in the 400-meter T38 and the long jump T36/37/38.
By Thanksgiving, Guimaraes had doubled her byline count, releasing "White Lily" as the second volume of Death Garden. At 149 pages, the sequel eclipsed its predecessor's length by 50.
Between writing and the continuous competition in track, Guimaraes still never let complacency creep in.
"The problem is it made me hungrier for the things that took more time to achieve," she said.
That hunger only grew when she attempted to qualify for the Paralympic Games Tokyo 2020. After the pandemic postponed those Games for a year, she made the alternate roster before being omitted from the traveling squad.
"I was obviously devastated," she said.
Fate had assigned a theme of resiliency to Guimaraes, who channeled that devastation into her writing.
"I must have written 100 pages in just a couple of weeks," she said. "The writing that came out of that was so profound and I would say almost, like, poetic in a way that I hadn't written before."
When she returned to the track in the fall of 2021, Guimaraes was better than ever. She pleased herself in practice by "jumping over four-and-a-half meters consistently."
She also made time to jump back into her original pastime of soccer and went international with that too. Last May, she was named MVP upon leading the U.S. women to gold at the inaugural International Federation of Cerebral Palsy Football World Cup in Salou, Spain.
That was effectively her last hurrah as a high schooler. Now Guimaraes is seeing action on the indoor track team at High Point University in North Carolina and relishing her addition to the Para track national team for 2023.
"I definitely feel like things are starting to come together and I'm starting to get tastes of that dream that I've been searching for," she said. "I've already gotten so much better just being at this school."
One year out from the trials toward the Paris Games in 2024, Guimaraes is eyeing July's world championships, which will also be held in Paris. No more than five months after, she intends to debut a new series, pushing 300 pages, about a visually impaired but strong-of-hearing vampire.
"I'm working on this book to be even bigger and better than the Death Garden series," she said. "Similarly, I'm looking forward to an even bigger and better competition season."