Roundup: Hannah Dederick Pens A Letter To Her Idol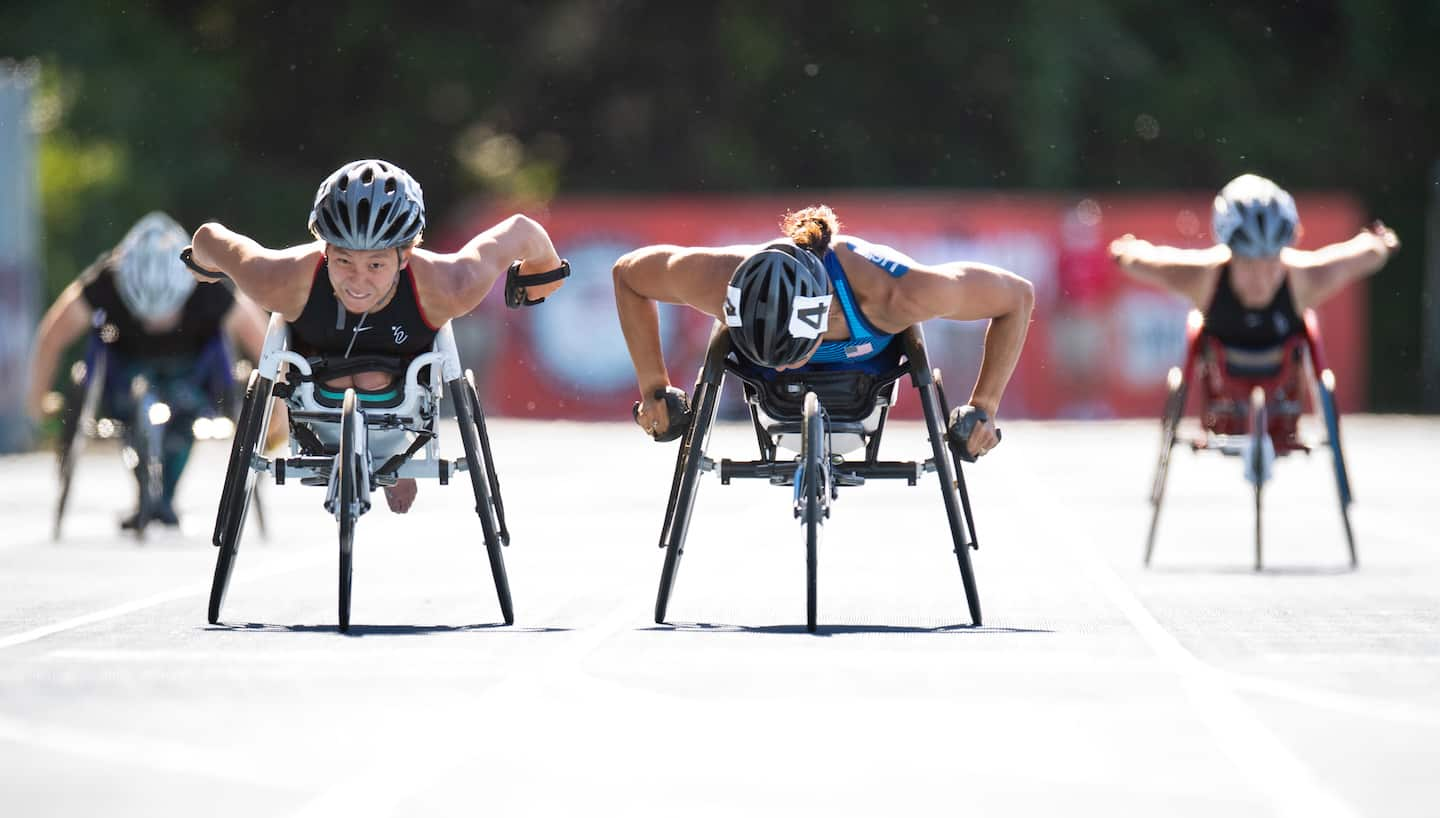 Hannah Dederick and Cheri Madsen race at the 2020 U.S. Paralympics Track & Field Team Trials. (Photo: Mark Reis/USOPC)
Every other week we scour the web for the latest going on in the world of U.S. Para track and field. Here's what you missed!
Honoring An Idol
Feb. 1 marked National Girls and Women in Sports Day, which Paralympic wheelchair racer Hannah Dederick used to write a letter to her idol, Cheri Madsen.
Madsen is a legendary wheelchair racer who competed in four Paralympics and won 10 medals. After winning two golds and a silver in the Paralympic Games Sydney 2000, Madsen left racing for 13 years. She returned to competition at the world championships in 2013 and won two bronze medals. Madsen then racked up three more Paralympic medals after that, including a silver and a bronze in Tokyo at 44 years old.
Dederick said she didn't know much about Madsen's racing career when the two first met at a race in 2017. After seeing Madsen race in-person, Dederick knew she had someone to aspire to.
"You have always been a faster and more experienced competitor than me, but you always told me that I had fast starts and would catch up to you in no time as a young and up and coming racer," Dederick wrote about Madsen.
Dederick's main goal at the time was qualifying for the Tokyo Games. She achieved that goal and was able to race alongside Madsen in the 100-meter and the 400-meter on the world's biggest stage.
"It was super exciting, and a dream come true," Dederick wrote. "Competing alongside you at the Tokyo Paralympic Games was truly a moment I will forever cherish, as we were again racing neck and neck. Seeing you win your 10th Paralympic medal was just a cherry on top. I'm truly grateful that I got a chance to get to know you and race with you."
You can read Dederick's full letter here.
Sunday Funday
More than 100 million people watched the Super Bowl between the Philadelphia Eagles and Kansas City Chiefs. A little less than 68,000 people attended the game in Glendale, Arizona, and Hunter Woodhall was one of them.
The three-time Paralympic medalist traveled to Arizona on Saturday without tickets to partake in a few events surrounding the game. Then on Sunday he was able to get some last-minute tickets to watch the game and Rihanna's halftime performance.
One Big Family
Beth Grauer is a former Marine, and she first tried adaptive sports in 2016 while she was serving. She settled on shot put and javelin as her two main events and hopes to qualify for the Paralympic Games Paris 2024.
Grauer traveled the world during her time as a Marine, and now she's continuing those travels as a track and field athlete. She said her favorite thing about competing has been all the new people she's met along the way.
"That's what I love about Para sports," Grauer told USParaTrackandField.org. "It's a big family."
You can read more about Grauer here.
Fruit Ninja
What do track and field athletes do when they're not training? Cut fruit in mid-air with a samurai sword, of course.
Well, that's at least what two-time Paralympian Trenten Merrill does. While Merrill is known for his jumping ability, winning a bronze in the long jump at the Tokyo Games, he clearly has strong hand-eye coordination as well.
"This is what I do on the weekends when I'm not training," Merrill wrote on Instagram. "Putting my samurai sword to use and chopping some fruit! Don't do this at home! I'm a trained professional long jumper and have years of T-ball practice that prepared me for moments like this!"