Roundup: Initial Sport Program Announced For LA28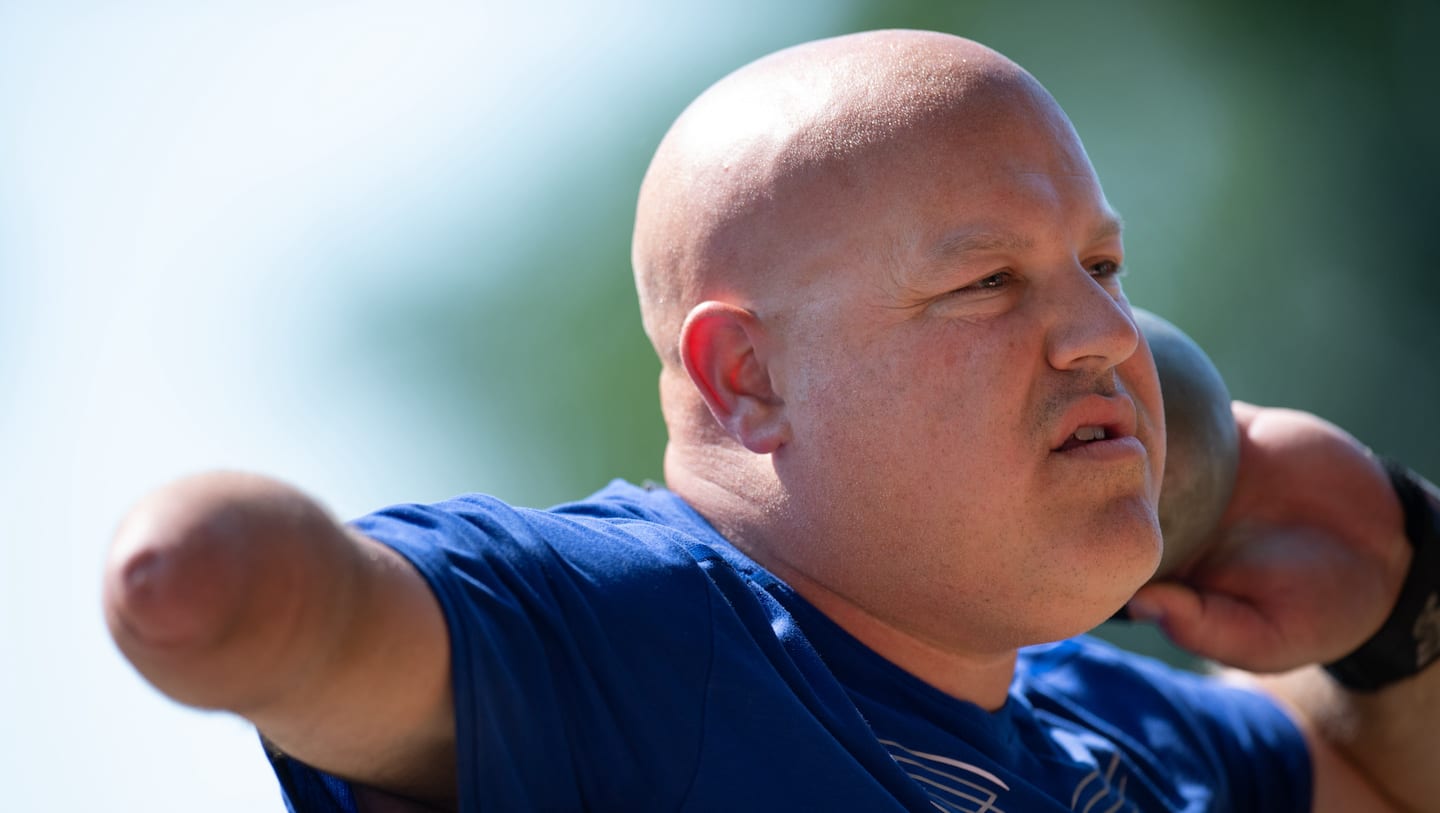 Josh Cinnamo competes in shot put at the 2021 U.S. Paralympics Track & Field Team Trials. (Photo: Mark Reis)
Every other week we scour the web for the latest going on in the world of U.S. Para track and field. Here's what you missed!
Ready For LA 2028
The International Paralympic Committee Governing Board has announced its initial sport program for the Paralympic Games Los Angeles 2028 and — surprise! — track and field made the cut.
OK, maybe that's not terribly surprising, but at least it's now official.
The IPC received nominations from 33 Para sports, which was the most that have ever applied for a single Paralympics. There are 22 sports on the initial program, with Para track and field (also called athletics) being one of them.
"The sports we have included in the LA28 Paralympic Games provide a competitive and attractive sport program that will showcase the diversity of the Paralympic Movement," IPC President Andrew Parsons said.
This list is not finalized, as the IPC granted LA28 the opportunity to include paraclimbing and Para surfing, which would both be making their Paralympic debut. A final decision on whether those sports will be included will come at the end of 2023.
You can see the full list of the 22 sports here.
Batter Up
Josh Cinnamo has made a name for himself competing in shot put, and he won a bronze medal at the Paralympic Games Tokyo 2020 doing so.
On top of being a track and field athlete, Cinnamo also played football throughout high school and college.
One sport he never tried was baseball. That changed last week, as Cinnamo, 41, took some at bats with his hometown team, the San Diego Padres.
"Spent the week keeping @machados13's locker warm in Peoria," he wrote on Instagram, referring to the team's spring training home in Arizona. "I'd never played organized baseball previously, yet at 41, I did, and it was the most fun I've ever had. Do the things you think can't be done."
Awards Season
Speaking of San Diego, California native Kym Crosby received the Challenged Athlete of the Year award by the San Diego Sports Association (SDSA) last week.
"I can't even put into words what this means to me but I was so excited to celebrate this night with a few of my favorite people," Crosby wrote on Instagram. "These are some of the beautiful people that have supported me in so many ways along my journey and I can't thank them enough. It truly takes a village and I'm so happy to have them by my side."
The SDSA has been giving out that award since 1990. Other track and field athletes have won it in the past, including four-time Paralympic medalist high jumper Jeff Skiba in 2008 and Paralympic sprinter Scout Bassett in 2017.
Changing Lives
Two-time Paralympic medalist Susannah Scaroni was a speaker at Para Sport Spokane's annual fundraiser on Jan. 28.
"Had the best time supporting @parasportspokane at their annual fundraiser," Scaroni wrote on Instagram. "This is the best program and impacts countless lives (including mine!)."
On top of helping with the fundraiser, the Tekoa, Washington, native tried out sled hockey and wheelchair basketball with kids in the program.
Having an athlete with the star power of Scaroni helped the night be a huge success for Para Sport Spokane, as they went over their fundraising goal of $125,000.
Recovery Problems
Paralympic sprinter and jumper Beatriz Hatz knows the importance of getting a massage after a tough day of training.
Unfortunately, they aren't always the most relaxing.