Jaleen Roberts Is Competing Again After A Triumphant Performance In Tokyo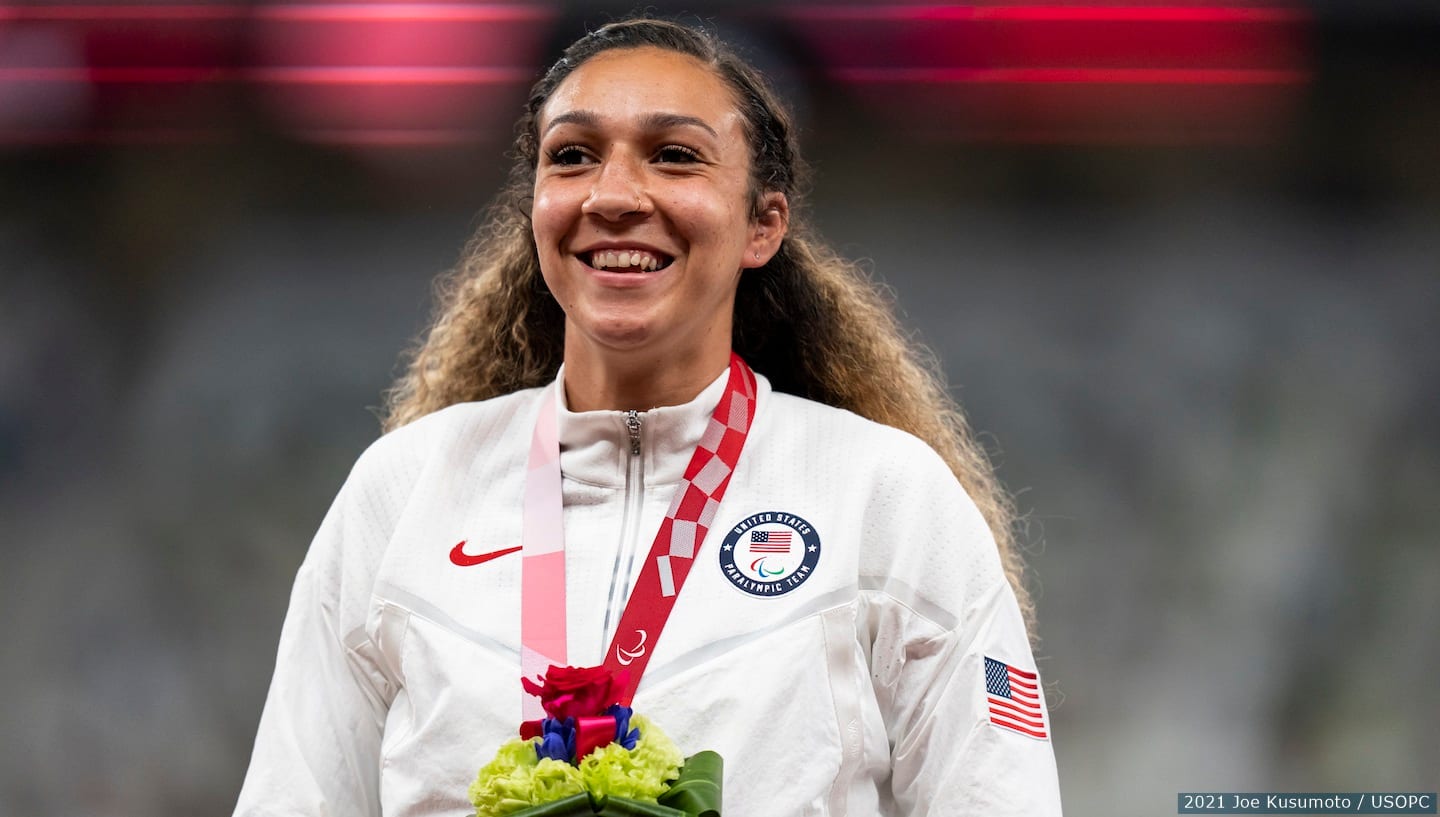 Jaleen Roberts on the podium in Tokyo. (Photo: Joe Kusumoto)
When Jaleen Roberts won silver medals in the long jump and the 100-meter T37 at the Paralympic Games Tokyo 2020, no one was more surprised than she was.
The Kent, Washington, native's training leading up to the Tokyo Games was derailed because her mental health was suffering after a friend of hers died by suicide in the leadup to the Games. Roberts took time off from training and was considering cutting her season short.
"I'm really surprised by the results that came out of that," Roberts said, referring to the Tokyo Games.
Her coach helped her focus.
"He had to remind me why I was doing this," she said, "(for) a greater purpose far beyond the sport."
Almost two years later, Roberts, 24, is taking meetings with potential sponsors who hope to center her mental health journey in their work together.
With the start of a new track season, Roberts has a new coach, Kris Mack, who connected with her right away.
"As (Mack) gets to know me and the struggles I face, he's also done a really good job of (helping with) that," Roberts said. "I think it can be hard to do that when you haven't gotten to know somebody and the things that they struggle with that go far beyond track."
She credits Mack not only with looking out for her mental health, but also her physical well-being. Roberts has cerebral palsy and has competed under the T37 classification throughout her career. She said that she will undergo classification again in Mexico this weekend, where she will compete at the Xalapa Grand Prix.
"Cerebral palsy is an interesting disability, because even though it results in physical impairments, it all starts neurologically," Roberts said.
Athletes with cerebral palsy may hit the point of fatigue more quickly than other athletes, and their recovery looks different as well, according to Roberts.
"It's really hard when you're training in a group, and it's really important that athletes with cerebral palsy aren't put into the same box as other athletes," she said.
Roberts now trains with other athletes with cerebral palsy, and notes that no two cases look the same. Between Mack and her strength coach, Roberts said the tweaks that are made for her represent some real thought put into her situation.
"There might be a separate accommodation, but (I'm) getting the same benefit (as other athletes)," she said.
While she was growing up, Roberts said she did not have any women with disabilities like hers to look to as role models. She immersed herself in able-bodied sports, and said she never felt excluded in that world but felt an immediate difference when she became a Paralympic athlete.
"I had this overwhelming sense of being a part of something," she said.
Xalapa is not Roberts' first competition this season, but it is the biggest so far. She wrote on Instagram in March that she needed a "rust buster" before she headed across the border.
Roberts had not competed since Tokyo, as she spent last year rehabbing injuries. She called that first meet, the Aztec Invitational in San Diego, "pretty rough."
However, when she competed again a week later, at the Arnie Robinson Invite in San Diego, she dropped her 100 time by more than half a second.
Roberts will run the 100 as well as the 200 in Mexico. She will also compete in the long jump, which is the event she most wants to improve and see more consistent results.
"I want to win gold," she said, after coming in second to China's Wen Xiaoyan in the 100 and the long jump in Tokyo. "But I understand what that's going to take in terms of training."
For the rest of 2023, which will be a long season for Roberts that will not end until the Parapan American Games in November, she said she aims to avoid burnout, both physical and psychological.
"There's so much pressure in the world of athletics," she said. "I think that it's really important for people to remember that they are people first, athletes second. I think that society has this unrealistic expectation that we as athletes don't have struggles."
Roberts credits Mack with telling her to focus on the things she can control. Roberts said that during races, she concentrates on relaxing her facial muscles and then zones in on a single word or phrase that she repeats to herself during the race or jump. That strategy is becoming less rehearsed and more intuitive as she uses it more.
With a team behind her helping Mack look out for her health, Roberts said she is in a good place preparing for the Xalapa Grand Prix. But she said she hopes other athletes will follow her lead and take care of themselves mentally as well as physically.
"It's OK to struggle and it is OK to reach out when you need help so that you can be the best person first, and then athlete," Roberts said. "Without one, I don't think it's possible to be the other."