Eva Houston Is Relishing The Opportunity To Compete For A National Championship At The Drake Relays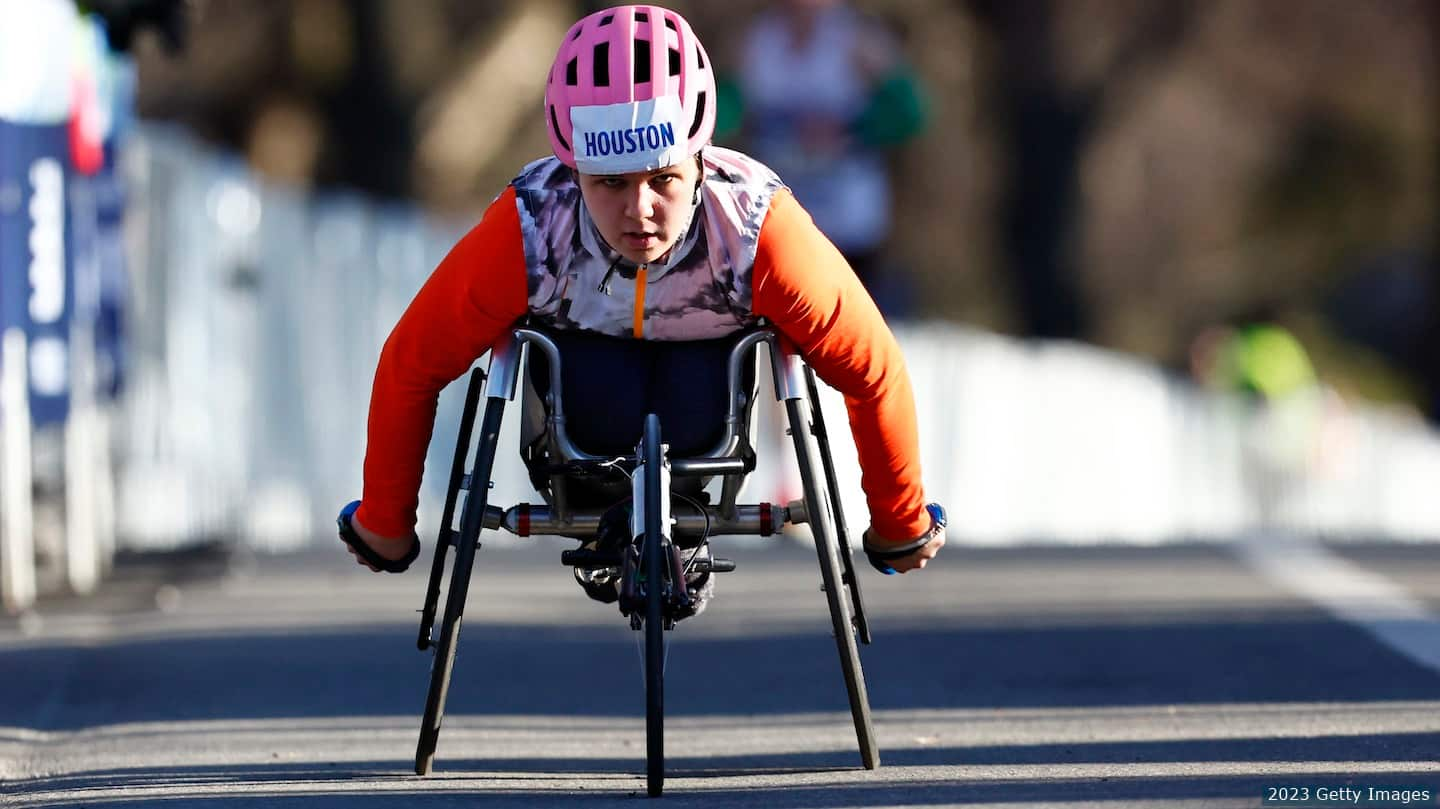 Eva Houston competes at the 2023 NYRR Half Marathon. (Photo: Getty Images)
Eva Houston decided to go to college at the University of Illinois mainly because of its wheelchair racing team.
While that program has produced some of the most accomplished wheelchair racers in the sport, it has not been able to claim any collegiate national champions.
That could all change this year.
With just weeks left in her senior year, Houston will race for the first time this weekend at the prestigious Drake Relays, in Des Moines, Iowa, where for the first time collegiate national champions in men's and women's 100-meter wheelchair events will be crowned.
She will also compete in the 800, which is not a national championship event.
The national championship designation was announced in February after a collaboration between the United States Olympic & Paralympic Committee and the NCAA Office of Inclusion. In addition to the men's and women's 100, there will be men's and women's 800 races and a coed 400, although those three will not be national championship events.
"I think it's really, really important that this is happening," Houston, who was born in Iowa, said of participating at the Drake Relays. "Para track and field, it's separate from collegiate events and I think a great deal of that is just because there aren't many colleges that have wheelchair track and field teams. So it's incredibly cool that we are included in this because I think that it kind of unifies the collegiate track and field community and sets a great foundation for future racers."
It is a breakthrough for athletes such as Houston, who competed in the women's 100 and 800 T34 at the Paralympic Games Tokyo 2020, finishing eighth and sixth, respectively. Very few universities have designated Para teams, with many schools just sending individual athletes to meets.
As such, there isn't much of a college season. In fact, Houston, 22, has only participated in one collegiate track and field meet this season, which acted as the qualifier for the Drake Relays. She has, however, done a handful of road races and has competed in the Boston Marathon three times.
"We actually only had two days on the track before the qualifying event, so the pressure was on," Houston said. "But thankfully, our coach prepares us so well that I just kind of relaxed and just trusted that he had prepared us and just focused on what I can focus on. So it wasn't too stressful."
Houston had been a wheelchair basketball and softball player when a track coach noticed during her freshman year of high school in Omaha, Nebraska, that she was pretty fast. The coach offered her a chance to try out as a wheelchair racer.
"I think that that was always my favorite part about basketball and softball was going fast in the basketball wheelchairs," Houston said. "I kind of think it was the best part of a sport and I was like, 'Let's just find a sport that allows me to focus on speed then.'"
Slowly, she gravitated more to track, and when it came time to choose a college, she had a little push in picking Illinois from family friend and Omaha native Cheri Madsen, who has won two golds among her 10 Paralympic medals as a wheelchair racer.
"She told me about the team, what they do here, the resources that they have," said Houston, who is majoring in natural resources and environmental science. "I knew I wanted a future in Para racing. Cheri told me that this is where you succeed, this is where you find your future."
While her future includes a career in urban agriculture, with a research position already secured, Houston still has a little unfinished business in college, which includes the Drake Relays. And with only a few weeks to do so, her emotions are bubbling to the surface.
"I really love it here in Illinois," Houston said. "I love the family that I've chosen, the family that I've created. It's going to be sad to say goodbye to a lot of people. Thankfully, I'm staying in the area to train next year, though. I don't have to say goodbye to my coach or my teammates quite yet."
After her experience in Tokyo — she said she was surprised at qualifying due to little international experience — Houston has her eyes set on next year's Paralympics in Paris.
"I just really want to perfect my mindset for track meets and the way that I prepare that, for the way that I show up to the race," Houston said. "I'm really looking forward to kind of fine-tuning that process."
Houston could leave the Drake Relays as the first national champion in the 100, but she also knows that it isn't something that just happened overnight.
"I am really grateful for all of the racers that came before me that have allowed this moment to happen," Houston said. "I think without them, we would not be having this conversation. So I have to give it up to them for laying the groundwork for my generation of racers."