The Boston Marathon Reminds Femita Ayanbeku Of Her Hometown's Resiliency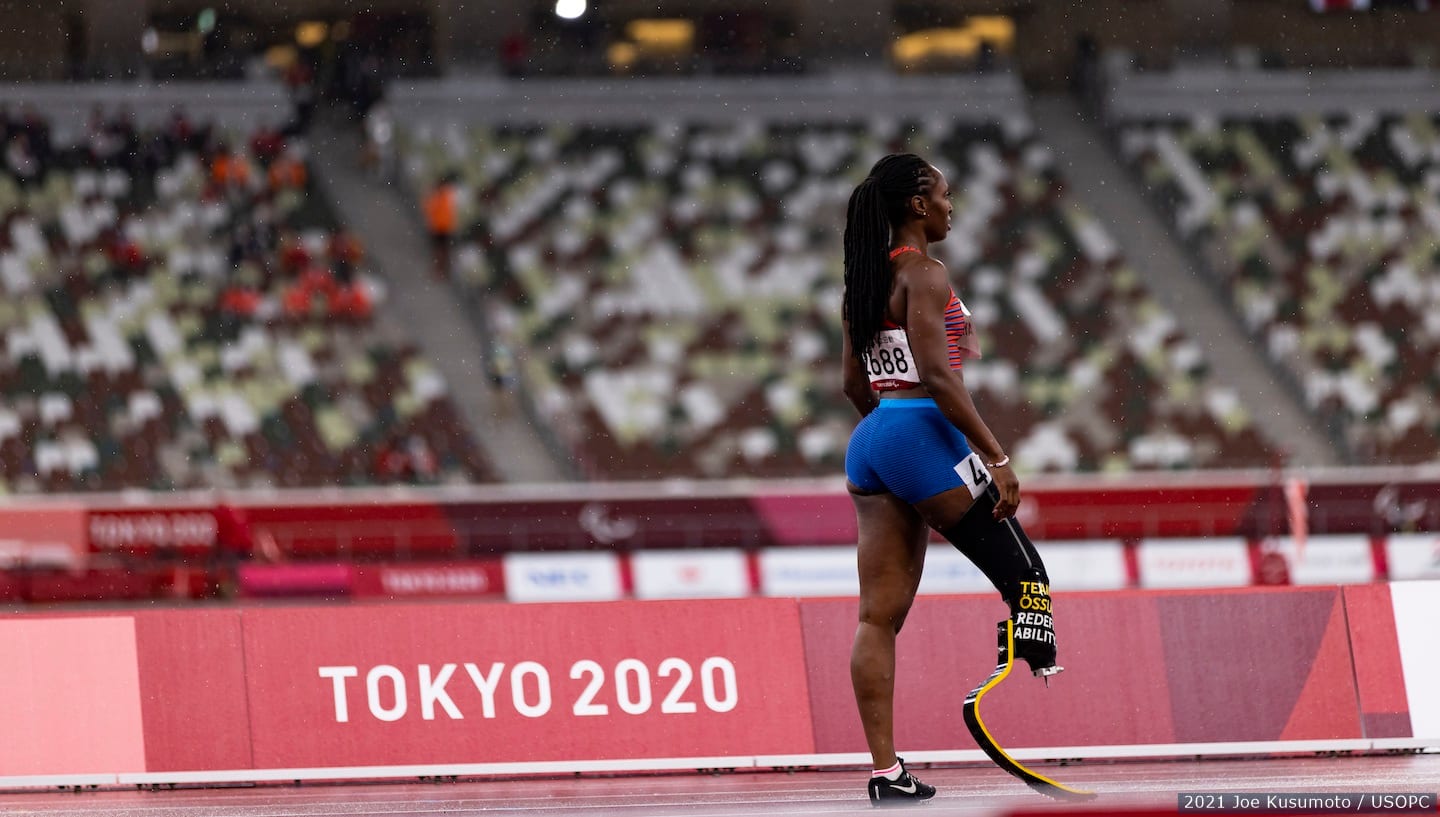 Femita Ayanbeku looks on after a race at the Paralympic Games Tokyo 2020. (Photo: Joe Kusumoto)
Femita Ayanbeku needed to immerse herself in her adaptive athletic community before she could appreciate one of her hometown's grandest institutions.
The Boston Marathon is the oldest annual 26.2-mile race, inaugurated in 1897 to emulate the previous summer's first modern Olympic Games. It guarantees a global gathering at the self-proclaimed "Hub of the Universe" every year. It's also a day off for Massachusetts schoolkids, as the marathon is run on Patriots' Day, which is celebrated on the third Monday in April every year. This year's marathon will take place on April 17.
Yet for Ayanbeku, the 30-year-old Boston native and T64 sprinter on the U.S. Para track and field team, running was never a childhood pastime.
"When I first got my running blade, I was not thinking about being a competitive athlete," said Ayanbeku, who was 11 when a car crash forced her right leg to be amputated from below the knee.
Her post-amputation life changed dramatically when she took up track and started training at the Reggie Lewis Track & Athletic Center in 2015.
That, and her subsequent ticket to the Paralympic Games Rio 2016, enlightened her to the Boston Marathon's finer points. Since the event introduced a women's wheelchair division in 1977, 10 Americans have won it a combined 28 times.
Most recently, Tatyana McFadden, the 20-time Paralympic medalist in track and Nordic skiing, topped the wheelchair division five times in the six years between 2013 and 2018. Two-time Paralympic medalist Daniel Romanchuk has prevailed in two of Boston's last three men's wheelchair contests.
Meanwhile, Alicia Dana, who represented the U.S Para-cycling team at Rio, won the 2018 marathon in the handcycling sector.
Those adaptive divisions show the race's inclusive nature, which helps to sustain local interest in an active lifestyle.
Ayanbeku has connected with her athletic communities through tragedy, determination and service to others. The Saturday before this year's marathon marks the ninth observance of One Boston Day. The city encourages community aid every April 15, the anniversary of the 2013 Boston Marathon bombing.
At the time of the bombing, Ayanbeku was going on 10 years since her own trauma. It had been one thing for her to face the foggy road ahead among family and friends. Given the marathon's international spectacle, those grieving the three fatalities and the more than 250 recovering from injury were pressed into public recovery narratives.
"I really felt for them in that moment because I knew how hard of a transition it was for me," Ayanbeku said. "I think they are all amazing."
She has seen and felt that amazement firsthand through webs of collaborative advocacy. After receiving a prosthetic left leg below her knee, bombing survivor Heather Abbott of Newport, Rhode Island, established a nonprofit that aims to "give other amputees who have suffered limb loss through traumatic circumstances to live their life — again."
Noelle Lambert was one recipient. A collegiate lacrosse player at the University of Massachusetts Lowell and avid swimmer, Lambert had her left leg amputated after a 2016 moped crash. At her request, the Heather Abbott Foundation furnished a waterproof foot and knee, which Lambert subsequently used as a T63 sprinter at the Tokyo Games in 2021. Her 15.97-second dash in the 100-meter set an American record.
With her Born to Run Foundation, Lambert has continued the take-and-give chain since 2018. Ayanbeku serves on the foundation's board and says Lambert is like her little sister.
That sorority traces back to Abbott embracing Lambert. If not for that, Ayanbeku said, "I would have never met Noelle the way I had."
Between Lambert and Abbott's nonprofits and her own Limb-It-Less Creations Inc., Ayanbeku marvels at the selflessness of New England's adaptive residents. They symbolize her interpretation of the decade-old slogan, Boston Strong.
"I would say resilience and overcoming," she said. "I think Boston itself is a very diverse community, but I think there's a lot of underdogs in the Boston area."
She files herself under that heading as she aspires toward a marathon run, especially when she makes McFadden her measuring pole.
"She is a very seasoned athlete," Ayanbeku said of McFadden.
McFadden has been with the national team for two decades, appearing in six Paralympics since the age of 15. That experience explains her handling of a hectic slate with her team while training for, and often winning, marathons and road races.
"Me?" Ayanbeku added in contrast, "I'm more of a one-track train."
But Ayanbeku sees an opening down the road. McFadden and other Paralympians' participation is proof enough she can work to get on the marathon pavement herself.
"Which is why I know it's definitely on my to-do list," she said, specifying a timetable for 2026.
Al Daniel is a freelance features writer and contributor to USParaTrackAndField.org on behalf of Red Line Editorial, Inc. You can follow him on Twitter @WriterAlDaniel.