Navigators Adaptive Sports Club Is Sending Athletes From New Jersey To The World Stage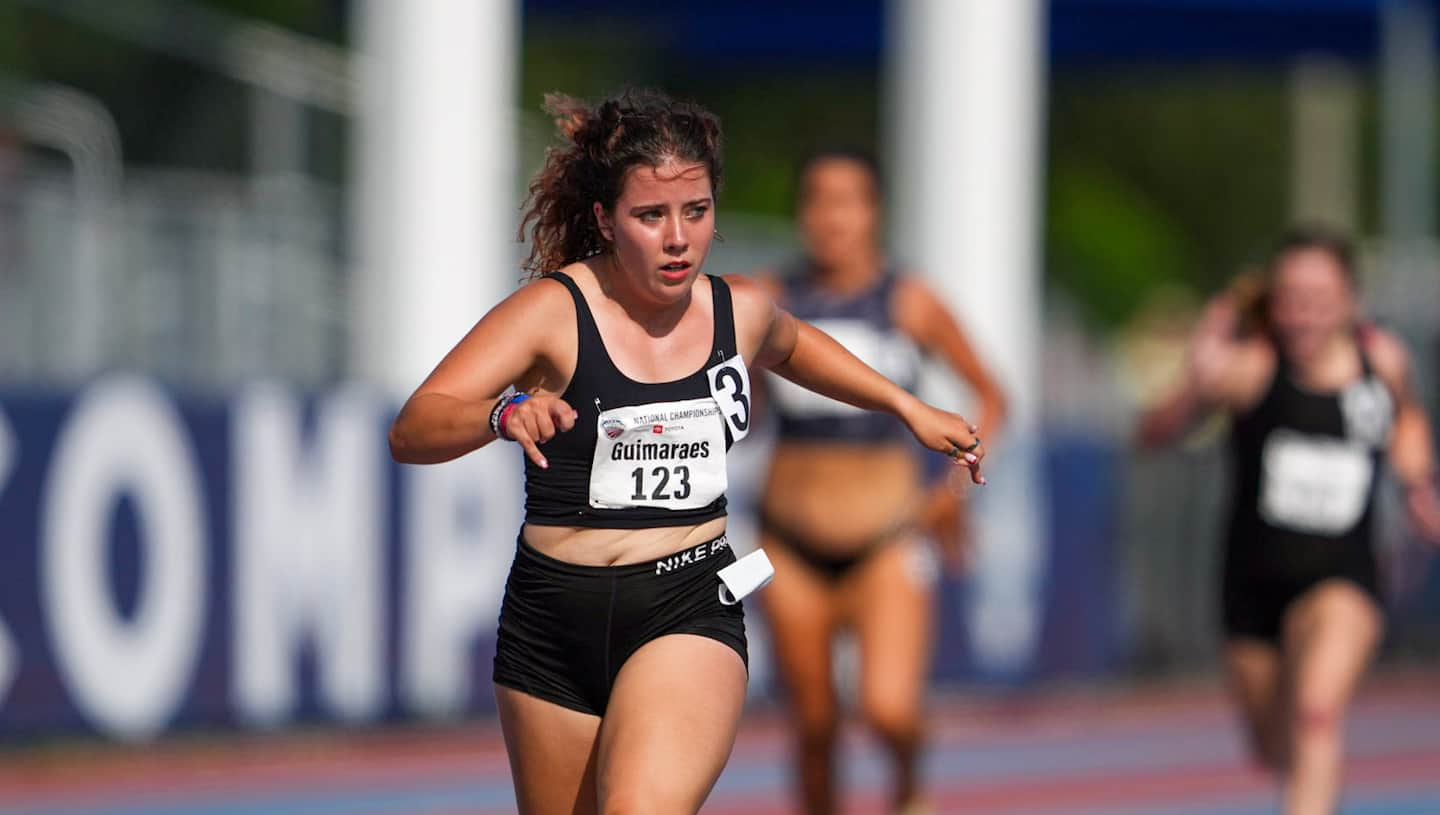 Catarina Guimaraes crosses the finish line during a race at the 2022 U.S. Paralympics Track & Field National Championships. (Photo: Rick Stephens)
Catarina Guimaraes trembled in the shadow of her competitors. Representing a sparse pool of sprinters who have cerebral palsy, the then-13-year-old was making her Navigators Adaptive Sports Club debut in a male division.
"And they weren't even small boys," she recalled. "They were, like, big boys."
It was an opportunity that began a string of gifts the Navigators would give her.
She felt the encouragement from her peers, coaches and volunteers. Then she heard another wave of it in the stands.
And so, at the sound of the gun, "I just went for it."
With her teammates cheering her on, Guimaraes raced to a first-place finish. At the moment, Guimaraes decided she wanted to experience this feeling as much as possible.
"I want to keep surprising myself with what I can do," she remembered thinking at the time.
Six years later, her next shot at that comes via the U.S. Para track and field team, where she and sprinter/jumper Aubrey Jumper will double the Navigators' delegation in 2023. They join two veterans in wheelchair racers Ray Martin (three Paralympics; seven gold medals, three silvers) and Gianfranco Iannotta (two Paralympics; one gold, one bronze).
Iannotta and Martin graduated from high school in 2012, five years before current Navigators track head coach and board president Matt Kelly started working with the organization. Yet they have been anything but strangers, continuously returning to the Navigators' Bayonne, New Jersey, base — which also services swimmers, archers and triathletes — for training.
Although they are a decade apart in age, Guimaraes considers Iannotta one of her best friends. She credits him for instilling patience, an admitted weakness she knows she must improve if she wants to take the next step in the sport.
In due time, Guimaraes and Iannotta both became mentors to the same athlete. When Kelly's daughter joined the Navigators, Iannotta was coming off the Paralympic Games Rio 2016, where he won gold in the 100-meter dash and bronze in the 400. Meanwhile, Guimaraes was eager to relay some wisdom to her newest teammate.
"They were so welcoming and encouraging to my daughter," Kelly said.
Like any coach, Kelly wants his athletes to train hard to be prepared for competition, but he likes to keep things light during practice.
"Practices were dedicated to working hard," said Kelly, "but the sense of a team and having fun were big parts of it, and the cheering, laughing and silliness were equally important."
That approach was on its grandest display at the Paralympic Games Tokyo 2020. Kelly tuned in and watched Iannotta and Martin, along with the rest of the competitors on their sport's biggest stage, deal with torrential rain.
Iannotta came tantalizingly close to the podium with a fourth-place finish in the 400 and sixth in the 100. Meanwhile, Martin won gold in the 100 plus silver in the 400 and 1,500.
"I think back to the rainy, challenging conditions at the Paralympics in Japan, and how the athletes handled themselves," Kelly said. "We try to teach graciousness in victory, resolve in defeat and sportsmanship always."
The Navigators have a geographic outreach to match their vast, varied range of abilities, ages and values. Their program is made up of New Jersey, New York and Pennsylvania residents. But through virtual training sessions, the network nearly stretches the length of the Appalachian Trail.
"Video, email and regular communication are keys," said Kelly, "and for athletes who want to reach elite levels, training with local clubs can help supplement some of those geographic challenges."
That long-distance guidance even transcends time zones, as Jumper found out at a crucial time. At her first Desert Challenge Games in Arizona, an overwhelming atmosphere had her overwhelmed.
"I remember going off behind the bleachers," she recalled. "Super distraught, super anxious."
A 10-minute phone call with Navigators coach Isabel Cuevas, who provided a quick fix.
After that, Jumper said, "I went out there and I did really well for my first time, and it was just so great."
Jumper built on that toward back-to-back Move United Junior Nationals, where last year she and Guimaraes were two of 18 Navigators.
"Aubrey and Cat are just at the beginning of their Paralympic journey," said Kelly. "I know they both have the desire, self-motivation and talent to be Paralympians. I also know we will see continued improvement from them, and I expect to see them competing and winning on the international stage for years to come."
Al Daniel is a freelance features writer and contributor to USParaTrackAndField.org on behalf of Red Line Editorial, Inc. You can follow him on Twitter @WriterAlDaniel.