Roundup: Hagan Landry Breaks His Own Americas Shot Put Record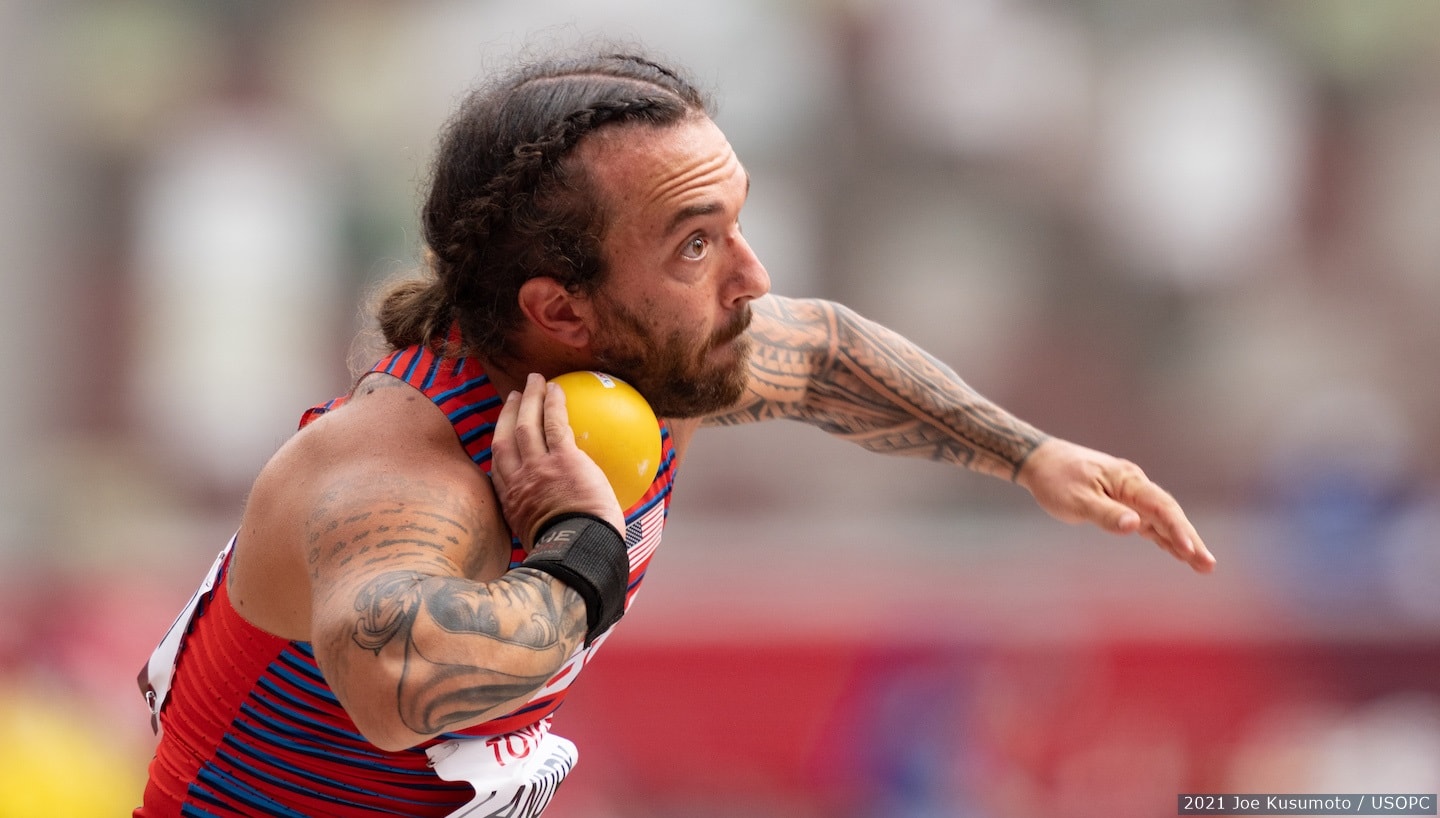 Hagan Landry competes in shot put at the Paralympic Games Tokyo 2020. (Photo: Mark Reis)
Every other week we scour the web for the latest going on in the world of U.S. Para track and field. Here's what you missed!
Raising The Bar
Hagan Landry, an F41 thrower, competed in the shot put at the Internationales Stadionfest meet in Berlin on Sept. 4.
Landry broke his own Americas record with a distance of 14.07 meters on his final throw in Berlin. Landry set his previous Americas record at the Paralympic Games last summer in Tokyo with a throw of 13.88, good enough to win silver. The gold medalist, Bobirjon Omonov of Uzbekistan, set a Paralympic record of 14.06 meters.
If Landry can keep this up, he may be atop the podium at Paris 2024.
Wedding Season
While the summer is winding down, wedding season is still going strong.
Susannah Scaroni, a two-time Paralympic medalist, spends a lot of time in the summer competing in marathons and road races across the country. Over Labor Day weekend, she took time away from competing to get married to her fiancé, Jacob.
Scaroni just made her engagement official, and three-time Paralympic medalist Hunter Woodhall is only about a month away from doing the same.
Woodhall and his fiancée, 2020 U.S. Olympic long jumper Tara Davis, took their engagement photos last week as they prepare for their big day on Oct. 16.
And, of course, you don't have to be getting married to enjoy a fall wedding. Noelle Lambert, a 2020 Paralympian, attended a Labor Day wedding of her own on a beautiful Massachusetts day.
Historic Survivor
Speaking of Lambert, she's set to make history later this month when she becomes the first above the knee amputee to ever compete on "Survivor."
"YOUR FAVORITE AMPUTEE IS A CASTAWAY ON #SURVIVOR 43!!!!!" Lambert wrote on Instagram. "Being the first above knee amputee to ever play the game of survivor is so surreal and something I'm incredibly grateful for. I'm playing for all the people out there that doubt themselves and believe they aren't good enough because guess what… YOU FREAKING ARE!"
Lambert is competing on the 43rd season of the show against 17 other cast members. The new season will air its first episode on Sept. 21.
RIP Queen Elizabeth II
The Instagram account of the Paralympics paid tribute to the late Queen Elizabeth II, who died last Thursday at the age of 96.
The account shared quotes from Andrew Parsons, the president of the International Paralympic Committee.
"The International Paralympic Committee sends its deepest condolences to the @theroyalfamily of the United Kingdom following the very sad passing of Her Majesty Queen Elizabeth II," Parsons said. "Queen Elizabeth provided the IPC with one of our most historic days when she officially opened the London 2012 Paralympic Games. The Royal Family have for many decades been very supportive of the Paralympic Movement and we are forever grateful of their patronage."
Luke Hanlon is a sportswriter and editor from Minneapolis. He is a contributor to USParaTrackandField.org on behalf of Red Line Editorial, Inc.