Tanner Wright's Road To Paris 2024 Started Earlier This Month In The Desert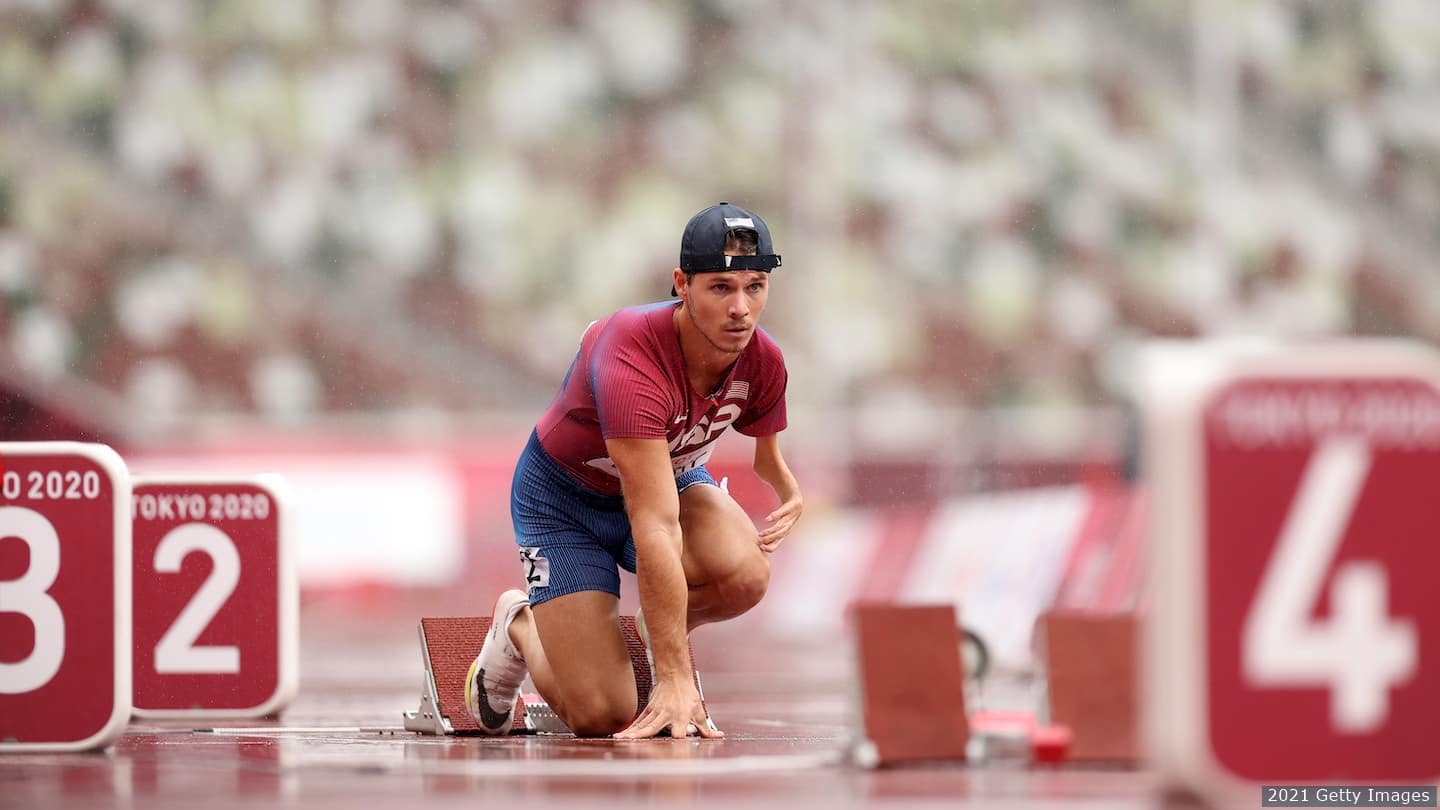 Tanner Wright on the starting blocks at the Paralympic Games Tokyo 2020. (Photo: Getty Images)
Tanner Wright won two of his three events, the 100-meter and the 400-meter in the T46 classification, at the Desert Challenge Games held May 18-22 in Mesa, Arizona. But the real thrill of attending that event, he said, was not his victories, but seeing kids learning the ropes of Para sports.
"That's probably my favorite part about Desert Challenge," Wright, 24, said, "seeing all the inspiration from little kids with disabilities and giving them something to look forward to the older they get."
The weather was great too, he noted.
The Desert Challenge Games include events for Para athletes as young as 7 and on up to adulthood, and at competition levels from beginner to elite. Besides track and field, there are swimming, archery, and pistol and rifle competitions.
Wright competed at the Paralympic Games Tokyo 2020 last summer in both the 100 and the 400; he finished seventh in the former and fourth in the latter. He's hungry for a Paralympic medal, and says he is training with an eye on the 2024 Games in Paris.
The Desert Challenge Games, Wright said, were a good way for him to start getting used to the challenges of traveling and competing as he gears up for Paris.
The 400 is Wright's primary event, though he said going into the weekend he was confident in his ability to win both the 400 and the 100. There were only about 14 hours between the two races, he said, with the 100 held on Friday evening and the 400 on Saturday morning. Wright also ran the 200 on Saturday night, but the result was unofficial because he competed out of his T46 classification.
"The 100's just been dicey for me all year," Wright said. "I really haven't had the best times I thought I deserved."
He wanted to use the 100-meter race at the Desert Challenge Games to work on his start and was happy with the one he got, he said.
"Once I got 30 meters into the race, I knew it wouldn't be a problem winning it," he said. "And once I had that confidence, it was mainly just focusing on my form and just putting my feet down and trying to look pretty doing it."
Wright said he believes he is ranked among the best in the world at the 400, and he said he felt he had an advantage over his competitors because he has already raced several times this year.
"I already knew exactly what to do and how to do it," he said. "It's basically muscle memory at this point."
Life as a track star comes as a surprise to Wright, as he started running only to make himself a more competitive football player. Wright, who grew up in Fort Worth, Texas, was a linebacker in high school before becoming a kicker on his then-college team at McMurry University in Abilene, Texas. In high school, he said, any football player who wasn't a lineman had to run track to stay in shape. Later, as a kicker, he found that running helped both his leg strength and the explosive power he needed for a quick start from the blocks and a strong kick through the goalposts.
"I started college track for the sheer purpose of being a better kicker for my college football team," Wright said.
Growing up Wright had been diagnosed with arthrogryposis, a condition that severely limited the growth of his left arm. He didn't realize he was eligible for the Paralympics until his sprint coach started talking about it one day.
Wright raced at the 2017 U.S. Paralympics Track & Field National Championships in Los Angeles and earned a spot on the team for the World Para Athletics Championships in London that year. He came in fourth in both the 100 and the 200 in London, "and I've just been on that same path ever since," he said.
Wright transferred from McMurry to Hardin-Simmons University, also in Abilene, "mainly for training purposes," he said. He injured his hip during his return to the gridiron after London, "and that's when I kind of settled down my football career," he said. He graduated from Hardin-Simmons in 2021, started a master's program there that year, and works as a graduate assistant coach for the track team. His athletes are heading to the Division III national championships this weekend.
Coaching sprinters helps him run better, he said.
"I can always tell what someone's doing wrong, but it's hard to tell yourself what you're doing wrong," he said. He says he hears himself handing out advice and thinks, "I really need to listen to myself when I coach."
He also loves watching his athletes develop their confidence, he said.
For the rest of 2022, Wright said, he hopes to develop more speed in his 400 before the end of the season, and then he will focus on training for Paris through 2024.