Roundup: Hannah Dederick Dominates In The Desert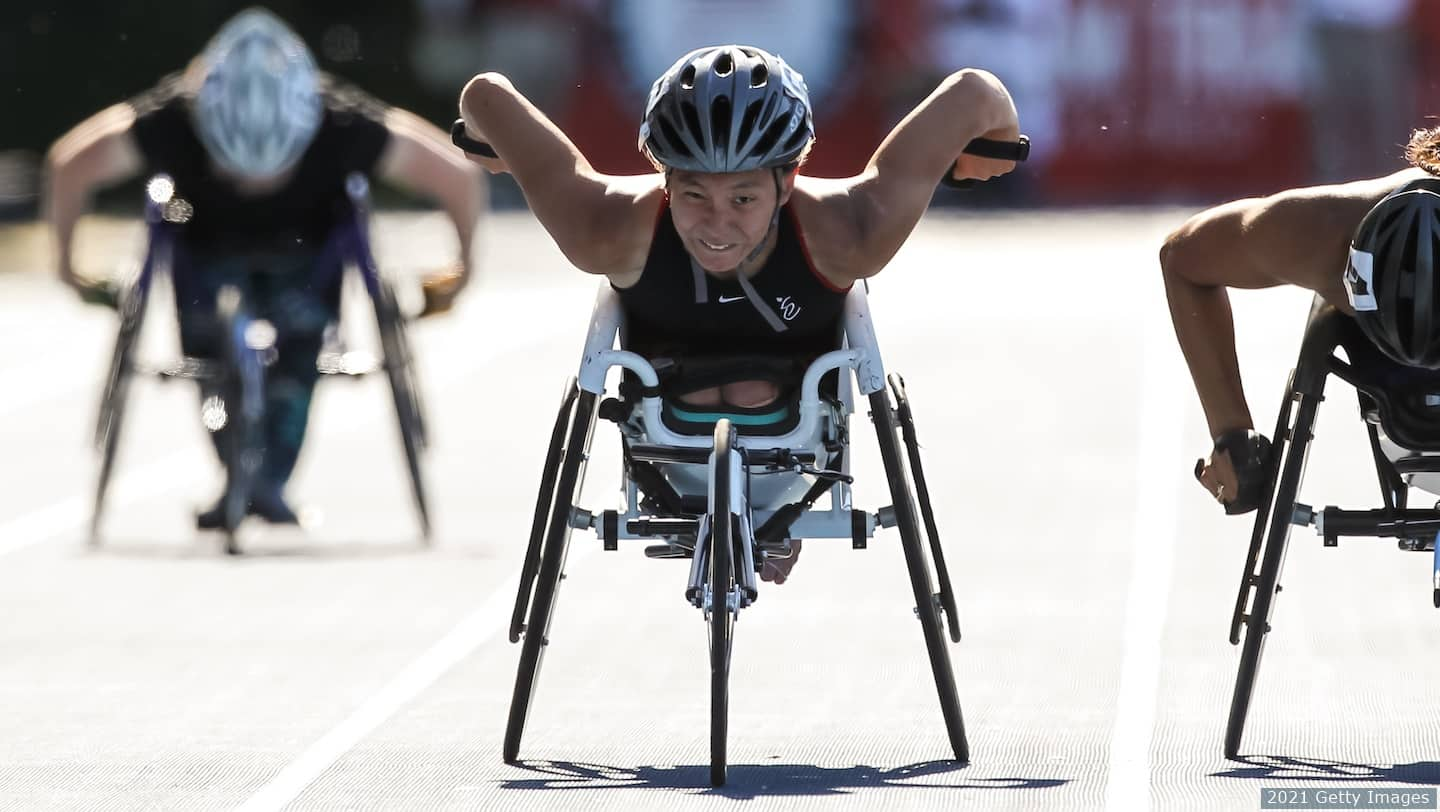 Hannah Dederick competes at the 2020 U.S. Paralympics Track & Field Team Trials. (Photo: Getty Images)
Team USA On Fire In The Desert
Now in its 31st year, the Desert Challenge Games presented by The Hartford took place over the weekend in Mesa, Arizona.
The event saw 340 athletes from 12 different countries travel to the desert to compete in track and field as well as archery, shooting and swimming. Of those 340 athletes, more than 25 were from the U.S. national track and field team, and many of them had a lot of success over the weekend.
Nobody shined as bright as Hannah Dederick. The Paralympian put on a show in every race she was involved in.
Dederick had a perfect record, as she won the four races she competed in: the 100, 800, 1,500 and 5,000 in the T54 wheelchair classification.
A few other American athletes won multiple events this past weekend. Six-time Paralympian Aaron Pike won the men's 1,500 and 5,000 T54 races. Brittni Mason, who won silver in the 100 and 200 in Tokyo, won both events in the T46 classification in Mesa. Paralympian Tanner Wright got two first-place finishes as well. Wright won the 100 and 400 in the T46 classification. Paralympian Jonathan Gore dominated the 100m and 400m in the T64 class, while Erik Hightower took home the 100m and 400m T54 races.
The Desert Challenge Games is a unique event that's been put on by Arizona Disabled Sports since 1990. You can learn more about the history of the event here.
Malone Lifts Indiana State To MVC Title
The Missouri Valley Conference Championships took place over the weekend of May 13-15 in Des Moines, Iowa.
Three-time Paralympic medalist Noah Malone shined for Indiana State that weekend. His time of 10.34 in the 100 and 21.10 in the 200 are both world records in the T12 class for the visually impaired. He then anchored the 4x400 relay that won with a time of 40.06, helping the Sycamores secure their first conference title since 2014.
Malone posted pictures on Instagram with his individual medals and with the conference team trophy.
Hunter Woodhall Quitting Track?
Hunter Woodhall announced on Instagram last week that he is quitting track. Well, not quite.
Woodhall has competed at every level of competitive track and field, including two Paralympics and at the NCAA level for Arkansas. He's had plenty of success too, including winning three Paralympic medals.
But in his post Woodhall said that all of his competitive life has been about winning, which only measures an athlete's progress against a fellow athlete. Instead, Woodhall is looking to measure his success based on his own personal goals, not against someone else's.
From now on, Woodhall said he's committed to breaking his personal record in the 400, which is currently 46.22 seconds. That's the first step to his ultimate goal of breaking 45 seconds in the event. This means Woodhall is done competing in meets and is only focused on meeting his personal goal, he said.
Fifty Years Of Title IX
Since Title IX was passed in June 1972, it has given many girls and women more opportunity to compete in the sports they love.
One specific example of that was shared by 20-time Paralympic medalist Tatyana McFadden this week. She highlighted the role Title IX played in a lawsuit she filed while in high school to make sure she could compete as an equal member of her track team.
McFadden posted a photo of her first high school race alongside able-bodied runners to Instagram, along with a heartfelt caption to commemorate the groundbreaking law.
"As we celebrate the 50-year anniversary of Title IX , I want to address the critical role that this law played with my lawsuit in high school," McFadden wrote. "It allowed me to fight for my right to participate in high school sports as an equal member of the track team when I had previously been segregated from the rest of the team. It's now a Federal law called the Fitness and Athletic Equity Act that has been embraced nationwide giving young people with disabilities the opportunity to participate in high school sports."
Go Dawgs
Three-time Paralympian Jarryd Wallace has spent almost all of his life in Athens, Georgia. He was born there, went to high school there and went to the University of Georgia, which is in Athens.
This past fall was monumental for all University of Georgia fans, as their football team went on a dominant run to the college football championship.
This week, Wallace got to take a picture of his son, Levi, posing with the championship trophy.
"Not sure what's bigger, Levi's smile or the Championship Trophy," Wallace wrote. "Either way, Go Dawgs!"
Luke Hanlon is a sportswriter from Minneapolis. He is a contributor to USParaTrackandField.org on behalf of Red Line Editorial, Inc.