Hannah McFadden Takes Fears To New Heights In Paraclimbing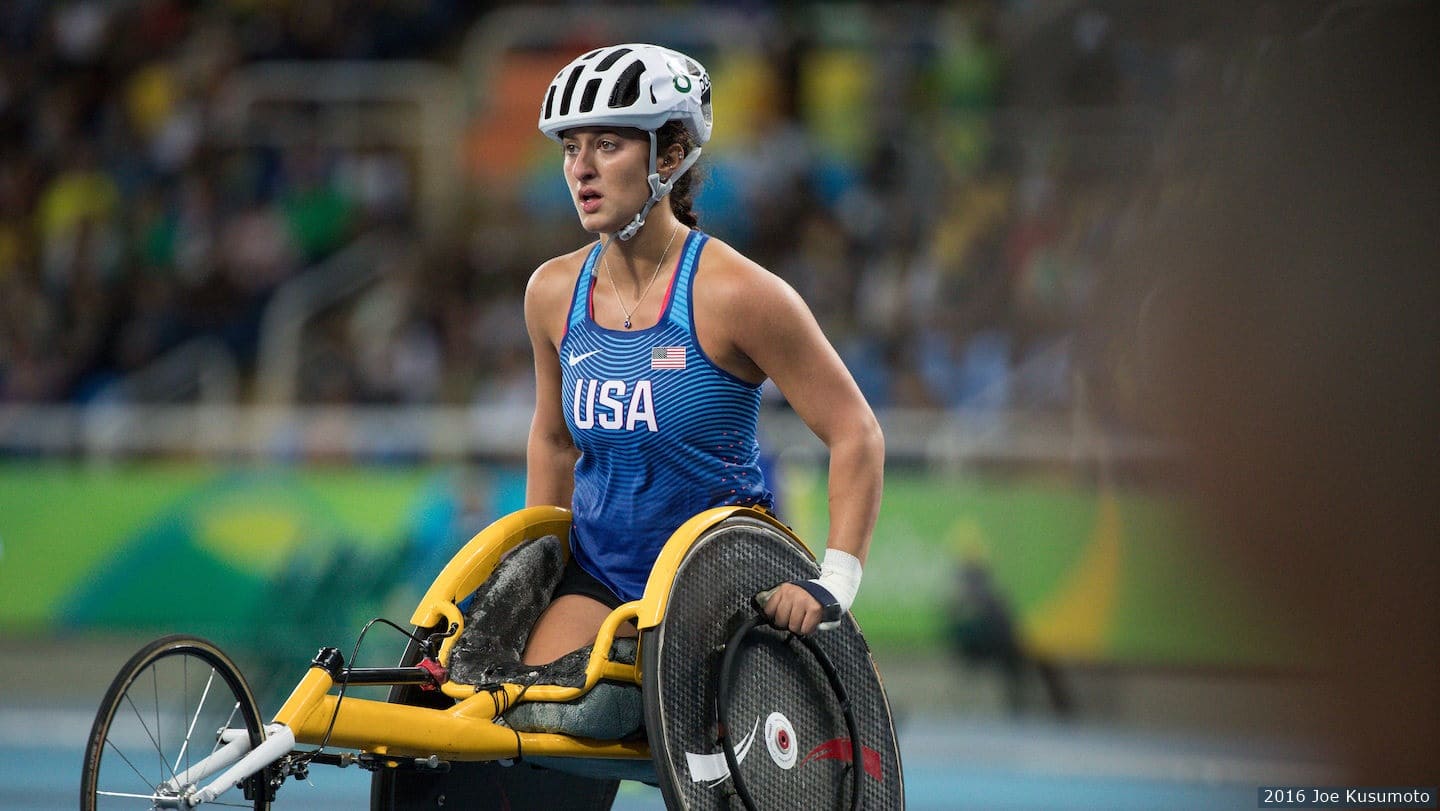 Hannah McFadden competes at the Paralympic Games Rio 2016. (Photo: Joe Kusumoto)
If you lived in Hannah McFadden's mind when she's climbing, you would probably hear the following:
Oh God, oh God.
Please don't fall.
I don't want to fall. God, why did I do this sport?
Of course, McFadden knows why she took up paraclimbing. It offers challenges unlike wheelchair racing, the sport she previously competed in, including at two Paralympic Games, and she gets to work on her fear of heights.
"Every route you climb is different," McFadden said. "I think that's the beauty of the sport. No competition is the same. … Whereas on the track, you're either going left or straight."
McFadden started paraclimbing last year after paying a visit to former racing teammate Arielle Rausin in New York. Rausin moved to New York for grad school, and she had been hanging around a local paraclimbing club.
McFadden gave climbing a try, which led to her getting invited to a camping trip for outdoor climbing. Not too long after that she was competing in the USA Paraclimbing National Championships.
"I was like, 'Well, we've been locked inside for almost two years now,'" she said. "It would be a good distraction, so I went for it. It was intimidating, but it was fun."
That was a distraction away from the 2020 U.S. Paralympic Team Trials for track and field. The trials were the same weekend as the paraclimbing nationals. Instead of pursing the a spot on the track and field team for the Tokyo Games, McFadden took a shot at her new spot.
McFadden was on the fence about whether she should stop wheelchair racing. She had been racing since before she was 16 and had made two Paralympic Games before she turned 21. After time away from the sport due to lockdowns, she just didn't have the same interest that she once had.
"As more time passed, I was like, 'OK, is there a reason why I'm not so eager to jump back into track?'" she said. "If I'm going to compete, I'm going to need to be 110 percent into it. No distractions, no hesitations. For some reason, I was just having a little hesitation."
Paraclimbing was new to McFadden, who has learned about adaptive sports since she was 8 years old. It is a relatively new Para sport, with the International Federation of Sport Climbing adding a Para category to its program in 2006. Twelve years later, the International Paralympic Committee made a commitment to growing the sport.
McFadden, though still not completely familiar with all the rules, quickly made a name for herself. She finished first in nationals and then went on a climbing trip to France later in 2021.
McFadden said the training for climbing is different than that of racing. Instead of wheeling on a track, she climbs several days a week.
She does have to be careful so as not overwork certain muscles, especially when she can get tennis elbow. Tennis elbow occurs when the tendons in the elbow are overused as a result of too much repetitive movement.
She said she is becoming more aware of her body, even her pinkies. There have been days, she said, when her pinkies have hurt so bad after climbing that it hurts to text people on her phone.
That never happened after racing.
"I feel like a grandmother," she said. "I'm typing into my phone with my voice, 'Let's just call each other, please.'"
Although she is gaining awareness of her body, her fear of heights has not exactly faded. She is still very much afraid of falling.
"I have fallen," she said. "I cry about it."
McFadden said she is grateful Rausin introduced her to climbing. She said the two pursued the sport with open minds, and they encouraged each other along the way.
"As athletes, it's, 'If I'm not perfect, if I'm not number one,' it goes south real quick in your head," McFadden said. "Going on that journey, having someone be like, 'Oh no, this is OK to feel like this.' It's just comforting."
Climbing made its Olympic debut at the Tokyo Games, and it grabbed people's attention. McFadden said that, combined with the inexpensive entry into the sport, will increase its odds of making the LA 2028 Paralympic program.
She is not counting out a Paralympic run of her own in climbing.
"I found a new challenge," she said. "When it came to track, I loved it. It gave me so many incredible opportunities. But there were no more lessons for me to gain. Where, every time I climb, I'm like, 'Oh, I'm still terrified of heights.'"