Breaking Down The Four Para Track and Field Nominees For U.S. Olympic & Paralympic HOF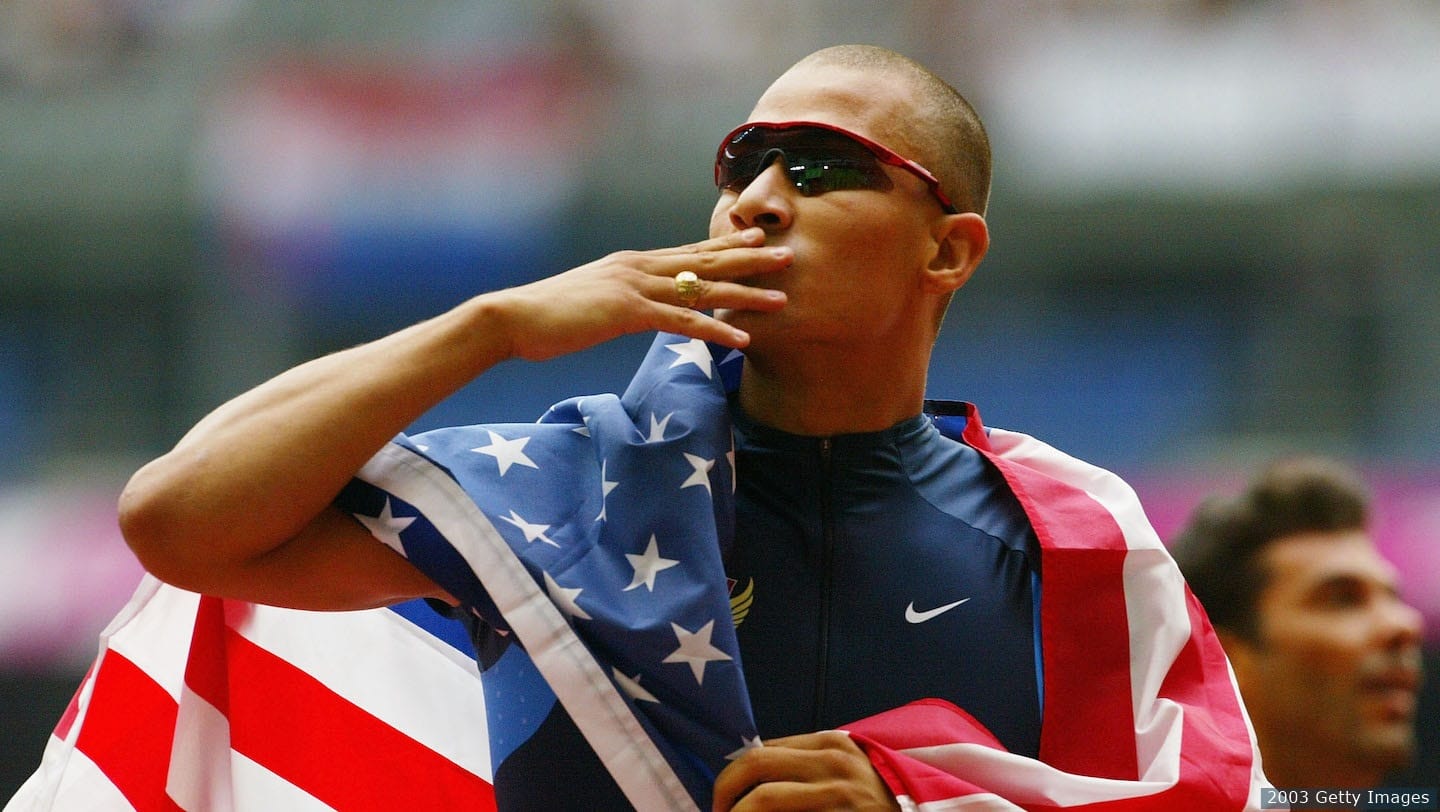 Marlon Shirley acknowledges the crowd at the 9th IAAF World Athletics Championship August 28, 2003 in Paris. (Photo: Clive Rose/Getty Images)
When the nominees came out this week for the 2022 class of inductees to the U.S. Olympic & Paralympic Hall of Fame, Para track and field was well represented.
Among the nine Paralympians up for three spots in the Hall, four have ties to track and field.
The full list of finalists also consists of 15 Olympians, three Olympic teams, two Paralympic teams, six legends, three coaches and three special contributors. Fans are allowed to vote for who they think should be inducted, which they can do once daily through May 16.
Here's a look at why each of the track and field athletes was selected for this prestigious honor.
Susan Hagel
Being inducted into a Hall of Fame would be nothing new for Hagel. She's was the second woman ever to be inducted into the National Wheelchair Basketball Association Hall of Fame.
That NWBA recognition stems from her decorated career playing wheelchair basketball, as she won Paralympic gold in Seoul 1988 and bronze in Atlanta 1996 with Team USA. Perhaps her best sport was archery. The pinnacle of her Paralympic career came in Toronto 1976, where she won the FITA (named after governing body of the sport) team gold alongside Rhonda July and Sally Staudte, as well as the pairs gold with July. Eight years later, Hagel won her only individual Paralympic medal when she won gold in the double FITA round in archery in New York.
Her only time competing in track in her Paralympic career came in between those three medals in 1980, when she competed in the 60-, 200- and 400-meter events in Arnhem, Netherlands.
Hagel's versatility is the biggest reason she's one of the nine Paralympians that are finalists for the Hall of Fame. She competed in three different sports in six Games, winning five medals, four of them being gold.
David Kiley
Kiley is another athlete who has had success in multiple sports. Perhaps best known for wheelchair basketball, he competed in six Paralympics with the U.S. team, during which time he won two golds (1976 and 1988) and two bronzes (1980 and 2000).
While Kiley competed in six different Games, two of them were especially busy. At Toronto 1976, not only did Kiley win a gold in wheelchair basketball but he also competed in track and field. He competed in three races, the 100-, 800- and 1,500-meter events, winning gold in all three. He won both distance races in dominant fashion, beating the runner-up in the 800 by over six seconds and the runner-up in the 1,500 by over 15 seconds.
Then there was 1992, when Kiley competed in Albertville, France, in the winter and Barcelona in the summer. He competed as an alpine sit skier in Albertville, and like his one foray into track, he medaled in every event. He won gold in the super-G and giant slalom while picking up a silver in the slalom and downhill events.
While competing in seven different Games, Kiley won a total of 13 medals, nine of them gold. That's a strong enough case on its own to be a finalist for the Hall of Fame, but when you add that he is considered one of the greatest wheelchair basketball players of all time, it wouldn't be surprising to see him inducted.
Marla Runyan
Runyan has arguably the most unique case to make to be inducted into the Hall of Fame. She is classified as a finalist in the Paralympics category, but she has competed in the Olympics as well.
Runyan's Paralympic debut was a memorable one. She competed at Barcelona 1992 and proved through multiple events that she was the fastest visually impaired woman in the world. She won the gold medal in the 100-, 200- and 400-meter races. As if that wasn't enough, Runyan added a gold medal in the long jump. She also competed in cycling that year, finishing fifth in the mixed road tandem.
Runyan added to her medal count at Atlanta 1996, although she competed in completely different events by then. She took home gold in the pentathlon, scoring a staggering 831 more points than the silver medalist. She medaled in a field event as well, but not the long jump. Runyan won silver in the shot put, showing off her versatility once again.
Winning six Paralympic medals in two Games is enough to receive consideration into the Hall of Fame, but that's not the end of Runyan's accomplishments. In 2000, she became the first visually impaired athlete to qualify for the U.S. Olympic Team. She did more than just qualify though, as she made the final in the 1,500-meter and finished eighth. Runyan qualified for the Olympics again in 2004. She remains the only U.S. athlete to ever compete in both an Olympic and Paralympic Games and one of 15 athletes worldwide to do so.
Marlon Shirley
Shirley had an extended run of being the fastest man in the world. In back-to-back Paralympics, the below-the-knee amputee won gold in the 100-meter. At Sydney 2000, he ran it in 11.09. He accomplished near perfect feat of consistency, winning with a time of 11.08 at Athens 2004. Outside of the Games, Shirley also set a world record in the event and became the first amputee to break the 11-second barrier.
As if two gold medals weren't enough, those were not his only medals in either of those Games. Shirley won silver in the high jump in 2000, and he won silver in the 200 and bronze in the long jump in 2004. He finished his Paralympic career with an eighth-place finish in the 100 at Beijing 2008.
What may be most impressive about Shirley's reign as the king of the 100 was how naturally it came to him. Bryan Hoddle, Shirley's coach in 2000 and 2004, said the race was fairly new to Shirley when he won his first gold medal.
"He went from never running the 100 meter to being the fastest amputee in the world in three short years. To me, that's amazing", Hoddle told The Lancet in 2005.
Luke Hanlon is a sportswriter from Minneapolis. He is a freelance contributor to USParaTrackandField.org on behalf ofRed Line Editorial, Inc.