Roundup: Richard Browne Jr. and Catherine Carey Set World Records At Nationals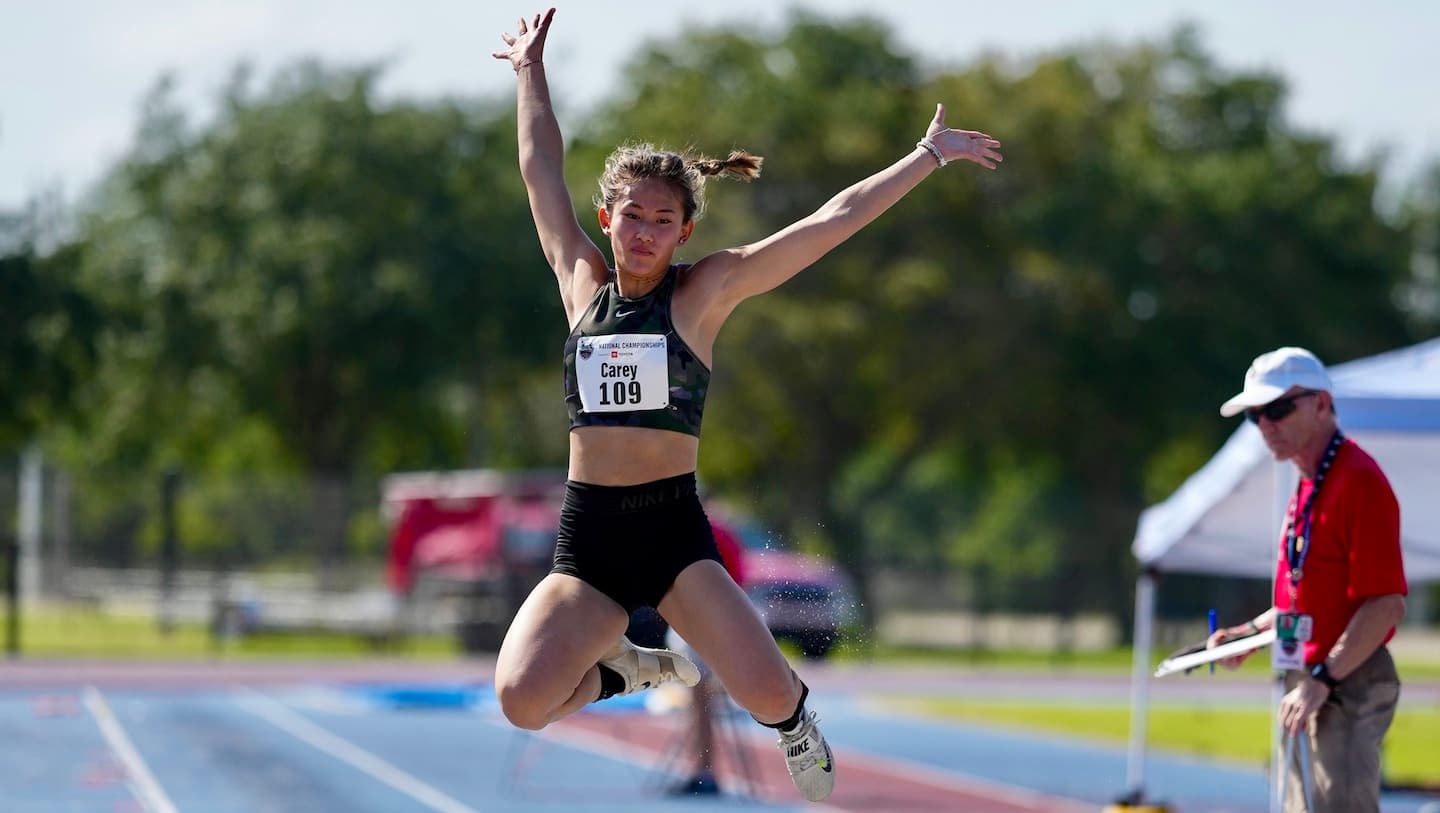 Catherine Carey competes in long jump at U.S. Paralympics Track & Field National Championships. (Photo: Rick Stephens)
Every other week we scour the web for the latest going on in the world of U.S. Para track and field. Here's what you missed!
Record Breakers
Many of the top Americans competed in the 2022 U.S. Paralympics Track & Field National Championships presented by Toyota from June 16-18 in Miramar, Florida.
While there were plenty of performances to highlight, two stood out.
Richard Browne Jr., who won a silver medal in the London Games in 2012, ran the 100-meter faster than any single or double leg amputee track athlete in history. His time of 10.53 was one hundredth faster than Johannes Floors of Germany, who set the previous record at the 2019 world championships.
This time also broke Browne Jr.'s previous T64 world record, which he set at the 2015 world championships. The Jackson, Mississippi, native retired from competing a year later. He returned to competition last May, and his performance in Miramar proves he's in the best form of his career.
Browne Jr. posted the video of his race on Instagram and indicated that he wants to set more records.
"Just in case you forgot!!!! 100m WR," he wrote. "Thank you for your support and let's make more history!!!"
While Browne Jr. has had a career that spans over a decade, Catherine "Annie" Carey is just starting hers. In her first national championships, the 17-year-old put on a show.
The Boise, Idaho, native had a good showing on the track, winning the 100 and setting an Americas record in the 200 T44. But her performance in her field event is what stood out.
Carey broke the long jump T44 world record three times over her six attempts during the competition. The previous record was 4.54 meters. She jumped 4.54 on her first attempt and 4.60 on her fourth before setting the new world record at 4.81 with her fifth attempt.
Carey posted the video of her record-breaking jump on Instagram, along with a thank you to the people who helped her break it.
"It's official! World record holder in the long jump!" she wrote. "Wouldn't be possible without the constant support from my trainer, coaches, family, and friends. Thank you to those who believe in this dream just as much as I do."
Behind The Scenes In Miramar
Records and results capture the headlines from any meet, but one of the most unique things about nationals is seeing the deep bonds between the competitors. Here are some great photos from Miramar capturing the respect these athletes have for one another.
Happy Father's Day
A couple Paralympians shared photos and touching captions on social media to celebrate their dads this past Sunday.
Two-time Paralympic medalist Daniel Romanchuk thanked his dad for being someone he could look up to, and based on the photos he posted, Romanchuk seemed to learn a lot about how to be handy around the house.
"Thankful to have such a great example to look up to and learn so much from, Happy Father's Day, Dad!" he wrote.
While Romanchuk thanked his dad on Father's Day, Jarryd Wallace, a bronze medalist in the 200 T44 in Tokyo, thanked his son Levi for giving him the opportunity to be a father.
"Thanks for making me a dad and for the best 2.5 years yet, little dude," Wallace wrote.
If you want to learn more about Wallace's journey into fatherhood, check out this TeamUSA.org story from last month where he shared some of the insights he took from his own parents, and what it was like winning a Paralympic medal in Tokyo while his family was on the other side of the planet.
Mini Race, Big Result
Two-time Paralympic medalist Susannah Scaroni was one of 7,403 runners, with 6,942 of them women, to compete in the New York Mini 10K on June 11. She placed first among the wheelchair racers with a time of 21:10.
Part of the successful result may have been the inspiration Scaroni received before racing. The day before competing, Scaroni met with Kathrine Switzer — the first woman to officially run in the Boston Marathon — and defending Olympic women's marathon champion Peres Jepchirchir of Kenya, who went on to win the New York and Boston marathons after Tokyo.
The significance of these interactions was not lost on Scaroni.
"Had the most amazing morning being inspired by some of the true legends of women's running," she wrote on Instagram. "All the opportunities I have today are because of hard fought movements by people who knew what they were doing was right. I am so thankful for all who have made my reality possible. Let's keep working for equity and improving the opportunities needed for everyone to succeed."

Scaroni carried that inspiration into the Grandma's Marathon on June 17 in Duluth, Minnesota, where she beat her competition record by over three minutes to win the women's wheelchair division. Six-time Paralympian and Park Rapids, Minnesota, native Aaron Pike won the men's wheelchair division in a near photo-finish. It was both racer's fourth win at Grandma's.
Luke Hanlon is a sportswriter and editor from Minneapolis. He is a contributor to USParaTrackandField.org on behalf of Red Line Editorial, Inc.