Browne Cements Name In History Books on Last Day of National Championships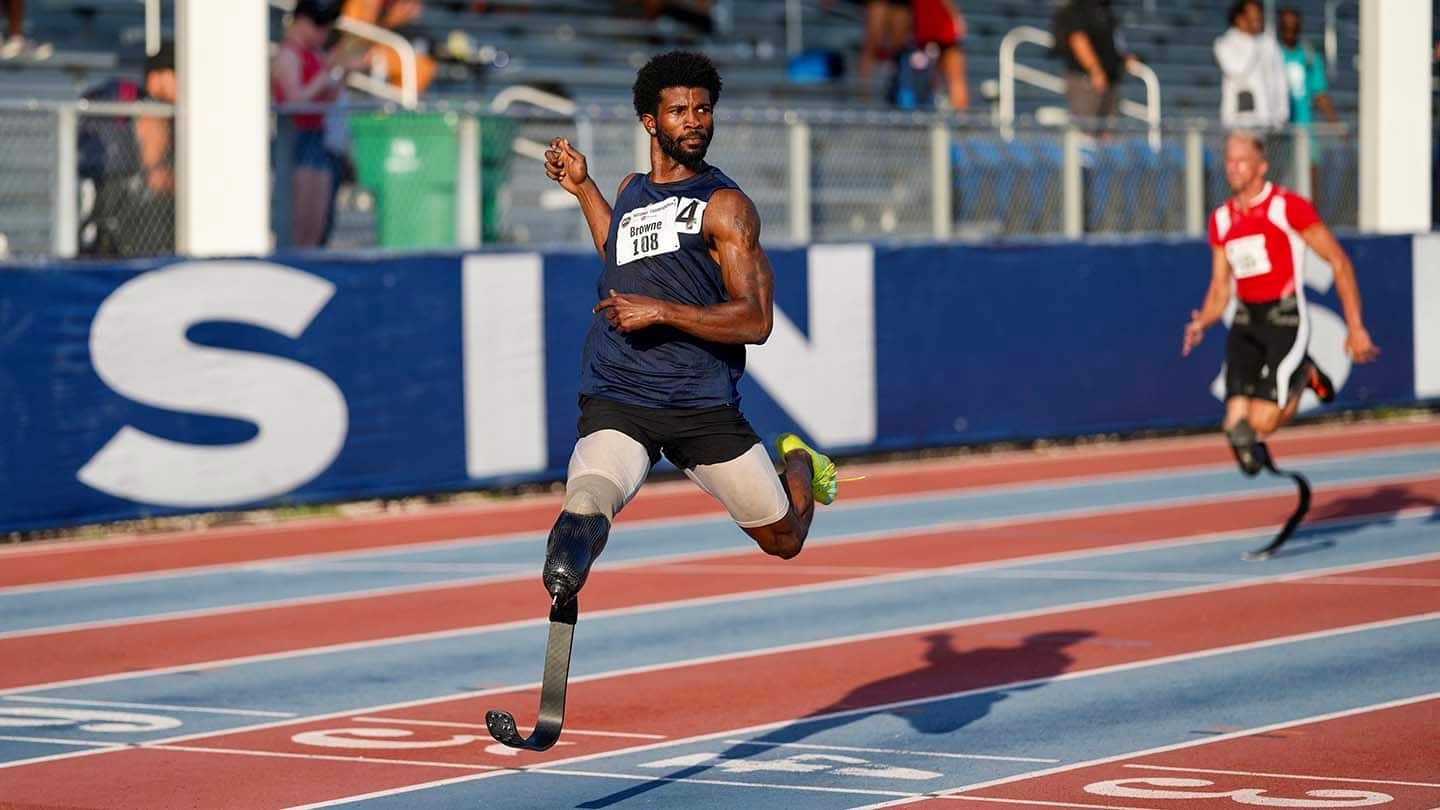 MIRAMAR, FLORIDA – It was a day of long distances and quick speed at the Ansin Sports Complex to bring the 2022 U.S. Paralympics Track & Field National Championships presented by Toyota to a close. Paralympic silver medalist Richard Browne (Jackson, Mississippi) shattered the world record in the men's 100m T64 recording a time of 10.53, shaving eight one-hundredths of a second off the previous record. The record stood since Browne took the world time at the 2015 World Para Athletics Championships. The time stands as the fastest 100m ever run by a single or double leg amputee in a Paralympic event.
Triple Paralympic champion Nick Mayhugh (Manassas, Virginia) grabbed a national title in the men's 100m T38 while Paralympic champion Daniel Romanchuk (Mount Airy, Maryland) continued to dominate the men's T54 taking two more wins and a near impossible A-standard time in the 5000m competition as he glided through the track solo.
"I'm feeling healthy, happy to meet some people and have fun which is all I can ask for," said Mayhugh. "Looking forward to next year and the world champs."
Three-time Paralympian David Brown (St. Louis, Missouri) snagged a 100m national championship along with two-time Paralympian Gianfranco Iannotta (Garfield, New Jersey) continuing to prevail in the men's T52 division. Catherine Carey (hometown) added two more wins to her collection one day after breaking a world record in the women's long jump. It was a two-title day for Paralympic champion Brittni Mason (Cleveland, Ohio) who took the top spot in the 100 and 200m sprints.
"It's the last meet of the season so I was able to get two gold medals," said Mason. "I'm going to take some down time now, doing some recovery and fitness during the off season and getting ready to amp up for next year."
More than 70 athletes descended upon the sunshine state for the 2022 National Championships presented by Toyota. The three-day event concluded the season for U.S. Paralympics Track & Field as athletes look ahead to a world championship year in 2023. Full results from the meet are available to view here.
All world and Americas region records subject to World Para Athletics ratification.
June 18 Results:
AM Session -
Men's 5000m T54
1. Daniel Romanchuk
2. Valera Allen
3. Dustin Stallberg
Women's 200m T35
1. Delaney Nolin
2. Kira Stevens
Women's 200m T37
1. Michelle Cross
Men's 200m T35
1. Matthew Paintin
2. Dustin Gunter
Women's 200m T44
1. Catherine Carey
Women's 200m T45
1. Nelya Schasfoort
Women's 200m T46
1. Brittni Mason
2. Emily Lopez
Men's 200m T64
1. Richard Browne
2. Jonathan Gore
3. David Prince
Men's 5000m T13
1. Noah Scherf
Men's Javelin F38
1. Grant Weighall
Men's Javelin F64
1. Derik Smith
PM Session -
Women's 100m T45
1. Nelya Schasfoort
Women's 100m T46
1. Brittni Mason
2. Emily Lopez
Men's 100m T46
1. Andreas Schulz
Men's 100m T47
1. Rayven Sample
Women's 100m T34
1. Lauren Fields
Women's 100m T54
1. Hannah Dedrick
2. Cheri Madsen
3. Elizabeth Floch
Men's 100m T52
1. Gianfranco Iannotta
2. Nicholas McCoy
Men's 100m T53
1. Robert Hunt
Men's 100m T54
1. Daniel Romanchuk
2. Erik Hightower
3. Valera Allen
Women's 100m T44
1. Catherine Carey
Women's 100m T63
1. Scout Bassett
2. Lindi Marcusen
3. Noelle Lambert
Men's 100m T11
1. David Brown
2. Antoine Craig
Men's 100m T35
1. Matthew Paintin
2. Dustin Gunter
Men's 100m T36
1. Connor Pierce
Men's 100m T38
1. Nick Mayhugh
2. Grant Weighall
3. Sam Winter
Men's 100m T62
1. Regas Woods
Men's 100m T63
1. Hunter Woodhall
2. Patrick Leeper
3. Lucas Jundt
Men's 100m T64
1. Richard Browne – WR
2. Jonathan Gore
3. David Prince