Catherine Carey Shatters World Record Three Times on Way to First National Title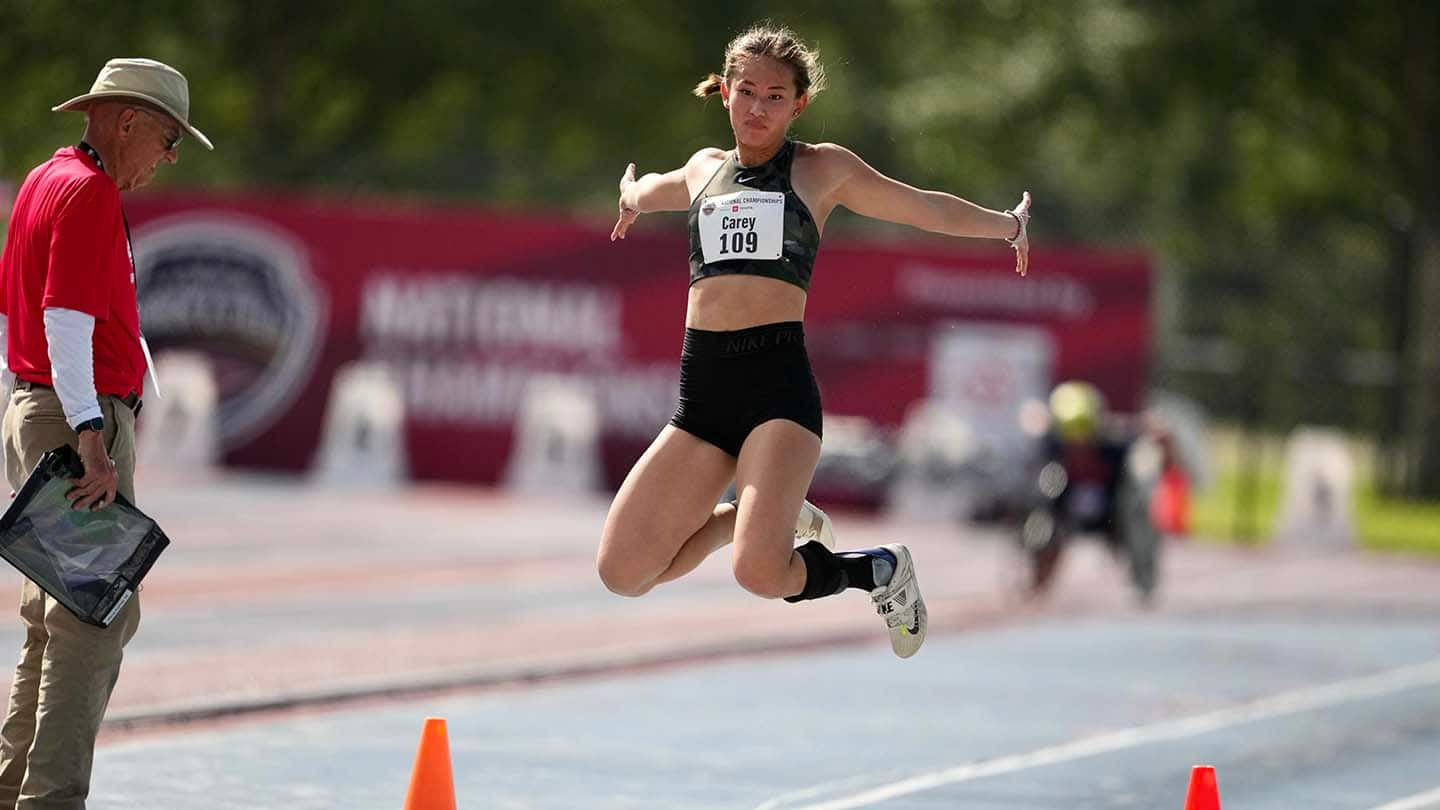 MIRAMAR, FLORIDA – Catherine "Annie" Carey (Boise, Idaho) made history in the women's long jump T44 breaking a world record three times en route to the first national title in her career. Carey ended the morning session with an impressive 4.81m to mark her name in the world record books.
"I came out here hoping that I'd break it again, so I'm really excited about that," said Carey. "'m going to take what I did today and use it [to build on] my consistency of the running approaches and getting height in the air to bring to meets next year."
Carey wasn't the only newly coined national champion to grab a record on the second day of the 2022 U.S. Paralympics Track & Field National Championships presented by Toyota as Ansin Sports Complex saw eight records between the morning and evening session across six competitors. Three Paralympians took home Americas records including Joel Gomez (Encinitas, California) in the men's 1500m T13, Paralympic bronze medalist Trenten Merrill (San Juan Capistrano, California) in the men's long jump T64 and two-time Paralympian Jessica Heims (Swisher, Iowa) in the women's discus F64.
"It's always an honor to win a title, and it's even more rewarding when it's captured at the end of a long or busy season," said Heims. "My coach and I love seeing the fruits of our labor at these competitions. We look forward to getting back to work on our off-season."
It was another set of golds for Hannah Dedrick (Mead, Washington) and Paralympic champion Daniel Romanchuk (Mount Airy, Maryland) while Paralympians Erin Kerkoff (Coralville, Iowa) and three-time Paralympic medalist Hunter Woodhall (Syracuse, Utah) took to the track for the first time this weekend adding national champions to their list of accolades. Woodhall comes off an impressive run at the recent Prefontaine Classic in Eugene, Oregon, where he took the top spot for the U.S. in the Para Men's 400m event, the first time Para races have been included in the event in more than three decades.
"It's the first time in 33 years that Para events have been in the Diamond League," said Woodhall. "Just to be there and represent plus I was able to compete there with my fiancé. It was a dream come true and to be able to do it on U.S. soil was even better."
The championships conclude on Saturday, June 18 with a double header day on the track and out in the field. Event highlights include a battle of the sprints across the men's and women's divisions and long-distance events for the men. Follow the action along on U.S. Paralympics Facebook, Instagram and Twitter with live results posted here.
June 18 Results
Men's 1500m T13
1. Joel Gomez - AR
2. Noah Scherf
3. Caleb Howard
Men's 1500m T20
1. Michael Brannigan
Men's 1500m T38
1. Leo Merle
Women's 1500m T53
1. Yen Hoang
Women's 1500m T54
1. Cheri Madsen
2. Hannah Dedrick
3. Elizabeth Floch
Women's Discus Throw F57
1. Christy Gardner
Men's Discus Throw F57
1. Shahrad Nasajpour
2. Ben Brandt
Men's 1500m T54
1. Daniel Romanchuk
2. Valera Allen
3. Dustin Stallberg
Women's Long Jump T38-44-46-48
1. Catherine Carey – WR
2. Emily Lopez
3. Catarina Guimaraes
Women's Discus Throw F64
1. Jessica Heims – AR
Men's Discus Throw F64
1. Derik Smith
Men's Long Jump T61-62-63-64
1. Trenten Merrill – AR
2. Jarryd Wallace
3. Derik Smith
Men's 400m T11
1. David Brown
2. Antoine Craig
Men's 400m T13
1. Joel Gomez
2. Caleb Howard
Women's 400m T13
1. Erin Kerkoff
Women's 400m T37
1. Michelle Cross
Women's 400m T38
1. Jordan McGuire
Women's 400m T46
1. Emily Lopez
Men's 400m T36
1. Conner Pierce
Men's 400m T38
1. Sam Winter
Women's 400m T53
1. Yen Hoang
Women's 400m T54
1. Hannah Dedrick
2. Cheri Madsen
3. Elizabeth Floch
Men's 400m T52
1. Gianfranco Iannotta
2. Nicholas McCoy
Men's 400m T53
1. Robert Hunt
Men's 400m T46
1. Andreas Schultz
Men's 400m T47
1. Rayven Sample
Men's 400m T54
1. Daniel Romanchuk
2. Erik Hightower
3. Valera Allen
Men's 400m T62
1. Hunter Woodhall
2. Blake Leeper
3. Lucas Jundt