Nationals Is The Final Stop Of Successful Season For Brittni Mason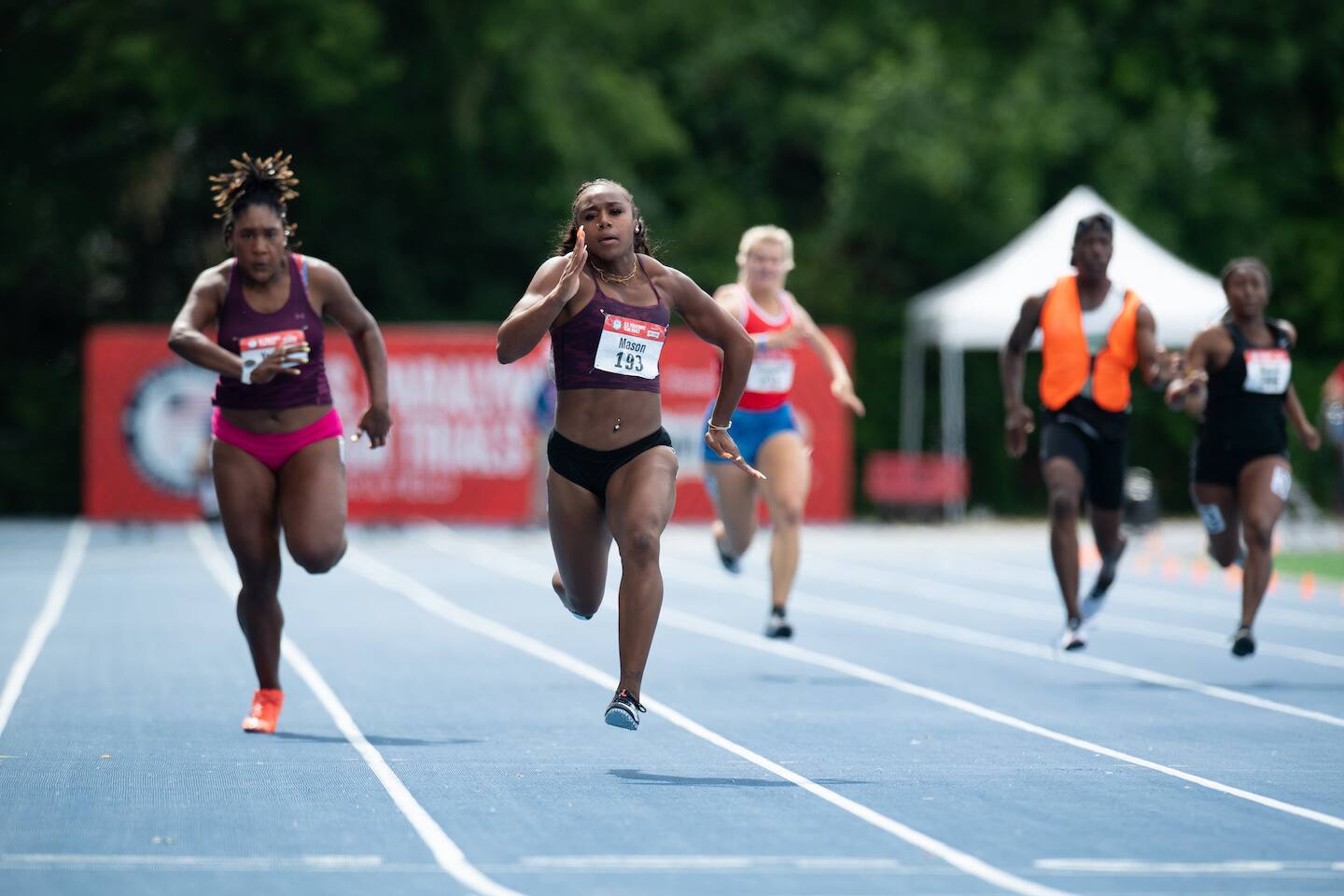 Brittni Mason will be finishing her track and field season much sooner than expected this year.
The 2022 U.S. Paralympics Track & Field National Championships Presented by Toyota, to be held June 16-18 in Miramar, Florida, will be the last meet Mason competes in this season.
The national championships, especially in a year after the Paralympics, are traditionally a chance for athletes to show that they have not lost momentum as they build towards the world championships. That won't be the case this year, as the world championships that were originally scheduled for 2021 in Kobe, Japan, are now set to take place in Kobe in 2024, just months before the Paris Games.
But after two years of a pandemic, a postponed Paralympics that forced athletes to delay peaking for a full year and the ever-present threat of catching and then recovering from COVID-19, Mason said that she will miss the excitement of worlds but not the pressure.
"The stakes are a little bit lower," said Mason, a sprinter. "(Coming off a busy 2021), people have time to recover physically, mentally, emotionally, from the circuit we've been running from the past year. I think it puts less stress on a lot of different athletes for the rest of this year."
The 24-year-old from Cleveland said that she hopes to put the exclamation point on a winning season at nationals and then take the opportunity for some downtime before she begins building towards the 2024 Paralympic Games in Paris.
"I would have much preferred worlds to happen as well as nationals, but I'll take at least nationals if I can't have both," she said.
Mason arrived in Florida on Sunday to acclimate for a few days, fresh off a plane from Paris — "quick turnaround," she laughs — where she won both the 100 and 200 in the T47 classification at the World Para Athletics Grand Prix last Friday. In March, she won the 200 at another Grand Prix event in Dubai. She will run both the 100 and 200 this weekend at nationals as the top-ranked athlete in the world in both events.
That kind of status brings high expectations, but Mason isn't letting that get to her head as she heads into her last meet of the season.
"I'm not going to put too much pressure on myself," she said. "I'm just going to go out there and have fun."
This is Mason's first national championships since she burst onto the scene in 2019 with a gold medal — and world record — in the 100 at the world championships in Dubai. That year she only competed in one other meet for classification purposes after learning she was eligible to compete in Para sports just two months before worlds. Then COVID upended the 2020 season, and in 2021 it was on to the U.S. Paralympic Team Trials and then Tokyo, where she won a gold and two silvers. For Mason, the U.S. championships represent a chance to breathe after a whirlwind three years.
"I've already hit my standards for the season, so I really don't have to stress," she said. "This is a fun meet, my first national meet. I get to see what my other team members have been working towards."
Mason graduated from DeVry University's Keller Graduate School of Management on June 11 with her master's degree in business administration. It was her second master's degree in as many years; she received a master's in sports management from Eastern Michigan University last year, after receiving her undergraduate degree there in 2020. She also ran track for EMU, competing with able-bodied athletes.
She will continue training full time through the Paris Games. Mason also runs her own business as a lash technician, doing eyelash extensions in Ypsilanti, Michigan.
"I put lash extensions on women and make them feel beautiful, and we get to talk and chat," Mason said. "This is my fun, kind of work hobby, but full time."
She won't be slowing down, but Mason is grateful for a chance to take in all the changes in her life before ramping up again for the Paris Games.