With Her Phone Counting Down To Paris, Noelle Malkamaki Has Big Goals After Nationals' Success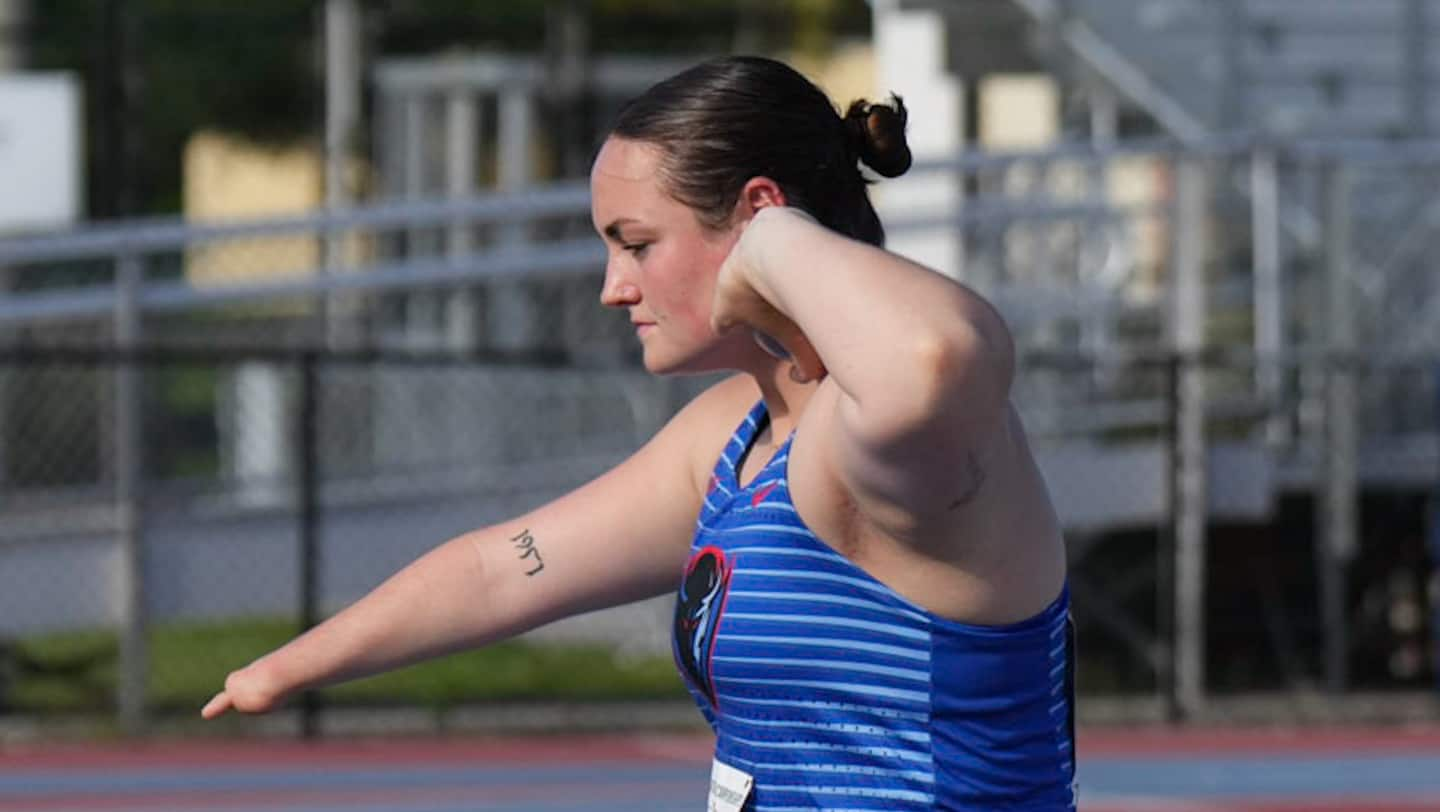 Noelle Malkamaki prepares for a throw at U.S. Paralympics Track & Field National Championships in June. (Photo: Rick Stephens)
Noelle Malkamaki knows exactly how much time she has before Paris 2024.
The rising thrower set up a widget on her phone to display the countdown to the Games on her home screen. It's a constant reminder of one of her goals as a new member of Team USA.
"It's a great long-term goal of mine," she said. "It's been really motivating."
Malmamaki is fairly new to the adaptive sports world, but she has quickly made a name for herself. At the Dessert Challenge Games in May, she won in the shot put and discus, and a month later, at the U.S. Paralympics National Championships, she set an Americas record in the shot put F46 with a distance of 12.18 meters.
Malkamaki, who was born without a right hand, was pleased with her results, and now she's setting her sights even higher.
The native of central Illinois is focusing on training this summer before her senior year at DePaul University in Chicago, and she is hoping to throw 13 meters in the shot put by next spring and to back squat 350 pounds by the fall.
Malkamaki is not taking any classes this summer or working, so she has plenty of time to work toward her goals.
"It's just a really awesome time to be able to dive headfirst into training," she said. "I'm able to lift and throw every single day. It's tough, but that's kind of what I want the summer to be. It's nice to have this big chunk of time when I can just focus on training and really be all in."
The 21-year-old said she really enjoys the training and lifting aspects of throwing. When she gets stronger, her results get better. That's why she wants to set a new personal record in lifting.
"I really, really love the weightlifting aspect of throwing, and I love maxing the weight room," she said. "I've got this 350 number in my head. … I'm hoping before our fall classes start, I'll be able to max again and hit that. I feel like I can. It's very fun."
Malkamaki grew up in Decatur, Illinois, a city of about 70,000 nearly 40 miles east of Springfield. Decatur does not have a lot of access to Para sports, so Malkamaki was not introduced to adaptive sports until two seasons ago.
She was at a collegiate track meet when a coach from another school asked her coach if she had ever considered adaptive sport. The answer was no, but she was intrigued.
Malkamaki and her coach researched adaptive throwing and identified the classification she would likely compete in.
Malkamaki said she has noticed a difference between her collegiate and Para competitions.


A big one, she said, is not having her teammates by her side for Para track and field events. As far as she knows, she is the only disabled athlete at DePaul, and her collegiate team does not travel with her to Para events.
"I've gotten so close and so used to having my collegiate team with me at every track meet in college," Malkamaki said. "That's been the hardest thing"
Para events also have fewer athletes than able-bodied collegiate events, and that means Malkamaki, who had two other competitors in her class at nationals, has less time between throws.
"I have a little more trouble getting myself amped up and really, really pumped up before I get in the ring," she said. "That's another learning curve that I try to work on."
Regardless, with a little Elton John, Queen and Billy Joel blasting in her headphones, Malkamaki is able to ramp up her energy during meets.
While her parents start looking at travel arrangements and costs associated with Paris, in hopes that she'll be throwing there in the summer of 2024, Malkamaki remains grateful for how much she has learned and progressed in Para sport so far.
"Throwing against able-bodied competitors my whole life, I think I was always trying to throw despite having one hand," she said. "Then throwing with people who looked like me and are disabled athletes … I see how they use it (their disabilities) to their advantage, and the different things they do. It's been really eye opening.
"I'm super excited, grateful and honored to be starting this journey, and to be on Team USA. I'm so pumped."