Trenten Merrill "Would Definitely" Train With The Navy SEALs Again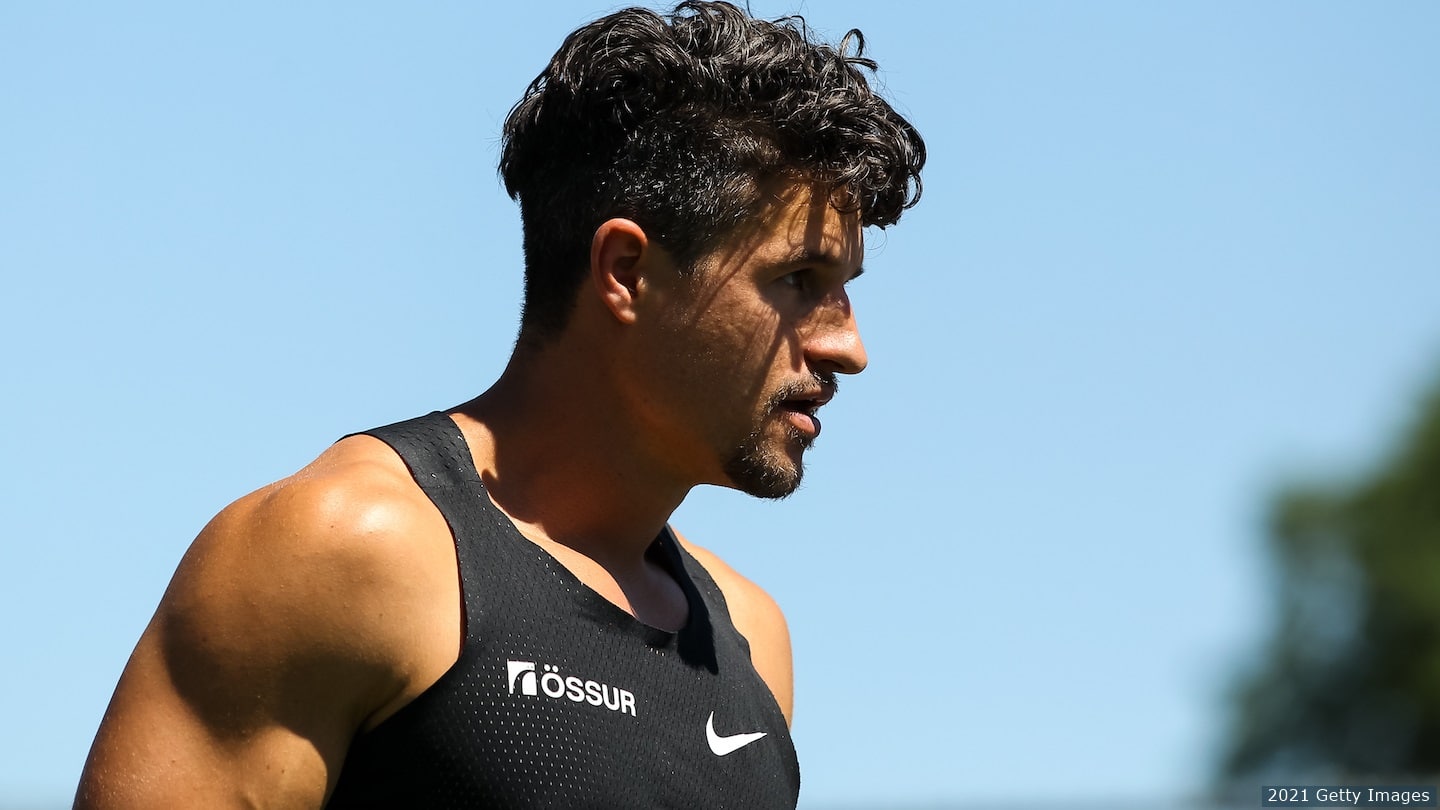 Trenten Merrill at the U.S. Paralympics Track & Field Team Trials in 2021. (Photo: Getty Images)
Trenten Merrill would do it all over again under one condition: he made sure not to schedule bookend flights around insane training.
Merrill, a two-time Paralympian who won a bronze medal in the long jump T64 at the Paralympic Games Tokyo 2020, went through a grueling five-hour training session with the Navy SEALs in late June at the Chula Vista Elite Athlete Training Center in California.
The day before his time with the SEALs, he was being fitted for prosthetics in Atlanta. After finishing the training in Southern California, he boarded a red-eye flight back to Georgia.
"I would definitely do it again," he said. "I would not try to fly in the day before and take a red-eye out the next day."
Nevertheless, Merrill, 32, jumped at the chance to train with the SEALs for a show, "The Terminal List," starring Chris Pratt, released July 1 on Amazon Prime.
"I wasn't sure what the training was going to be like, how serious it was, because I knew there was going to be a lot of influencers there, so I wasn't sure if they were going to go hard on us or what," Merrill said. "But it was intense from the moment I got there. I could tell just based off the body language and people's facial expressions, these Navy SEALs that are training us today, SEAL Team Fit, is serious business."
Admittedly unprepared, Merrill told himself, "Dude, you better pick up and learn fast, listen and be very attentive."
What it entailed, you ask?
Try never-ending push-ups, max body weight squats, sit-ups and pull-ups — the entry physical examination — which came at the end of the day. Among other exhaustive training, they had to jump in ice baths, hold sandbags over their heads, roll head to toe in sand and redo it if anyone wasn't completely lathered in sand. During the training, a major emphasis was placed on remaining in the present to become aware of one's tendencies.
"One of the things that they told us was, 'Don't put your hands on your hips,'" Merrill said.
As a track and field athlete, hands on hips are common. Unsurprisingly, Merrill didn't pass the test.
Three times.
"That was a very subconscious action that I had to try and nip in the bud right away," he said. "Unfortunately, it took me a few mistakes."
The penalty was group pushups.
"I was like, 'Trenten, you're making the group suffer,'" he said. "I was obviously embarrassed, and like, 'Dang dude, the third time?' They make you so aware of your habits that you have to be very present because as a Navy SEAL, your team is relying on you. You have to be very present so you don't get killed. If we also saw someone struggling, doing something wrong, we'd also get punished for not telling them, not correcting them. You have to not only look out for yourself, but you have to, 100 percent, look out for your team. There were so many principles that were being applied throughout the day."
During the training, some of the SEALs surprisingly noticed Merrill's prosthetic. He insisted not to be treated differently.
"I took the initiative, you've got to be a leader," said Merrill, who had his right leg amputated below the knee after a car crash at age 14. "It was so much positive stuff. I was super sore after. It was worth it."
With the World Para Athletics Championships postponed this year until 2024 in Kobe, Japan, Merrill has used the offseason to get new sockets, test alignments and blades, increase power and speed and prepare his body physically.
"I just focused on, 'How can I get better during the season?'" he said. "For me, I don't want to stop training. We bring down the intensity a little bit because we're not competing, and we focus on a little bit more fine-tune skills."
Merrill, whose personal goals of reaching the podium again, with hopes of gold, stem from Christian beliefs.
"As I became aware of why God created me, it was really cool to see how that aligned with my dreams and my desires," he said. "I thought my dreams of being a professional athlete were gone when my foot was amputated. When I was in the hospital bed, I remember hearing God talk to me, and tell me that He had great plans for me."
U.S. Paralympics Track & Field head coach Joaquim Cruz, a Brazilian Olympic gold medalist in the 800 at the 1984 Games, introduced him to Paralympics.
"I was like, 'No way. It sounds too good to be true,'" Merrill said. "I decided, 'This is your destiny. This is what you're made to do.' And through that, once I accomplished making teams, reaching podiums, winning medals and shocking the world as an amputee … I knew that when I made it, after I had reached a level of success, that would be an opportunity for me to instill and give hope to others."