ESPY-Nominated Nick Mayhugh's Trip To The White House Was Also A Family Reunion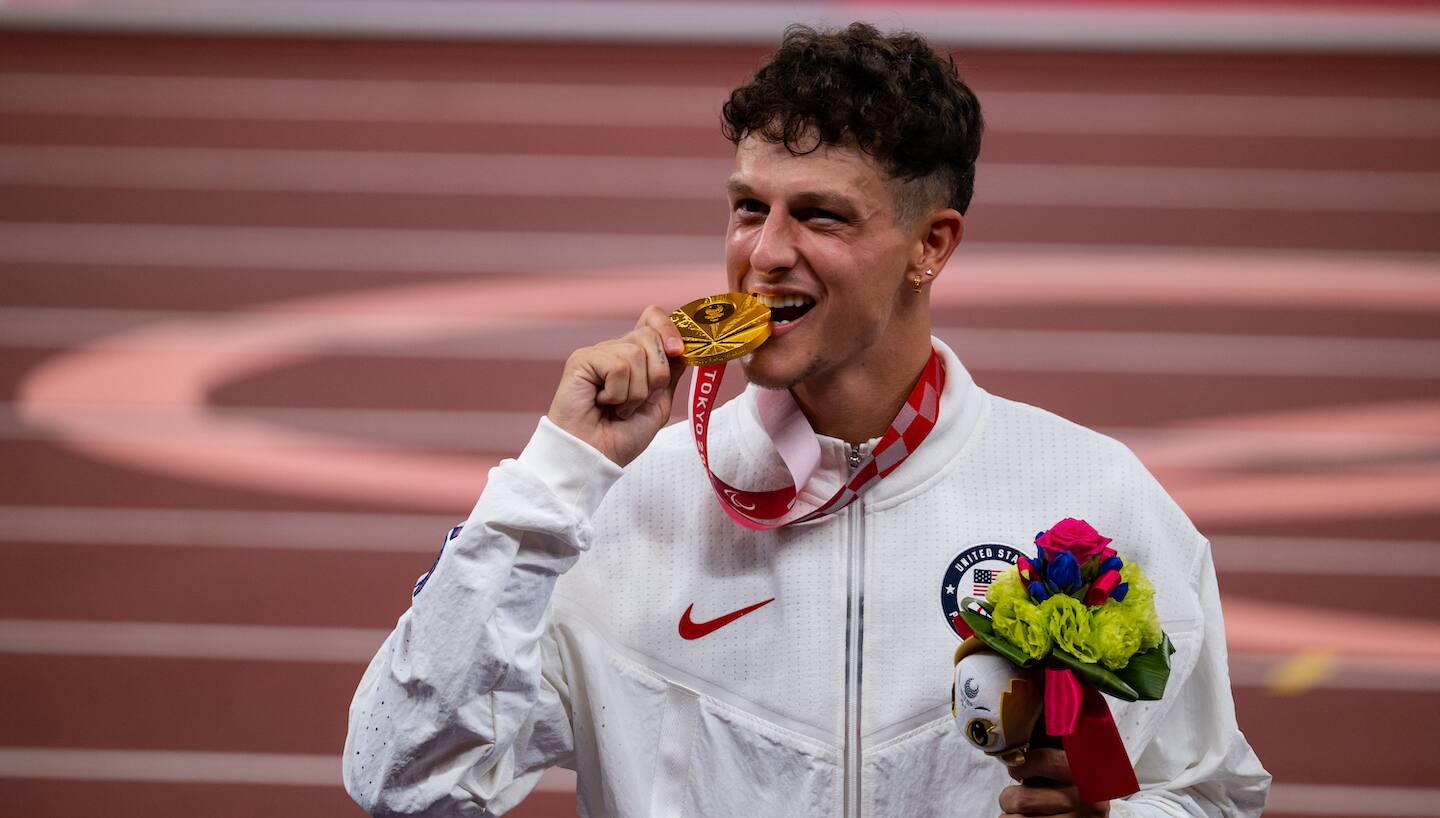 Nick Mayhugh on the podium with a Paralympic gold medal at the Paralympic Games Tokyo 2020. (Photo: Team USA)
Paralympian Nick Mayhugh posing for a photo with his cousin Kim Schaeffer isn't too rare of an event. Their families are close, and Mayhugh considers Schaeffer the little sister he never had.
What took this impromptu family moment over the top was the fact that it was taking place in the White House.
Mayhugh, who was recently nominated for two ESPY Awards after a breakout performance at the Paralympic Games Tokyo 2020, was there in May as one of more than 600 U.S. Olympic and Paralympic athletes invited by President Joe Biden to celebrate their accomplishments in Tokyo and Beijing. The track and field athlete won medals in every race he ran in Tokyo, earning gold and setting world records in the men's 100-meter, men's 200-meter and 4x100 universal relay, and taking a silver in the men's 400-meter while setting an American record.
Schaeffer was at work behind the scenes creating delicious confections as a chef contractor in the pastry kitchen at the White House. She's served in this role since Barack Obama's second term, including being second in command in the execution of 30,000 hand decorated Christmas cookies. It's an opportunity she has that goes above and beyond her commitments as a sous chef at Liberty Baking Co. in Herndon, Virginia.
Though Mayhugh said Schaeffer has invited family to White House events in the past, they weren't even sure until the morning of the event if they'd be able to connect. The picture was amid a chaotic, busy, eventful day, and Mayhugh said he didn't really appreciate the enormity of what it signified until a few days later.
"It was pretty cool to have that moment," said Mayhugh, a native of Manassas, Virginia. "It was a beautiful moment within a moment to be in the White House and be there for what I had achieved, but then also to be able to see her being so successful in her career. It was such an incredible feeling to be able to be like, 'Hey, look at us.'"
Most of Mayhugh's track and field career has happened during the pandemic and, as such, his family hasn't been able to join him at meets or cheer him on in person. In some ways, not having any fans in the stands was a boon, as it limited distractions and stress and allowed Mayhugh to focus only on his races, he said. But for someone so close to his family, not being able to share this life-changing experience was difficult.
To this day, Mayhugh, 26, said the experience of running in Tokyo and having such an epic introduction to the world of track and field hasn't fully sunk in. There's a surreal quality to the whole thing that came in part because of the necessary precautions the athletes followed while competing. They moved directly from their dorms to the event location and back, and he ran in an empty stadium. It is the most focused Mayhugh has ever been, and it's the only Paralympic experience he knows, but the disconnect of, "Is this real life?" that many Olympians and Paralympians feel after all that build up has been amplified.
"I understood the significance (of what I accomplished). I got it. But it didn't really hit me. I didn't really have a very euphoric moment of, 'Wow, I just won three gold medals. I won a silver medal,'" he said.
He recalls sitting with his mom immediately after returning from Tokyo. He was tired from traveling but knew he should have been ecstatic to have been surprised by family. But his mom picked up immediately that something was off and asked what was bothering him.
"I said, 'What do I do now? Now that I did this, what's next?' It's very weird to realize that stuff like this — stardom or the success of winning gold medals or breaking world records — doesn't necessarily correlate with being happy or knowing who you are, or happiness," he said.
That realization has been difficult for Mayhugh, who said that it's a work in progress to figure out who he is and what makes him happy.
"I still don't know who I am as a person outside of sport, and it's something that I'm continuously trying to learn and work on," he said.
One thing he has focused on is trying to be better at enjoying the moment, being present, soaking in the significance of what he's done and appreciating it.
At the Team USA White House event, that meant having his mom on a video call so he could share just a little bit of the experience with her. That moment was caught by White House videographers and made the video the White House shared on social media after the event.
I wouldn't be where I am without my family, and this moment they caught of me on FaceTime with Mom is a special moment for me. Moments like that I try to stop and realize where I am and the context of what I'm doing. Wow, thank you to whoever took that ❤️🥲🙏🏼 https://t.co/PeskYTASqn


— Nick Mayhugh (@nickmayhugh) May 5, 2022
Mayhugh didn't realize that interaction was caught on tape until someone shared the video with him, but he's thrilled to have the video to go back and remember how he felt sharing just a bit of that day with his mom, who he said is "my everything. She's the reason why I do what I do."
He's hopeful that he'll qualify and get to run his events in Paris in 2024 and that his family will be able to be there and cheer him on. Paris would be not just an opportunity to compete at the top level once more, but if the Games return to having fans and a more traditional Paralympic experience, it could offer Mayhugh the opportunity to effectively get to experience it as a first-timer all over again
Finding that silver lining in how the past years have gone is in line with Mayhugh's commitment to finding his happiness. In preparation, he's trying to find a better balance between training and personal life.
"It's not about winning all the time, no matter my competitiveness," he said.
Mayhugh hopes being vocal about these realizations and his mental health journey as someone who should seemingly be on top of the world helps others realize that everyone struggles. In a recent address to the graduating class of his alma mater, Radford University, Mayhugh told the students to, "Be here today to better yourself tomorrow."