Roundup: Ezra Frech Is Back On The Track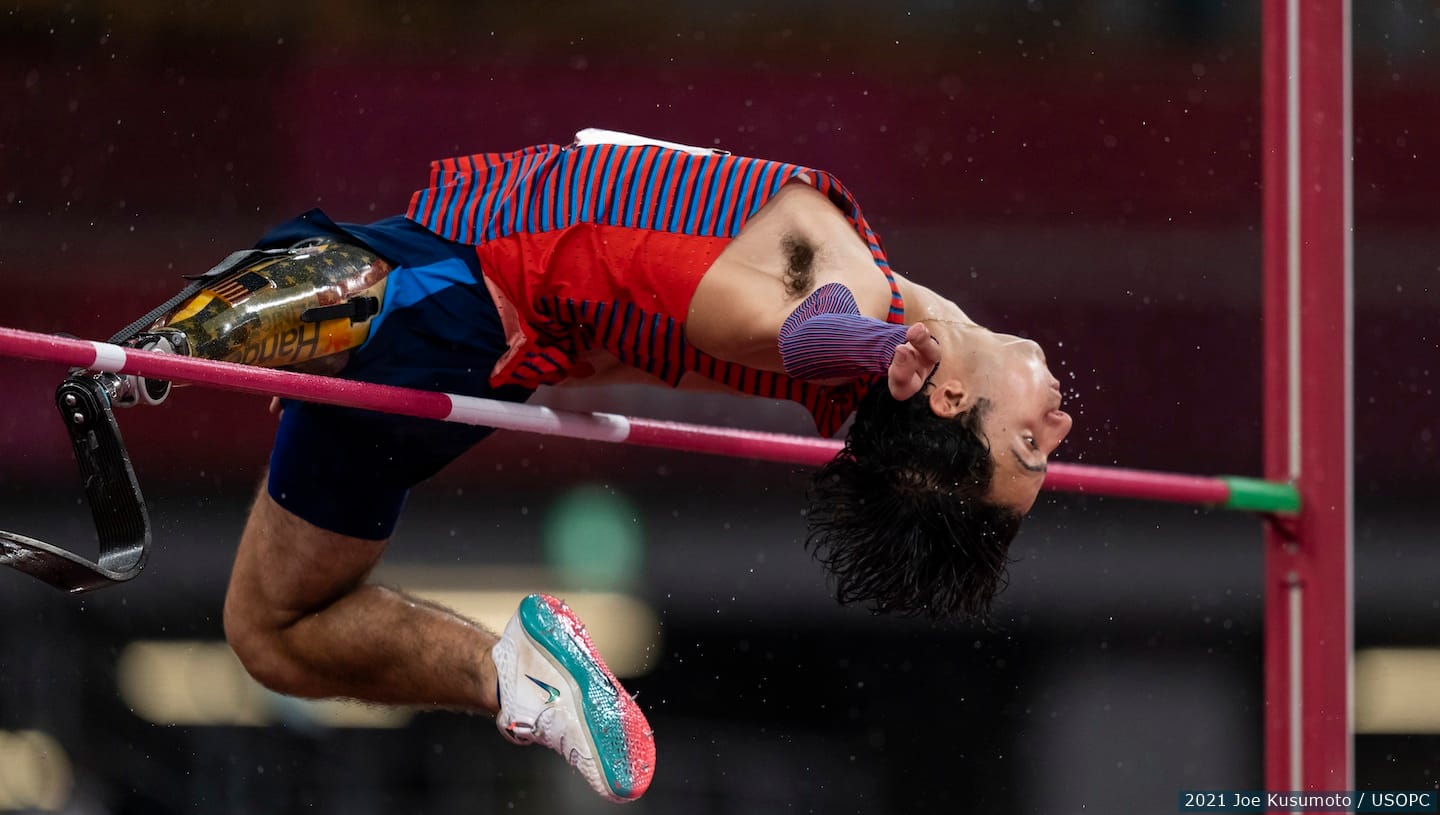 Ezra Frech competes in high jump at the Paralympic Games Tokyo 2020. (Photo: Joe Kusumoto)
Every other week we scour the web for the latest going on in the world of U.S. Para track and field. Here's what you missed!
Upping His Game
Ezra Frech has already proven to be one of the best jumpers in the world. He finished fifth in the high jump and eighth in the long jump T63 last summer at the Paralympic Games Tokyo 2020. A year earlier, he finished seventh in the high jump and eighth in the long jump at the world championships.
Almost hidden among those results, however, was an eighth-place finish in the 100-meter during those world championships. While he just took place in jumping events at the Paralympics, the 17-year-old is back on the track and practicing the 100 again.
"Adding the 100m this year to my international competition," he wrote on Instagram. "Coming for the top in all 3."
One thing that might make his 100 time faster is his new haircut.
"Before vs After," he wrote. "Shaved my head along with my brother @lumrob. Now I'm more aerodynamic."
Deja Young Is A Mother
Last summer Deja Young was competing in Tokyo and took home a bronze medal in the 100-meter T46 to add to her two golds from the Rio Games.
Less than a year later, Young now has more to celebrate, as she gave birth to her first child at the end of June.
"Our baby girl was delivered safely," Young wrote on Instagram. "Saia Rae born at 10 lbs. 8 oz. made her appearance June 29th at 12:47 PM."
Graduation Party
Lucas Jundt celebrated his high school graduation a little bit different than most. He headed down to Miramar, Florida, and raced in the U.S. Paralympics Track & Field National Championships.
He competed in the 100, 400 and long jump in the T62 classification. He picked up two third-place finishes while competing against some of his idols, like Paralympians Hunter Woodhall and Regas Woods.
"I had the honor of racing against some people I've looked up to for a while," Jundt told USParaTrackandField.org. "It was really nice to have them all in one area. Seeing those I watched at past Paralympic Games on TV and actually getting to meet some of them in person was just phenomenal."
Jundt is now set to compete in the Move United Junior Nationals this weekend in Denver.
You read more about Jundt's nationals experience here.
Record For Romanchuk
Daniel Romanchuk has made finishing first in wheelchair races start to look routine. Since winning gold in the 400 T54 in Tokyo, the 23-year-old has gone on to win multiple marathons and other road races throughout the last year, including the Boston Marathon, the NYC Half and the AJC Peachtree Road Race in Atlanta.
Romanchuk can now add the Boilermaker 15K in Utica, New York, to that list. Not only did he win the wheelchair race, but the two-time Paralympian set a new course record with a time of 31 minutes, 33 seconds.
Romanchuk was even able to avoid crashing into photographers at the finish line, which came after a downhill.
"Perfect conditions for the Boilermaker 15k in Utica, NY this morning!" he wrote on Instagram. "Super hilly course, so I had fun climbing. The downhills, not so much, but I managed to stay upright AND not hit the photographers at the finish. Happy to end the day with a new course record and joining Hermin Garic and James Senbeta on the podium!"
Vacation Mode
With there being no Para track and field world championships this year, a lot of athletes are taking time off to travel and relax.
Paralympians Scout Bassett, Trenten Merrill and Noah Malone are all in tropical locations enjoying their off seasons.
Travel Hack
And for anyone else that might be going on vacation soon, who better to take travel advise from than an athlete who travels the globe?
Three-time Paralympic medalist Hunter Woodhall has a simple way to save more space in your suitcase with an unorthodox way of packing clothes.
"I've been living in the airport recently and I learned this years ago and have always used it," Woodhall wrote. "Keeps clothes neat, saves space, and helps me keep things organized. Let me know if you do this or if you try it out."
Luke Hanlon is a sportswriter and editor from Minneapolis. He is a contributor to USParaTrackandField.org on behalf of Red Line Editorial, Inc.