Annie Carey's Unique Bond With A Paralympian Helped Her To A Record-Breaking Nationals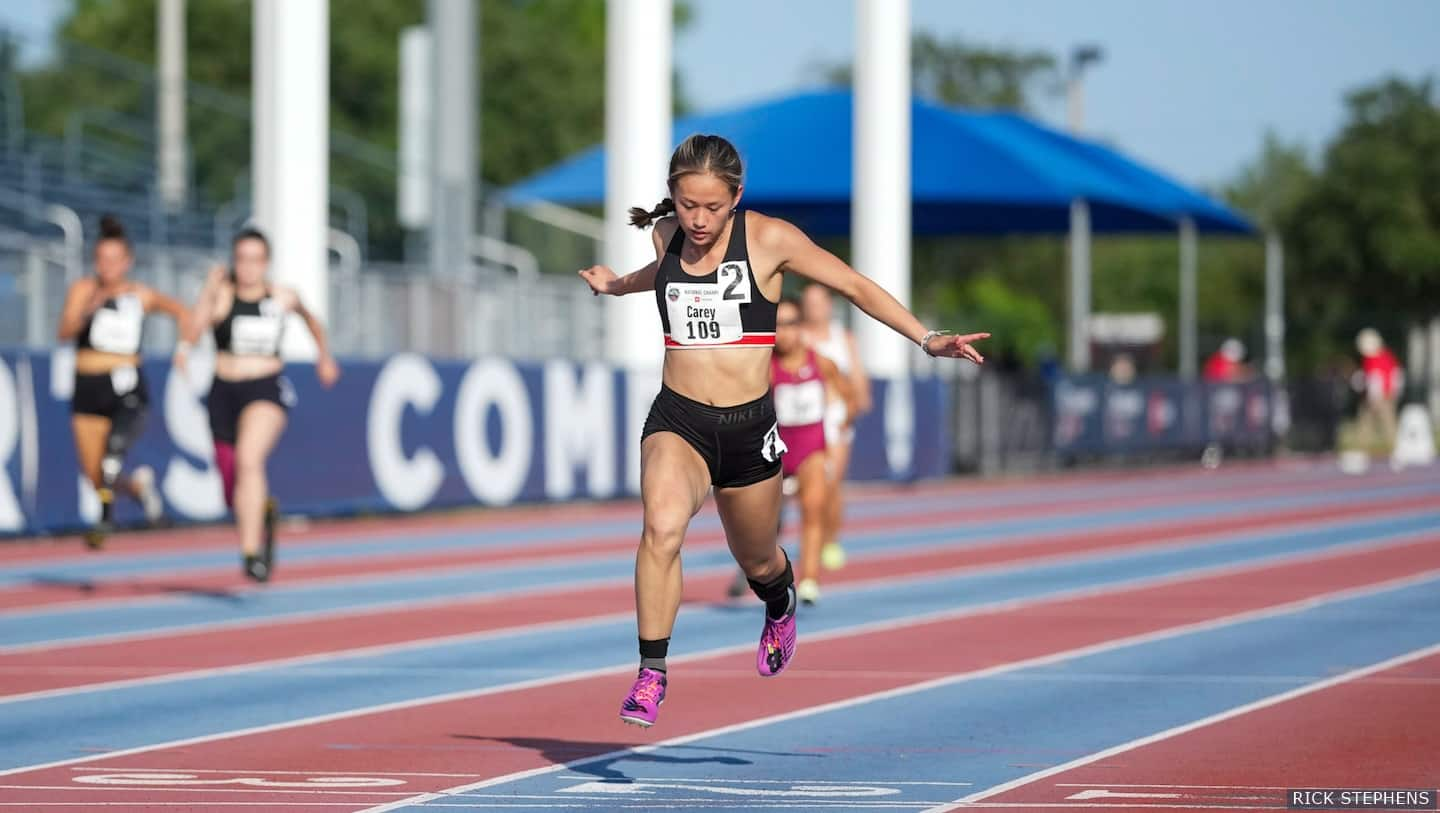 Annie Carey crosses the finish line after a race at the 2022 U.S. Paralympics Track & Field National Championships. (Photo: Rick Stephens)
Catherine "Annie" Carey departed Miramar, Florida, last month with a world record, two Americas records and three national titles.
The 17-year-old couldn't have asked for a better first U.S. Paralympics Track & Field National Championships.
Carey, a rising high school senior from Boise, Idaho, set a new women's long jump T44 world record of 4.81 meters, well out-doing the previous best mark of 4.49 meters. In fact, she had already jumped farther than the previous record twice in the competition before hitting 4.81 meters on her fifth of six attempts.
"It was exciting and relieving to have broken it," Carey said. "Going into the long jump, I had a feeling I was going to break the world record because in all of my high school meets this past year I've broken it. I was hoping I'd do it at this meet, and in my first jump I did and then went on to break it again and again."
Carey also won the 100 meters and 200 meters in her classification, setting an Americas record in the 200.
So who or what fueled Carey's quick rise to the top?
That would be Paralympian Scout Bassett, one of the most recognizable faces at any national championships over the last decade.
"We are really close. We are basically the same person, and she is always there for me when I need it," Carey said of Bassett. "I can always look up to her for anything in life whether it's in sports or personal. She's basically my best friend."
Like Bassett, who is a single amputee, Carey was adopted at a young age from China. She was 21 months old when her now-parents brought her to Idaho. Born with a severe club foot, she underwent serial casting and surgery to correct it; instead the surgery resulted in drop foot and nerve damage.
Raised with three older active siblings, Carey said "sports have been in my life for forever, as long as I can remember." She bugged her mother to take her to the local YMCA after watching blade runners at the Paralympic Games London 2012. By age 7, Carey took part in her first Para track meet at the Desert Challenge Games in Arizona. Shortly after, at a clinic at the Angel City Games in Los Angeles, she found her natural skills in the long jump.
"It's a lot more technique than it looks like," she said. "Once you get your steps down, it's really just how well you can jump and hold certain stances in the air."
Prior to nationals, Carey won bronze in the 100 meters at the 2019 World Para Athletics Junior Championships and titles in the long jump at both the 2019 and 2018 editions of the Arizona Grand Prix.
She was also part of a U.S. podium sweep with Bassett and Lacey Henderson in the long jump combined class event at the 2019 Parapan American Games.
Carey and Bassett have quiet demeanors, yet both are fierce competitors. You'd never know there was a 16-year age difference between the two; their friendship holds strong no matter what's going on in their separate lives. They share common interests in track and fashion — often picking out the same clothing to wear — and Bassett's gone to visit Carey twice in Idaho over the last year.
So when Carey was sidelined from competition a year and a half ago for a full-level spinal infusion to attend to her scoliosis, she turned to her mentor for advice.
"Be patient with yourself and have grace with what you're going through," Bassett repeatedly told her.
A world record, two Americas records and three national titles later, Bassett's advice appears to have worked.
Carey's now hoping to get recruited to a track and field collegiate team "somewhere near an ocean," before setting her sights on both the 2023 World Para Athletics Championships and Paralympic Games Paris 2024.
Stuart Lieberman covered Paralympic sports for three years at the International Paralympic Committee, including at the London 2012 and Sochi 2014 Games. He is a freelance contributor to USParaTrackandField.org on behalf of Red Line Editorial, Inc.