Lucas Jundt Honored To Race Alongside Idols At Track & Field Nationals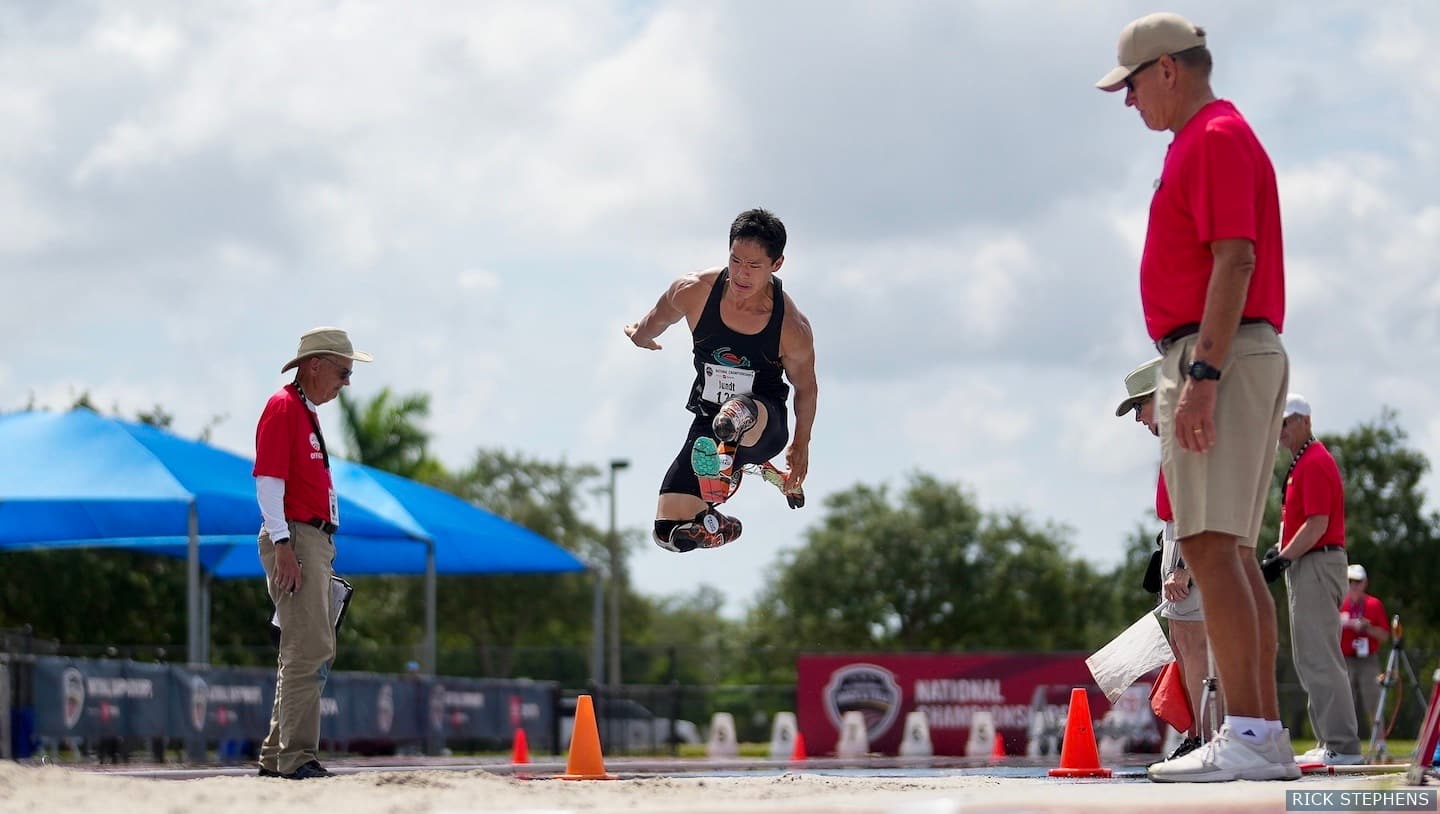 Lucas Jundt competes in long jump at the 2022 U.S. Paralympics Track & Field National Championships. (Photo: Rick Stephens)
Lucas Jundt, a recent high school graduate, arrived at the U.S. Paralympics Track & Field National Championships in Miramar, Florida, earlier this month "destroyed mentally." His uncle had passed away two days prior, and it was not the mindset he intended to be in for his nationals debut.
But when he arrived at the competition venue, he perked up. He found himself in the grace of his idols. The athletes he had been watching on TV or his computer screen for the past decade were now right beside him.
"I had the honor of racing against some people I've looked up to for a while," he said, name dropping Hunter Woodhall, Regas Woods and Blake Leeper in particular. "It was really nice to have them all in one area. Seeing those I watched at past Paralympic Games on TV and actually getting to meet some of them in person was just phenomenal."
Jundt finished in third place in both the 100- and 400-meter T62 races; he also competed in the long jump.
While that could very well be the start of a budding Paralympic career, it took Jundt years to condition himself mentally and physically to make his nationals debut. Born in China without a fibula in either leg, his parents abandoned him on the street at five months old. He was picked up by a police officer, who then brought him to a local orphanage where he lived until he was 7. In 2011, he was adopted and brought to Seattle where he was declared a U.S. citizen.
He lived with the Jundt family in Georgia for seven years before they moved to Wisconsin for their father's job.
Growing up, Jundt fell in love with every sport you could name, beginning with baseball for five years and then moving on to martial arts for another five. In high school, he was a member of the football and swim teams, finding inspiration from former Seattle Seahawks linebacker Shaquem Griffin, who was the first one-handed player in NFL history.
"It was the love of being on a team and competing that drew me into sports," Jundt said. "That's where I really became competitive."
Jundt, named a 2019 U.S. Paralympics Track and Field High School All-American, credits those around him, including his family and his coaches, for his success. They've always pushed him as another athlete, adapting to his ability, rather than coaching or giving him advice for his disability.
Jundt is the youngest of three. His brother, Josh, has spina bifida and a club foot, and his sister, Emma, has spina bifida and had a leg amputated after being born without a fibula. The Jundt family adopted them all from the same orphanage after losing their own 6-year-old son to cancer. All three are now Para athletes.
"I love my siblings so much because together we show that just because you're an adaptive athlete doesn't mean you're less than," Jundt said. "You're equal to everybody. I'm so happy that they are my siblings."
This summer, Jundt plans to compete at the Move United Junior Nationals in Denver in July and then hopes to apply for a residency at the U.S. Olympic and Paralympic training site in Chula Vista, California, with the dream of training under Joaquim Cruz to one day compete at the Paralympics.
He's been playing sled hockey in the winter for cross training and has competed at the USA Disabled Hockey Festival. He is also thinking about becoming a police officer to give back like the person who saved him, but for the foreseeable future, his mind is mostly on the track these days.
"I want to condition myself for anything, but track and field will be the main focus if it's the door that God opens for me to have the honor to be part of Team USA," he said.
Stuart Lieberman covered Paralympic sports for three years at the International Paralympic Committee, including at the London 2012 and Sochi 2014 Games. He is a freelance contributor to USParaTrackAndField.org on behalf of Red Line Editorial, Inc.