Roundup: Tatyana McFadden Celebrates ADA Day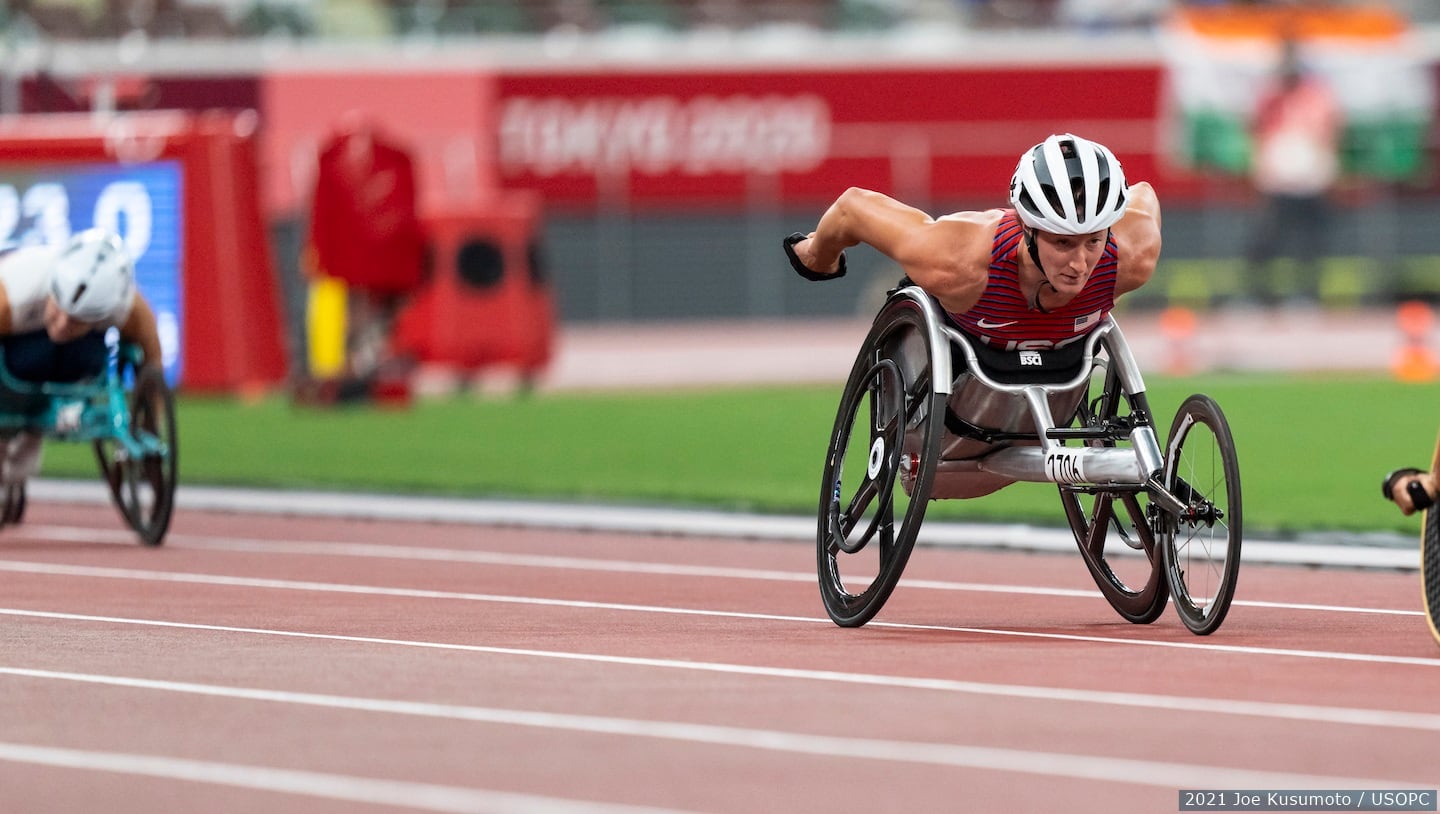 Tatyana McFadden competes at the Paralympic Games Tokyo 2020. (Photo: Joe Kusumoto)
Every other week we scour the web for the latest going on in the world of U.S. Para track and field. Here's what you missed!
ADA Day Tips
Tatyana McFadden, a 20-time Paralympic medalist, went to Instagram to post about the 32nd anniversary of the passing of the American with Disabilities Act. The ADA was passed on July 26, 1990, serving as a bill of rights for Americans with disabilities to assure them equal social and economic opportunities.
McFadden, who was born with spina bifida and is paralyzed below her waist, mentioned the "great strides" that have been made for people with disabilities, but her post stressed the work that still needs to be done in the fight for equality.
She posted six tips to help spread awareness of the ADA.
"This week I encourage all of you to try ☝️ of the following," she wrote.
"1. Have open discussions with someone who is close to you that has a disability and ask what they can do to help spread education about the ADA

2. Follow an influencer that has a disability

3. Watch these two movies on Netflix: Crip Camp and Rising Phoenix

4. Encourage businesses to do social media takeovers with someone with a disability

5. Be an ally

6. Remember that people with disabilities shouldn't be an afterthought in discussions or events."
Youth Movement
A big reason kids get into and continue to compete in certain sports is because of the athletes they can look up to as a role model.
Who better to serve as that role model for aspiring wheelchair racers than two-time Paralympic medalist Daniel Romanchuk?
Romanchuk was one of a few Paralympians who served as a coach at the Move United Junior Nationals, which were held July 16-22 in Denver. The week-long event hosted over 300 athletes in seven different sports and featured educational clinics as well as competitions.
"Ready to compete, full of enthusiasm, and eager to learn," Romanchuk wrote on Instagram. "It was amazing to spend last week with these juniors!"
Romanchuk posted 10 different pictures showing what he taught the athletes, including tips on drafting, stroke mechanics, how to fix a flat tire on a wheelchair and more.
You can learn more about the Move United Junior Nationals — and see results from its competitions — here.
Joaquim Cruz Honored In Eugene
While Joaquim Cruz now serves as the head coach for the U.S. Paralympics Track & Field Team, he is still deeply tied to his home nation of Brazil. He was the first Brazilian athlete to win a gold medal in a track event, which he did when he won the 800-meter at the 1984 Games in Los Angeles.
Cruz made more history at the World Athletics Championships in July in Eugene, Oregon, as he served as Brazil's Honorary Team Leader for the competition. It was the first time in the nation's track and field history that an Olympian was chosen to lead a delegation in an international competition.
"It was the honor of all honors to be a member of the U.S. Paralympic Team and at the same time be able to serve as an honorary team leader for the Brazilian track and field," Cruz told USParaTrackandField.org. "It showed the spirits of collaboration between the organizations of the two countries."
You can read more about Cruz's experience at the world championships here.
Take Me Out To The Ball Game
Two-time Paralympian and Boston native Femita Ayanbeku recently attended a Red Sox game at Fenway Park with fellow Paralympian Noelle Lambert.
After being honored on the field before the game, Lambert thought of using Ayanbeku's prosthetic leg as a baseball mitt. A Red Sox player must have loved the idea, as a ball was thrown directly at Lambert while holding the leg. Unfortunately, Ayanbeku's reflexes got in the way.
"I definitely ruined what could have been a really cool thing," she wrote on Instagram. "I gotta stop being so helpful."