The Drake Relays Are A Homecoming For Jessie Heims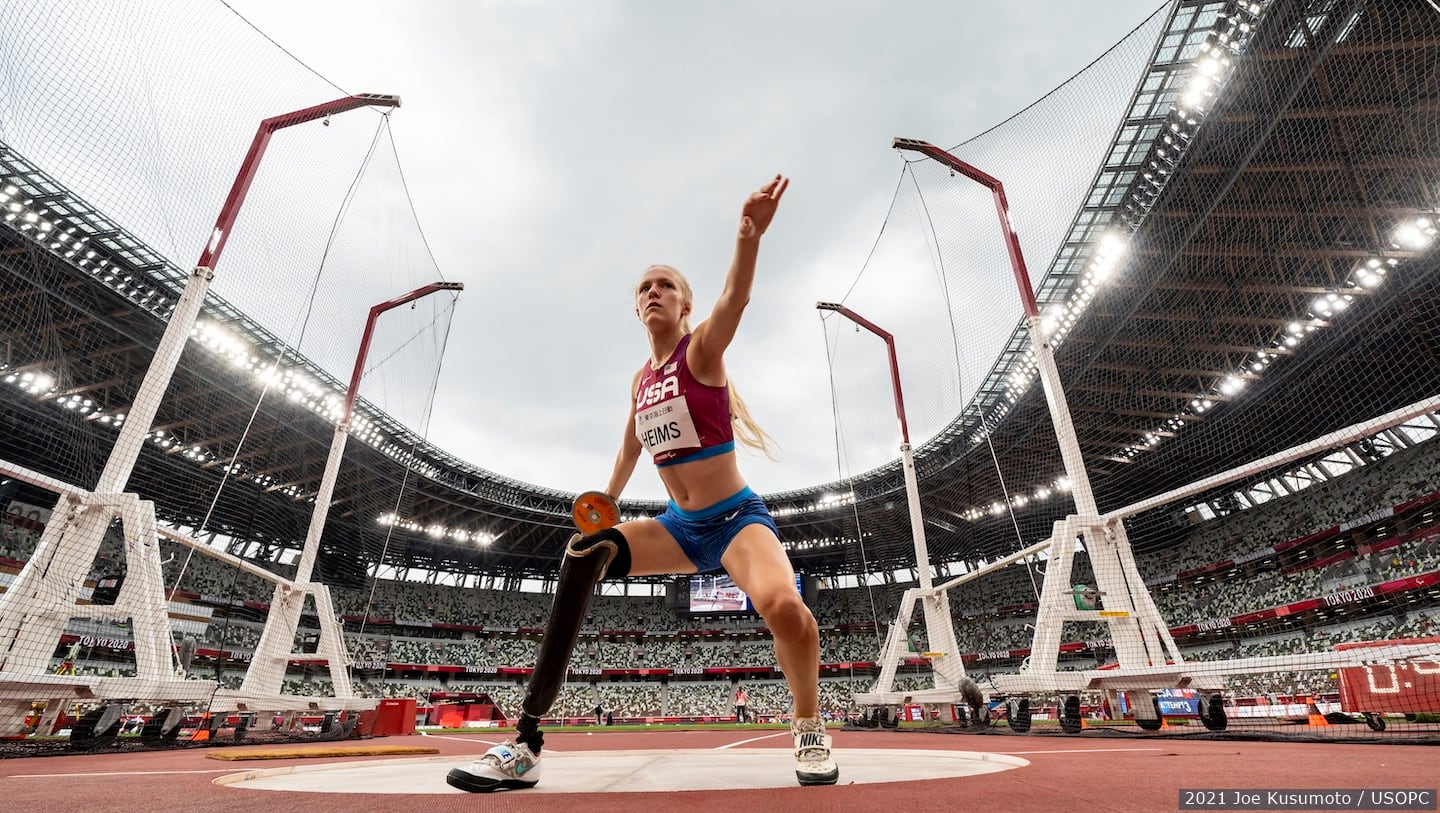 Jessie Heims competes at the Paralympic Games Tokyo 2020. (Photo: Joe Kusumoto)
For Jessie Heims, the Drake Relays this weekend will serve as a full-circle moment. The Iowa native, who competed in the prestigious event as a high school runner in Cedar Rapids and while in college at the University of Northern Iowa in Cedar Falls, will throw the discus this year as a professional athlete.
"Going to the Drake Relays any year, it's an honor," Heims said. "And now as a pro athlete, it feels like a wonderful little bow on top of everything."
The meet, one of the first big outdoor competitions in the country each year, began on Wednesday and runs through Saturday with competition for high school, college and elite athletes, including Para events. Heims is one of several U.S. Paralympians expected take part, joining others such as thrower Josh Cinnamo; sprinters Noah Malone, Brittni Mason and David Brown; and middle-distance runner Mikey Brannigan.
Heims, now 23, began competing in track and field at age 10.
"I just fell in love with the whole sport of track and field, of it being an individual and a team sport," she said.
At first, Heims, whose left leg was amputated below the knee due to amniotic band syndrome, competed against able-bodied athletes.
Then, when Heims was about 12, she said her mother was on Facebook and found a page about adaptive sports for children. The entire family drove to Edmond, Oklahoma, so Jessie could participate in the Endeavor Games, a multi-sport competition for Para athletes at all levels, from recreational to aspiring Paralympians.
"We had no idea what it was, but we got there and found this amazing community of track and field athletes who were all Para adaptive athletes," Heims said.
She first learned about the Paralympics at the Endeavor Games. That's where she also found out people could become professional Para athletes.
"And from that first moment meeting them, I absolutely locked in my brain that that's something I wanted to do," Heims said.
At first, Heims experimented with every running distance and every throwing event. She started throwing discus after her father found a rubber discus in a ditch while mowing the grass and gave it to her to practice with.
Competing amongst her able-bodied peers, Heims raced the 400-meter and threw discus in high school. She made the U.S. Paralympic team in both events for the Rio Games as a high school senior, placing seventh in the 400 and eighth in the discus.
Heims aspired, like many of her high school teammates, to continue with track and field in college. At Northern Iowa, she said she found a team that supported her not only as a college athlete, but also supported her aspirations to compete in another Paralympics.
As a two-time Paralympian in very different Games, Heims said she took energy from different sources each time.
"I was really just drawing off the energy of everyone around me," Heims said about her Paralympic debut in Rio. "I had no idea what to expect. And I could draw off the energy of the stadiums and the crowds, and they had a super lively crowd down in Rio."
But when she went to Tokyo, after those Games had been postponed due to the pandemic, there were no crowds due to strict COVID protocols.
"Going to Tokyo, I knew what to expect, but when it was announced that there would not be any fans there, I thought, OK, this is again, a new situation," Heims said. "I thought I knew what to expect. You know, you imagine all the crowds and the noises and competition, and I knew that would be different. So I was really grateful to have a Games under my belt. I had to just shift from taking the energy externally from the crowds and the energy of the stadium to, OK, how do I mentally fixate my brain and my own pathway and sort of ignore all the outside factors that I have no control over?"
Though she competed as a sprinter in high school and college, as well as in Rio, "I officially retired my running shoes" before the Paralympic Trials and the Tokyo Games to specialize in discus, Heims said. In Tokyo, she placed fifth in the discus.
Heims was named to the 2022 U.S. Paralympics Track & Field National Team in January. For the rest of 2022, Heims said she is focused on getting a berth at the U.S. Paralympics Track & Field National Championships, which will be held in June in Miramar, Florida.
Looking ahead to 2024, Heims said she's "really putting all my focus on making my third Games in Paris."
Heims is very open on her social media about being driven as an athlete by her Christian faith.
"As athletes, we can get really caught up in our value being placed in how well we do in a competition, how many people liked what we did. We get a lot of external validation," she said. "And so for me, my faith really allows me to know that my value is not in how well I do and how many people react to something I did online, but my value is in who I am, and that is being fully and truly loved."