Medal Was Worth The Wait For Jarryd Wallace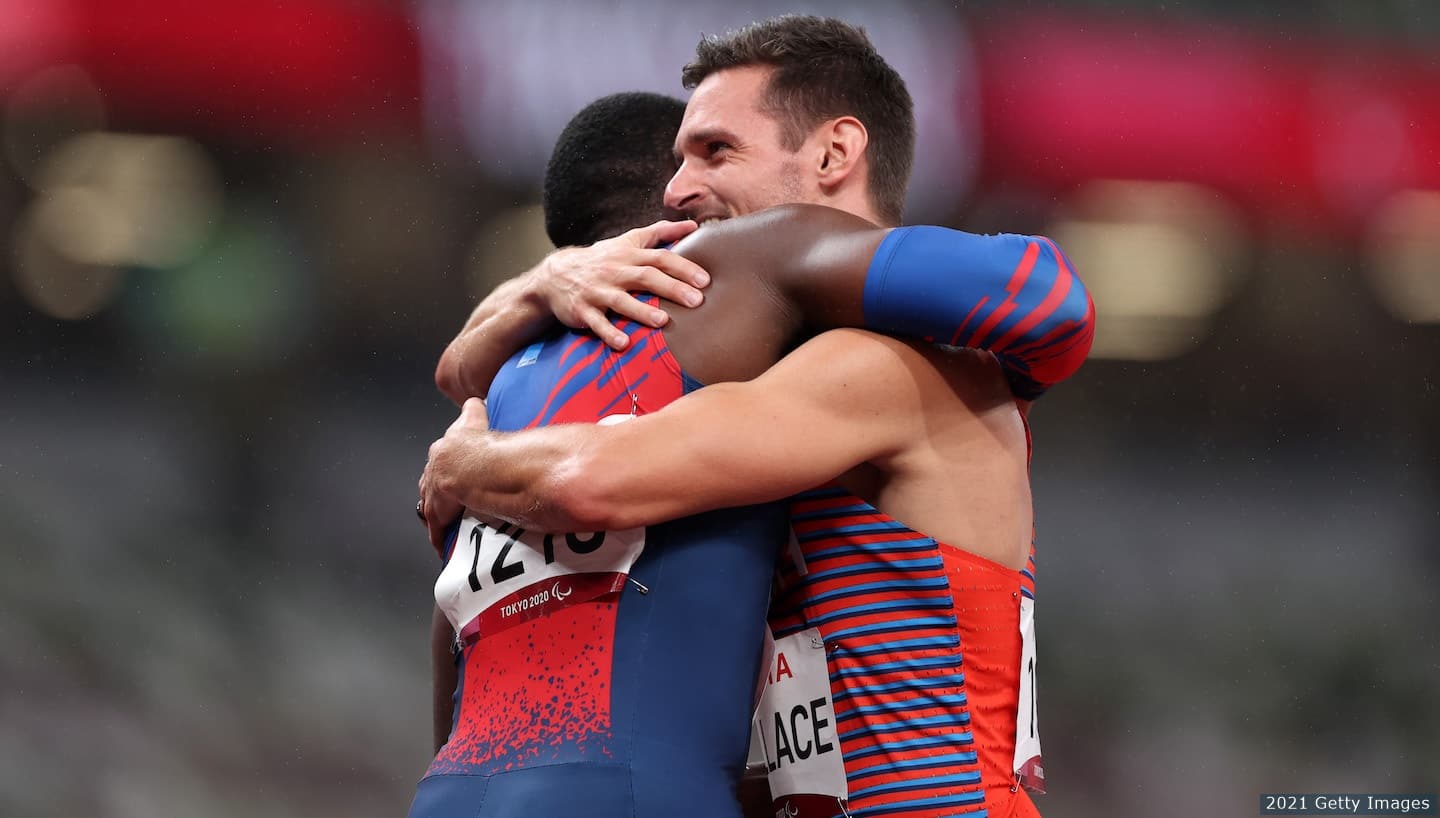 It took him three Paralympic Games, but Jarryd Wallace finally came home with some hardware.
The 31-year-old Wallace earned a bronze medal at the Paralympic Games Tokyo 2020 by placing third in the men's 200-meter sprint T64 in a time of 22.09 seconds, his season best.
"It was actually my third-fastest time ever … so I was very happy with that performance," Wallace said. "All things considered, I had an amazing year. I was able to manage the training in an environment that COVID kind of placed forward and stayed healthy, which was our priority."
Wallace, an Athens, Georgia, native, also placed sixth in the men's 100 T64 in 11.04 seconds.
"It was quite an amazing Games," Wallace said. "It was the fastest and best-performing (sprint) events … in the history of that class … four 10.7s in the 100 and almost the top three under 22 (seconds) in the 200.
"Just really happy to have been able to bring home a bronze and be a contender, as well, in the finals for that 100."
Especially when one considers that he could have called it quits after finishing fifth in the men's 100 T44 in the 2016 Rio Games after entering as the favorite in that event.
"I got a respiratory infection," Wallace recalled. "I was sick the whole time down in Rio. I was not able to perform at my best."
But in early 2017, Wallace met with officials from Team Toyota and received a much-needed boost.
"I was pretty down, and they truly believed in me and my vision to become a Paralympic medalist and to use the platform that I've been given to motivate and inspire others to go after their dreams," Wallace said. "I wouldn't have been standing on that podium and I wouldn't have been here today if it wasn't for the support that they've given me along this journey."
Was it worth the nine long years of training it took to earn the medal?
"It was," Wallace quickly replied. "When I set that goal, it wasn't about a timeline it had to be achieved by or whatever. It may be easy to say this because I have the medal, but even if I didn't have the medal, the experiences, and the things that I've learned through this journey have been invaluable.
"I'm almost grateful that it took this long because I have a newfound perspective, and I realize it's a lot less about the medal and a lot more about the journey that I've been on, and who I've become as a man, and the lessons that I've learned."
Wallace said that the medal represents the journey and all the hard work along the way.
"And I think that I probably wouldn't have had that perspective if I would have won a medal earlier," said Wallace, "so I'm grateful for the timing and the insight that time has given me."
Spoken like a man with a wife and young son who has his priorities straight.
"At the end of the day, no matter win, lose or draw, I'm here representing the U.S., representing my family, and I've got my son watching me," Wallace said. "My big focus for this whole, entire Games was, regardless of how I perform and regardless of how I run, I want him to see dad having fun, I want him seeing dad leaving it all out on the track, and I felt like I did that in every, single race.
"I'm definitely glad to be home. Being a dad at my first Games was bittersweet in the sense that I knew little man was cheering for me back home."
Wallace, who also owns four world championship medals, now will begin training for the 2024 Games in Paris.
"I'm really excited to continue to pursue my competitive career as a Paralympian," Wallace said. "We're going to go for one more. Looking ahead to Paris, three years is a lot easier of a pill to swallow than four years, for some reason."
He expects to be adding the long jump and dropping one of the sprint events as he prepares.
"I'm really excited for a new challenge," said Wallace, adding that he thinks he can contend for a medal in the long jump.
In addition to training, Wallace recently began a new business to produce affordable running blades.
"Running blades right now cost about $7,200, and insurance doesn't cover them," Wallace said. "Most people can't afford the access to that technology. We're looking to launch our product starting in April this coming year."
Wallace said the goal is to produce a blade that tops out at $1,500. He also wants to offer a custom adapter so that amputees could use their current socket instead of spending an additional $7,200 for a secondary socket.
"I think about a little kid in elementary school who wants to go play at recess, and all he has to do is unscrew a few screws, and he can go and run and play with his friends," Wallace said. "And then when he gets back in the classroom, he can switch his foot back to the more comfortable, everyday walking foot."
Bob Reinert spent 17 years writing sports for The Boston Globe. He also served as a sports information director at Saint Anselm College and Phillips Exeter Academy. He is a contributor to USParaTrackAndField.org on behalf of Red Line Editorial, Inc.